Monitoring Global Poverty: Developments and Measurement Challenges
Recap: Guest Lecture by Dean Jolliffe, Lead Economist at the World Bank
It was a great pleasure to have Dr Dean Jolliffe join us last Tuesday (May 23rd) for both a masterclass and a guest lecture here at the Department of Macro-, International and Labor Economics, at Maastricht University, with the generous support of MORSE.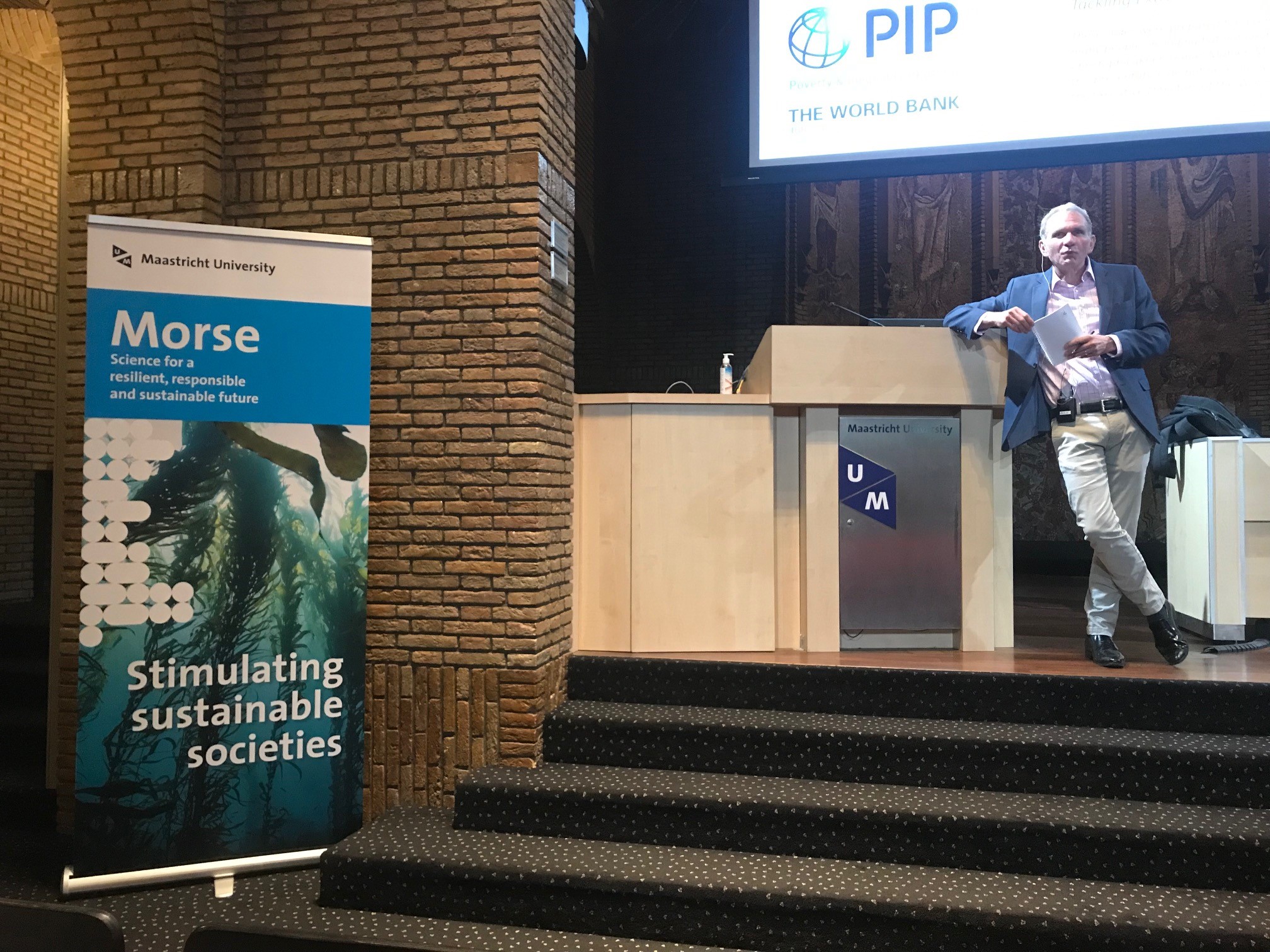 Dean Jolliffe
Dean Jolliffe is a Lead Economist at the World Bank in the Global Poverty & Inequality team and the Living Standards and Measurement Study team. He is the lead author of the paper providing the current update of the international Poverty Line that the World Bank uses to monitor extreme poverty around the world, intrinsically linked with SDG1, and was co-director of the "2021 World Development Report: Data for Better Lives".
Lecture Recap
Dean gave an overview of the Bank's work on the challenging task of monitoring global poverty and responded to the many questions from the engaging audience present in the SBE Aula at TS53.
In his presentation, Dean discussed the international profile of those who live in conditions of extreme poverty, then expanded to other concepts of poverty, current measurement challenges, and ways forward to improve our understanding of global poverty estimates.
The audience was particularly interested in comparing the incomes of the poor across the world, and Dean also directed to the importance of having within countries the actual prices the poor pay to get the poverty measurement right.
Another discussion point related to the precarious status of those living with means just above the poverty line and without security, implying that at the first strike of bad luck can be thrown back into poverty. Dean Jolliffe indicated the importance of the higher poverty lines that the bank uses in that regard, as those lines can guide one to think about what kind of shocks can be sustained by individuals and households without falling back to extreme poverty for instance.
Also read
"Wie als slachtoffer zijn recht zoekt, verdwaalt gemakkelijk in juristerij en een wereld waarin veel onbestraft blijft", aldus Steven van de Put, promovendus aan de universiteit Maastricht. "Dit moet én kan anders. Het kan niet zo zijn dat individuen of groepen van individuen die iets ergs is...

The EU-funded project FullCompensation aims to make the compensation of pain and suffering damages more equitable and efficient. To this end, the project led to the development of a model legislative proposal and guidelines, based on comparative and empirical evidence. These documents are intended...