€5 million for the prediction, delay and cure of hereditary brain diseases
NWO grant for Mayke Oosterloo and colleagues from a national consortium
In various hereditary brain diseases, a mutated protein damages brain cells, resulting in deterioration of health, disabilities and death. There is now hope to develop experimental therapies that can inhibit the production or toxic effects of these proteins. A consortium of several organizations, including the Department of Neurology MUMC, has received a grant of €4.7 million from NWO to research and develop such treatments.
The diseases involved are Huntington's disease, Spinocerebellar ataxia (SCA) type 1 and SCA type 3. These hereditary diseases are caused by the same type of DNA error, which leads to the production of a diseased protein. The diseases can start at a relatively young age and can quickly lead to significant disabilities.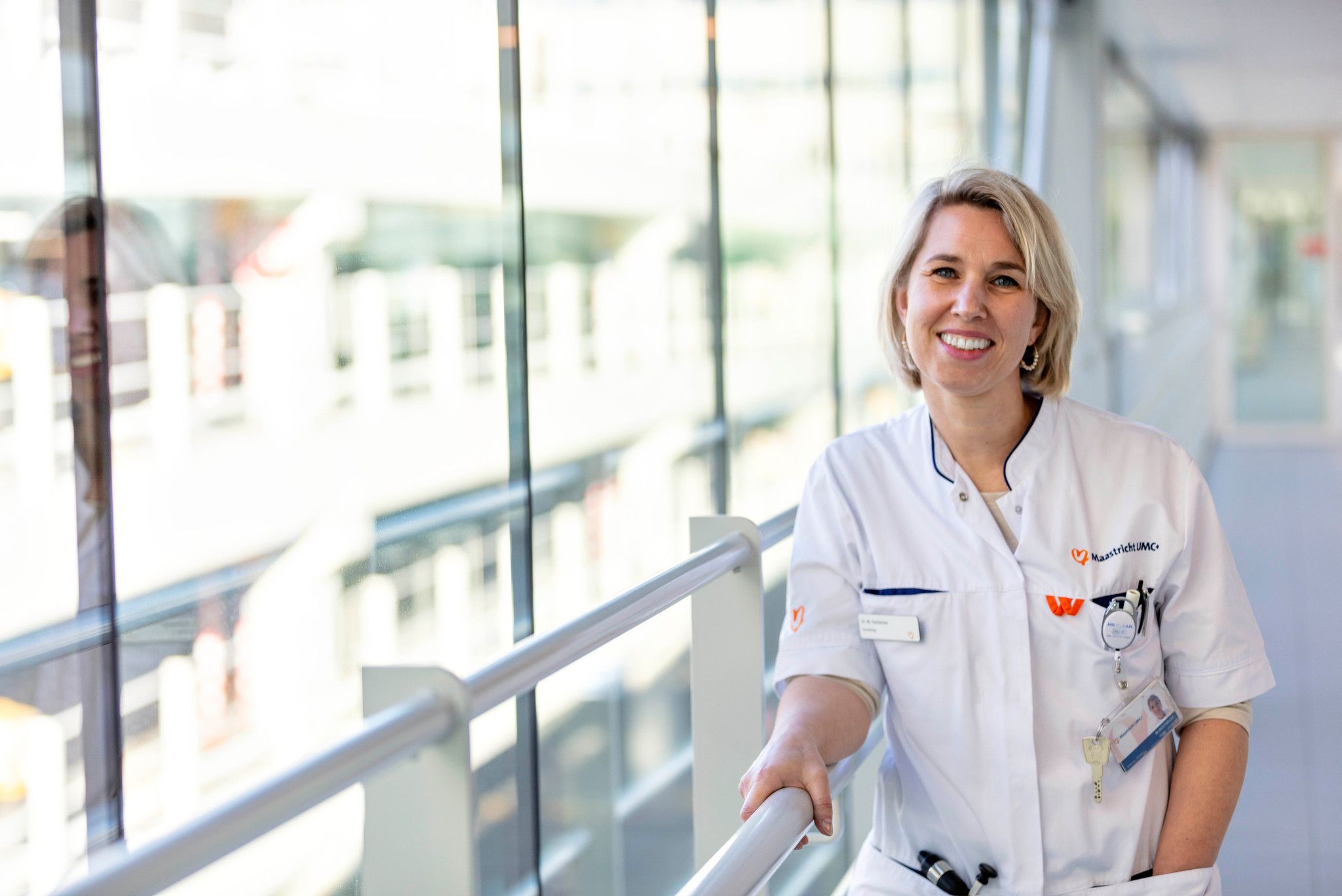 For MUMC/ MHeNs, Dr Mayke Oosterloo, neurologist and head of the  specialist service for Huntington's disease, is leading the research.
Experimental treatments
To date, there are no treatments that stop the diseases or can inhibit their deterioration. In recent years, studies have begun with experimental treatments, via epidural injections or a one-time administration into the brain, to inhibit the production of the disease-causing proteins. But before these treatments can be safely and specifically applied, a number of important questions must be answered, including:
When is the optimal time to begin treatment?
Who will benefit from these therapies, and can we better predict the onset and progression of the disease for each patient individually?
Can we develop alternative therapeutic strategies to lower the harmful protein, preferably with less invasive administration?
How can we help gene carriers make personal decisions about life planning and treatment options?
Diversity
Patients with these brain diseases are divided into groups according to age of onset of the first symptoms – whether the first signs of the disease manifest themselves at a very young age, at an adult age, and a group that does not always develop disease symptoms. The manifestations of the disease are very different for these different groups and it is likely that these groups also require different treatments. Thus, answering the above questions requires a careful and differentiated approach.
Consortium
In order to address all the questions in one co-ordinated study, several organizations decided to join forces in the CureQ consortium: researchers and physicians from various Dutch universities, several higher vocational training organisations, ethicists, biotechnology companies, patient associations and the Test Animal Free Foundation will work together in this study, with the aim of enabling a person-oriented approach and treatment for Huntington's disease and SCAs. The total budget of the study is €5.5 million, of which €4.7 million is provided by the Netherlands Organization for Scientific Research. The envisioned breakthroughs in novel therapeutic strategies combined with the use of cultured brain cell models of gene carriers should lead to person-centred treatments and perspectives for gene carriers but also their families.
 
Also read
Philippe Pinckaers NUTRIM PhD candidate, was the first to compare muscle production after eating a complete meal with animal or vegetable proteins. The findings were recently published The Journal of Nutrition.

The Young European Research Universities Network extends a warm invitation to researchers and staff from Maastricht University and other member universities to submit their applications for the YERUN Open Science Awards 2023.

And how can it be counteracted? According to Luc van Loon, you can become a bodybuilder even after age 80. 'But the disadvantage of our dynamic muscles is that you also lose them quickly when you start using them less. Maintaining muscles is an active process. You have to keep stimulating them.' NUT...