Students going the extra mile
'Nice to meet you, I'm the person behind the patient'
During the education of healthcare professionals, from doctors to nurses, spending eight hours with the person behind by the patient. That is the goal of Stichting Mens Achter de Patiënt (Person Behind the Patient Foundation), founded by UM students Sjim Romme and Matthijs Bosveld. In 2016, the housemates and friends received the UM Student Prize and they are taking a gap year from their studies in 2017/18 so they can get one step closer to their dream (people-focused healthcare in which the symptoms of patients play a central role through people-focused medical education). "The worst-case scenario is that it goes really well."
Because Matthijs Bosveld is determined to finish his medical degree. Becoming a doctor is his other dream, and how do you manage that in addition to a well-running foundation that offers pilots, workshops and lectures throughout the Netherlands to boost the growing enthusiasm for the programme? "But I'm putting that question aside for the moment", he laughs. Sjim Romme, who is combining his health sciences study programme with an economics programme, is letting his future plans depend on the gap year—a year in which they are going to try and utilise their network to allow Mens Achter de Patiënt (MAP) to 'fly'.
The impact of disease
As the name suggests, the programme aims to increase empathy in healthcare. The two students are amazed at how little the medical and health sciences education programmes address the impact of a disease on people. By bringing students into contact with a chronically ill patient and letting them spend a couple of hours together, that gap is somewhat filled. So far, they have conducted two well-received pilots, written a guide for educational institutions that would like to implement the programme, and are in talks with Maastricht University, among others, regarding the inclusion of MAP in the medicine and health sciences curricula.
Mandatory programme
Matthijs: "It would be nice if educational institutions would make the programme mandatory, because that way we could reach all students, including those that may need it the most. We've already learned that the rate at which we'd like to realise that doesn't match the pace of large educational institutions like universities. We thought, 'We're going to change something in the time that we're studying', but it doesn't happen that fast. Nevertheless, I'm convinced that it deserves a place in all healthcare education programmes."
'Two students with a good idea'
The first step is therefore to conduct a pilot at UM with 100 students and 50 patients, for students in both medicine and health sciences. Sjim: "I was also surprised when I discovered that the worlds of different healthcare education programmes within one educational institution didn't interact at all during the training. If the pilot is successful, it would be a logical step to make it accessible to all medicine and health sciences students."
Winning the 2016 Student Prize meant a lot of recognition for them, and because the Executive Board awards the prize, they believe it also does a lot for the credibility of the project. Or, as Matthijs explains, "In the beginning, you're two students with a good idea, but if you win this award, you're looked at differently. Within UM, certain doors became easier to open."
No Ferrari
Because Sjim was studying in Australia when the prize was awarded at the Opening of the Academic Year in 2016, Matthijs accepted the award alone. With the 1,000 euro prize money, they had a small beer tasting in Limburg and the rest was spent on the project, from a new logo to the establishment of a foundation. Sjim: "We don't need a Ferrari, or even to have a car to drive, but in the coming year there needs to be a small earnings model, so the organisation can eventually expand and the initiative can become sustainable."
Tips for others
On the question of whether they have tips for other students walking around with an idea for a nice project, Sjim immediately says, "Believe and do! We invited everyone who could contribute even a small amount of added value to join us. If you keep doing that, you'll get somewhere. And also, seek out like-minded people who work at the university, because they know who to talk to at the right time. I enormously underestimated the importance of a network at the beginning." Matthijs: "If you see a chance, you have to take it. As a student, you still have some naivety about you, which you can use. Find something that you like so you stay intrinsically motivated." Sjim: "And don't do it alone. You're not as strong if you have to hold important meetings on your own, and it's so much more fun to celebrate your victories with someone."
Visit the website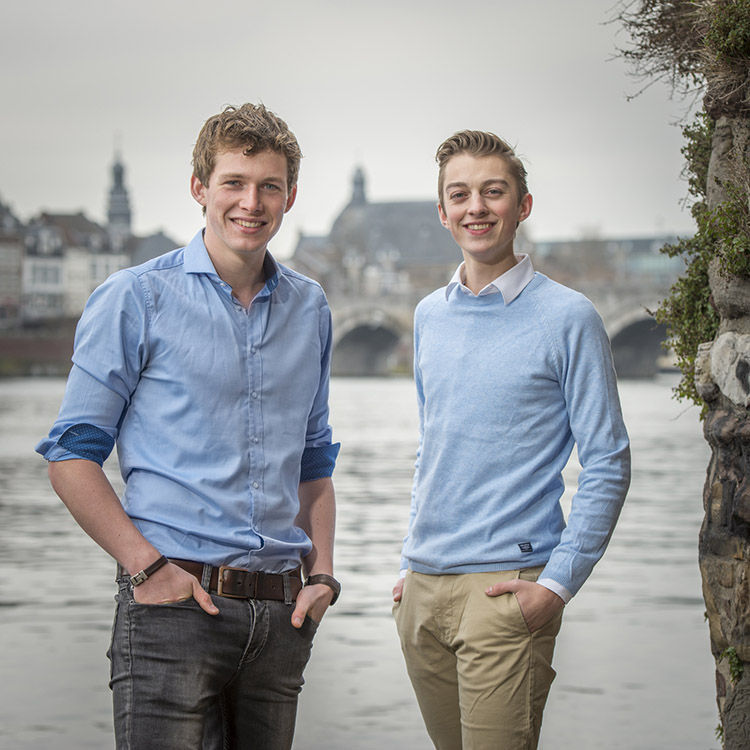 Also read
Were you absolutely cruising through your exams? Were you well prepared with plenty time to spare? Then Anique de Bruin's work won't change your life. But for everyone else, the Professor of Self-regulation in Higher Education has useful insights and tools. Together with a refugee scholar financed...

After several rocky years, Maastricht University alum Lea Vink has found her feet in Vienna. Professionally, she is taking new steps at the crossroads of aviation and organisational psychology. And on a personal level, luck has smiled on her since her transition from man to woman.