Maastricht University science students win gold at the international iGEM competition
How do you fix a crack in limestone, such as mergel? Well, simply ask some bacteria to do it for you. In short, this is the goal 11 students from Maastricht University set themselves to do. They succeeded and ended up in the TOP10 best undergraduate projects competing in the iGEM competition. For three years in a row, UM teams won silver; this year's team brought home gold.
Iga Kosarczyn and Matei Marusciac, both students of the Maastricht Science Programme, talk about their team's success story while glowing with pride. Even supervisor Erik Steen Redeker is constantly smiling. Apart from MSP, students of Systems Biology and University College Maastricht are part of the team, their story started seven months ago when they decided to sign up for this year's iGEM, a world-renowned competition for students in the field of synthetic biology that originated at the Massachusetts Institute of Technology (MIT).
"For two months, we brainstormed and prepared our ideas", says Erik. "In the end, we decided upon healing cracks in limestone, a problem that faces buildings and other objects in the Maastricht region." The team named the project Sublime Stone.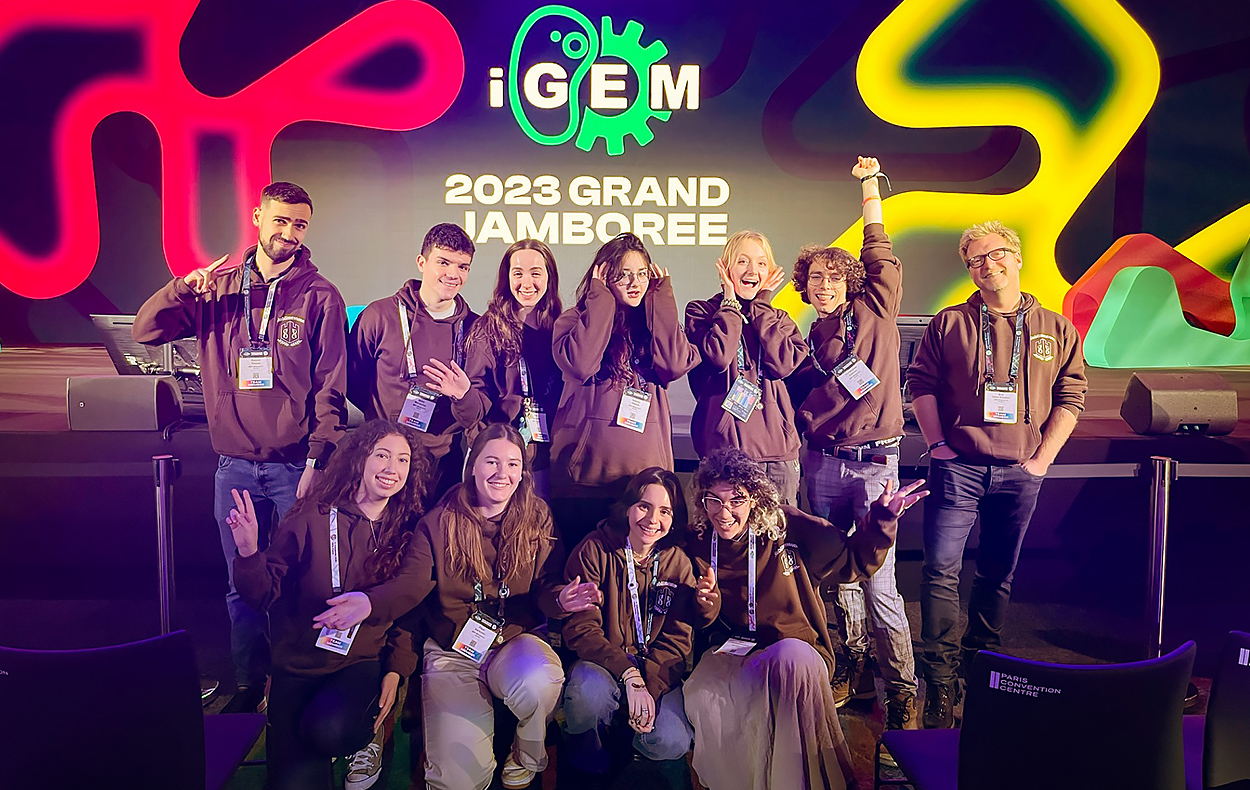 The students modified bacteria in order to let them produce calcite or calcium carbonate using CO2 from the air and calcium already present in the limestone. They showed that the bacteria could indeed produce calcite. However, how do you get this calcite to effectively fill up a crack? Matei: "We use DNA as a scaffold for the calcite to bind to. The technique we use is called DNA origami. The Systems Biology students thought of a way to create 8-corner DNA shapes (octahedrons) using bacteria."
"It was not just one experiment they did", says Erik. "The students had to tackle their task as if it were an actual research project involving planning, funding, experimenting, proving that their idea works, public outreach, education, and presentation. We performed well on all of these aspects, and that's why we won a gold medal." Early November, they claimed their prize during the iGEM-conference in Paris in front of over 5000 people.
How come teams from UM won a medal for the fourth time in a row? Iga answers: "We have an amazing team; all members put their hearts into the project. We endured lots of sleepless nights full of stress and passion for our project." Erik continues: "Maastricht University offers very multidisciplinary educational programmes, our research-based learning approach helps a lot in solving scientific problems in a multidisciplinary team with people with different backgrounds and interests." Matei adds, "Our team had a member for every discipline we needed, from (Systems) biologists to chemists and programmers".
Erik hopes to continue the Sublime Stone project with the help of the students. Iga thinks about staying onboard. "It will be less intensive now that all the competition's deadlines are over."
Relevant links
Also read
Nikola Prianikov came from Kyiv to study Data Science and Artificial Intelligence in Maastricht. He talks about how UM's Foundation Programme opens doors for international talent, how he enjoyed his study experience despite war and pestilence, and how the Netherlands has come to seem like a viable...

A group of Maastricht University's Business Engineering Bachelor's students won three awards at this year's edition of the renowned ENGCOMM, the Engineering and Commerce Case Competition, held by the University of Concordia in Montreal (Canada).

A team of UM students from the Biobased Materials Masters, Business Engineering, Bachelors and Maastricht Science Program Bachelors was awarded 2nd place in the Netherlands's national phase of Biobased Innovation Student Challenge Europe (BISC-E) Competition 2022.