Internationalisation bill: what can we expect and when?
Headlines about the rising numbers of international students, a proposed law to better manage that influx, presented by a minister whose cabinet has been ousted ... What does all this mean? What will happen next—and when?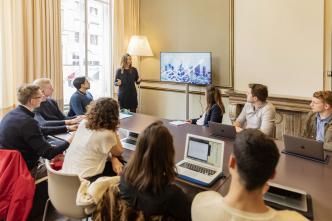 In early July we posted an update (UMployee) on the Internationalisation in Balance bill that had recently been published. This proposed new law—and indeed, it remains just that: a proposal—posits measures to better regulate the influx of international students to the Netherlands, including stricter requirements on the language of instruction and an emphasis on Dutch language skills. The bill also offers options for imposing an emergency cap on student numbers for certain programmes/tracks and limiting the number of places for non-EEA students.
Anyone who wishes to do so can respond to the bill until 15 September. UM has now done so: we endorsed the joint response (in Dutch) by all Dutch universities as well as submitting our own response. The latter, individual response was necessitated by UM's specific identity as the most international university in the Netherlands, located in a border region with a shrinking population. In the coming decades, the region will be in dire need of well-educated people, including from outside the Netherlands. Our institutional profile should, therefore, be taken into account when it comes to measures regarding internationalisation and the language of instruction. To read our response in full, click here.
Our argument is, in a nutshell, as follows: it is important to enable universities to better manage their student numbers if necessary, and we, too, are committed to improving the Dutch language skills of our staff and students. But if universities in the border regions are to continue to contribute to the Dutch knowledge economy and society, it is essential to make use of what is already in place—robust international education and research—and what will be needed in the coming decades: an adequate influx of international talent! This is a choice we made decades ago, and it remains our position to this day.
What's next? Much remains unclear
It is currently unclear what the next steps will be. That the cabinet fell before the bill was submitted to the House of Representatives does not make things any clearer. Under normal circumstances, the minister would incorporate the responses (such as those from UM) into a final, potentially amended, bill within a few weeks. The bill would then be discussed in the Council of Ministers, receive advice from the Council of State and finally be submitted for consideration to the House of Representatives. The entire procedure could easily last until well into 2025.
On the other hand, the House of Representatives may not want to wait that long. Rather than waiting to introduce a new law, might it choose already to introduce certain instruments (e.g. the caps on student numbers) to address the biggest issues? We simply do not know. This uncertainty means, in any event, that we must continue to follow closely the developments surrounding internationalisation. In the meantime, we will do our utmost to ensure that UM remains a top international educational and research institution. We owe this both to ourselves—as students and employees—and to the region of which we are part. To be continued …
Also read
Christian Ernsten and Claartje Rasterhoff, in collaboration with Natuurmonumenten, receive €100,000 for their project 'Rivier Atelier at the Geuldal: heritage management in times of climate change'.

At the CARIM research institute (school for cardiovascular diseases) in Maastricht, a group of researchers – led by Joost Lumens - is working with 'het digitale tweelinghart' (the digital twin heart): a computer model that simulates the human heart. This research gives rise to a great deal of...