The hunt for the dinosaur
In January, with Brexit looming, Donna Yates moved from Glasgow to Maastricht. The associate professor of Criminal Law and Criminology brought with her an ERC grant worth €1.5 million. Less than three months later, the world is in lockdown due to COVID-19. What does this mean for her research on the illicit trade of antiquities, fossils and wildlife?
At the time of the interview, she is in precautionary quarantine with her husband and 15-month-old baby. "We all have bad colds, but no fever. The doctor says it's not corona, but we're not taking any risks." Working from home is doable, especially since she and her husband can arrange their working hours flexibly. "I've got the mornings off until 11.30, then it's my turn to look after the baby so he can work."
Rather than waiting for a possible no-deal Brexit, Yates made the decision last October to relocate to Maastricht for the sake of her ERC grant. "The UK government would have honoured ERC grants, but only for UK residents. My two collaborators, researchers from Cape Town and Wellington, would not have been paid, which would have meant the end of the project. Moreover, as a UK resident I would no longer be eligible for any other European grant. That would have been disastrous for my research. Whereas we, together with the University of Siena, submitted a new application to the European Commission for research into cultural heritage law in Europe within two weeks of my arrival at UM. My present and my future are in Europe, so I chose to stay—and Maastricht was the perfect place for that."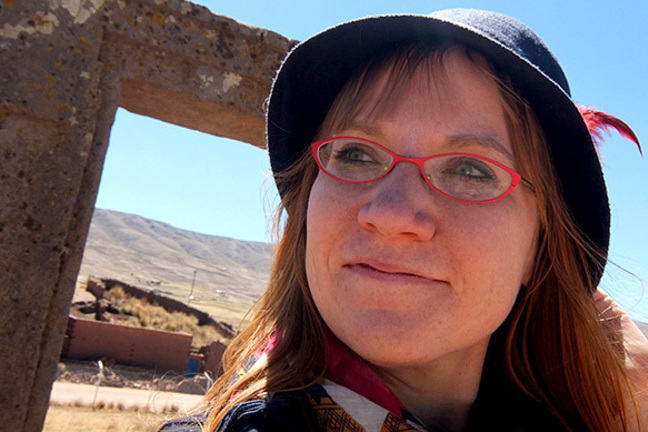 Tiwanaku, Bolivia, 2013. Yates worked at Tiwanau as an archaeologist in 2004 and 2005 and did some of her PhD research there. She went back in 2013 to work on antiquities trafficking in Bolivia as well as theft from historic Andean churches. 
This article is part of 'We're Open', a series of stories about the UM community's many activities during the coronavirus pandemic.
Murder at an archaeological site in Guatemala
Yates, originally from the United States, trained as an archaeologist. During her studies she worked at a remote archaeological site in the Guatemalan jungle, where she came to understand the potential repercussions of valuable finds. "There were locals helping us with our excavation, and they told us a story about a famous site nearby where a village leader had been murdered and a woman assaulted so that looters could get their hands on an ancient Maya sculpture, which was later recovered by special police forces. When I left the jungle, I felt that I couldn't turn a blind eye to practices like these. That's how I ended up investigating the illicit trade in archaeological objects."
For her master's and PhD research she moved in 2005 to Cambridge, UK, the base of Neil Brodie, a leading specialist in research on the antiquities trade. There she met her husband, who worked in London, and decided to stay in the UK and became a naturalized UK citizen.
Nicolas Cage forced to return his stolen dinosaur skull
Yates's current research is not limited to ancient objects, but also covers the trade in fossils and wildlife. "There are many parallels in how these things are traded. I've been to many trade fairs where dinosaur bones are being sold alongside ancient artefacts. People seem to have the same motives for wanting to get hold of an ancient vase or a dinosaur bone, and some are even willing to break the law for their collection."
Take the case in the US involving the actor Nicolas Cage. "He had a precious dinosaur skull that turned out to have been stolen. Palaeontologists know that a skull like that can only come from Mongolia or China, where exporting it is banned. So that skull could never have left the country legally. But Cage is no expert—he has to place his trust in the dealer. The dealer breaks the law because he can make money from the sale, and doesn't give his customer the full story about what he is buying. But that doesn't absolve the buyer of responsibility, especially in the US where there's no such thing as a 'good faith buyer' of stolen goods. So in the end, Cage had to return it.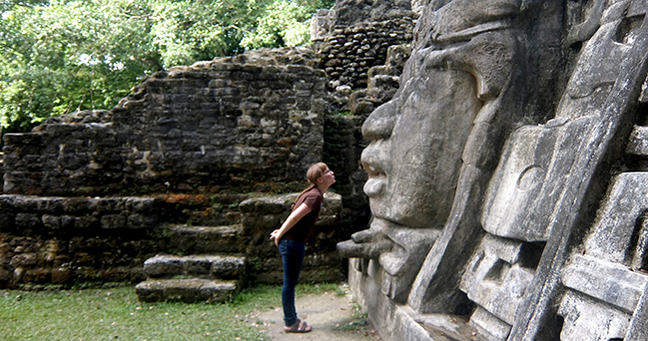 Maya site of Lamanai in Belize, 2014. Yates had worked in Belize back in 2003, and went there again in 2014 to study antiquities and wildlife smuggling along the jungle borders with Mexico and Guatemala.
"Buyers seem to be only too happy to trust their dealer if they really want something. They might have their suspicions, but they want it so badly they don't ask questions. And that's exactly what my research is about. What makes these objects so valuable to collectors that they're prepared to accept dubious behaviour where they normally wouldn't? What connection do these people have with the objects? We're not trying to infiltrate criminal networks and unmask individual perpetrators, but to understand what causes people to make use of criminal methods in this market. We try to understand the system so that you can make more effective policies. Punishment doesn't help, because these people don't seem to be deterred by the possibility of prosecution." 
Fieldwork: excavating dinosaur bones in the US
To gain more insight into this special relationship between humans and fossils and the surrounding networks, Yates has volunteered through the US Bureau of Land Management to participate in fossil excavations at the Grand Staircase Escalante, a major T-Rex site. The trip is scheduled for August, but whether it can go ahead is an open question. "The corona crisis will certainly cause delays, but it won't endanger the research. We can collect a lot of information online and conduct interviews remotely. And I'm still hopeful that come August I'll be digging up T-Rex bones." With that, it is time for her Dutch class at the Language Centre. "Online, which is taking some getting used to because it means there's less time to practise. So I do that with my baby—I read to him in Dutch."
Also read
Gabriel Domingues Gonçalves and Mohammad Daud are part of the UM Brightlands Talent Scholarship program, a partnership between Brightlands Chemelot Campus and Maastricht University. 'You get the chance to experience the future here.'

Starting or running a student initiative as an international isn't always easy. Especially for those who don't speak the language, navigating official documents and systems can prove difficult. The Student Initiative Helpdesk supports students of Maastricht University who are involved in student...

"We should want to fail because failing allows us to grow. Once you fail, you realise the monster has no teeth," Maxime Verwoert told the student audience at EDLAB's 10th Student-Meet on 22 November 2023. During the event "Embrace your Fears and Dare to Succeed," three resilient students shared...