General practitioners look after many vulnerable patients with COVID-19 outside of hospitals
General practitioners in the Netherlands have treated around 1800 vulnerable patients with COVID-19 outside of hospitals in recent weeks. Some of these patients had tested positive. However for most of them, there was a strong clinical suspicion of COVID-19 but no test was carried out. This was shown in the initial results of a study into the treatment of vulnerable patients with COVID-19, carried out by the Consortium of General Practice Medicine in collaboration with the ZorgDomein platform, using a special reporting system. During the remaining duration of the study, the research group will provide a weekly update on these initial figures.
In one major project, all departments of General Practice Medicine at Dutch universities are currently working to identify the number of COVID-19 patients nationwide who are receiving intensive and palliative care from general practitioners (GPs) outside of hospitals. This also goes for the number of people who have died from COVID-19 that have not been tested. Until now, untested patients have not been included in the statistics, which primarily focused on hospitals and intensive care units.
The reporting system has now been up and running for more than a week. During that period, GPs have reported 764 patients whose deaths involved a strong clinical suspicion of COVID-19 but who were not tested. The reports can be made using the ZorgDomein platform, which almost all GPs already use for secure data exchange for issues such as referrals to a hospital. GPs can also submit reports about deceased COVID-19 patients with retroactive effect. GPs further reported 759 patients with COVID-19 who intentionally opted out of hospital care. For a more detailed overview of the most important research figures, please visit http://www.consortiumhuisartsgeneeskunde.nl.
"The research is already giving a good impression of the intensive care that GPs are providing to vulnerable COVID-19 patients at home or in a nursing home," says Jochen Cals, a GP in Sittard, professor at Maastricht University and project leader. "We know how often medications such as morphine or midazolam are being used to relieve symptoms in the palliative phase—as well as whether GPs have had sufficient personal protective equipment."
One of the main reasons for not going to a hospital was the wishes of the patient himself/herself, says Marco Blanker, general practitioner, associate professor at the UMCG and coordinator of the Consortium of General Practice Medicine. "In most cases, there was also another reason for not going to a hospital, such as the vulnerability itself due to co-morbidities or the prospect of isolation in the hospital. But even vulnerable patients who get COVID-19 can fortunately recover."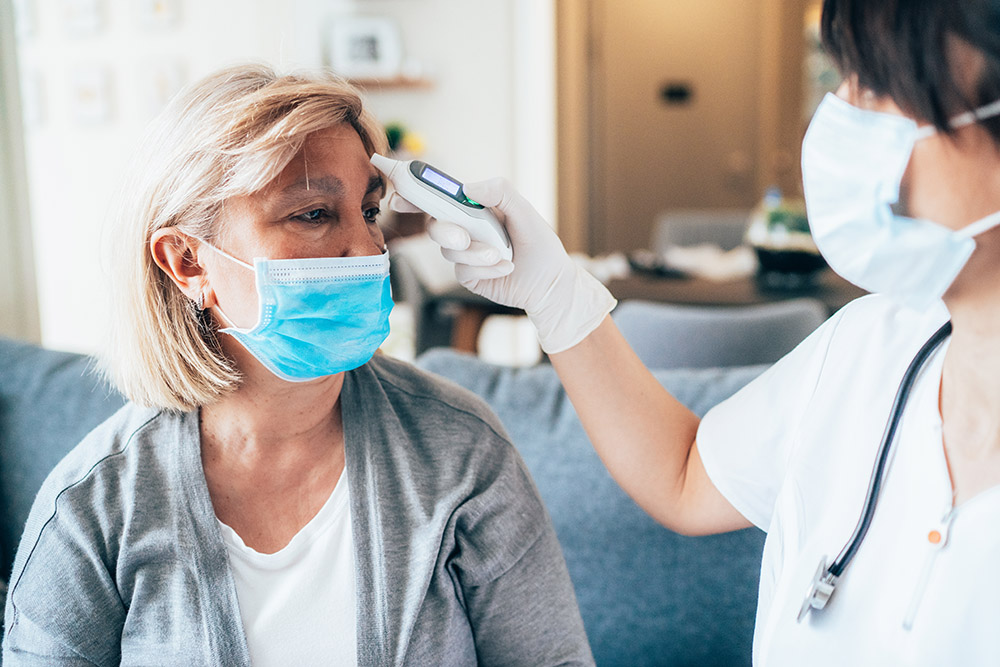 About the Consortium of General Practice Medicine​

The Research Consortium of General Practice Medicine (Consortium Huisartsgeneeskunde) was formed in 2013 by the Research working group of the General Practice Interfaculty Body (IOH-R). The aim is to create and maintain the optimal conditions for research in the area of first-line healthcare and, in particular, general practice medicine in the Netherlands, including large-scale multicentre research.

About ZorgDomein

ZorgDomein is an independent platform that brings together supply and demand in healthcare. Patients and referrers can compare and select follow-up care. Healthcare providers are better informed and can collaborate better because all necessary data exchange takes place digitally. ZorgDomein is by far the most commonly used way of making digital referrals, requesting diagnostics, conducting remote consultations and discussing patients. Virtually all general practitioners, hospitals, independent clinics and laboratories use ZorgDomein, as do mental healthcare providers, home healthcare organisations and other healthcare institutions, municipalities, paramedics and freelance professionals. 
Also read
At what time of day is the best time to exercise? Scientists Patrick Schrauwen and Mathijs Hesselink are trying to find out through research.

Professor Hilde Verbeek shares her opinion on healty ageing

From ice cream to stew, why our eating habits change in autumn.