How far can your feet (feat) take you?
Alumnus Jean-Paul Jaegers completed the Dutch Mountain Trail in one day on 17 April 2022. The trail is 101km long and covers seven summits in the beautiful southern parts of Limburg via the German and Belgium borders and finishing in Maastricht. In addition to the trail being a bold personal challenge, Jean-Paul also committed the hike to raise money for the Great Ormond Street Hospital Charity. In this blog he shares his personal story:
The idea of walking the Dutch Mountain Trail started over a catch-up conversation with good friends last December. He is an experienced hiker and described how he hiked the Dutch Mountain Trail in one go covering seven summits, and the physical challenge it provided. Since then it planted a seed and got me pondering whether I could make it. A 100km in one stretch – under the conditions of some parts of this landscape – is not 'a walk in the park'. The trail covers the area where I grew up as a child (Heuvelland – Vijlen), which made this challenge extra tempting. 
Early January I decided I would give it a go: A 100 kilometre hike through the hilly Zuid-Limburg to me sounded like a bold personal test and potentially a great way to support a fantastic charity. I was proud to attempt a bold physical challenge in my old backyard – so to speak. The fact that my family and I live in London (UK) did mean that I couldn't train the route but had to hike the route for the first time on the day of the challenge. In preparation, I trained for three months (long-distance) hiking and prepared my legs and feet for the 100km hike. In those three months, I hiked about 630 km, which took nearly 120 hours, throughout the various parts of North-London and surrounding areas.
My family and friends support my challenge and enthusiastically offered to join me on parts of the route for companionship. For the first half of the itinerary (50km) of the Dutch Mountain Trail, Willem Klijnstra, a sporty Frisian who is a dear friend (and former colleague), had very generously agreed that he will join me for support and accompany me. The first 50KM are tricky because this is the part of the route during nighttime.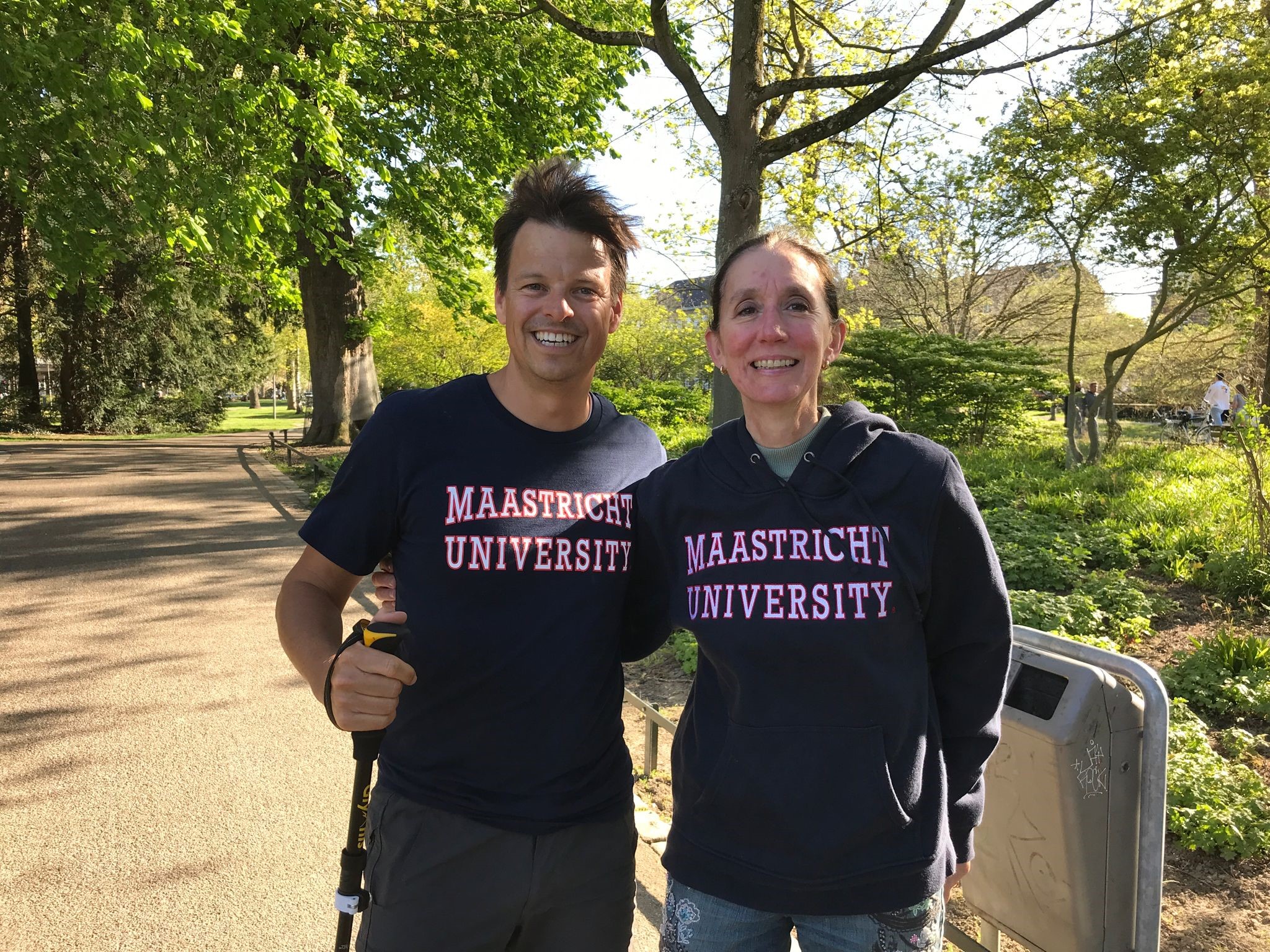 Blog written by alumni Jean-Jacques Jaegers.
Jean-Paul Jaegers graduated from the School of Business and Economics (SBE) in 2005 with a master's degree in Finance. Currently, he is the Head of Assets, Wealth & Investments at Barclays UK (London).
Charity
As an extra motivation, I thought I could do this for a fantastic cause and was therefore looking to fundraise a sum of £1000 for GOSH Charity. Great Ormond Street Hospital (GOSH) is a specialist hospital dedicated to children. Since its formation in 1852, the hospital has been dedicated to children's healthcare and to finding new and better ways to treat childhood illnesses. Most of the children they care for are referred from other hospitals throughout the UK and overseas. There are 63 different clinical specialties at GOSH; the UK's widest range of specialist health services for children on one site.
Our son Olivier (7yr) is currently under treatment by specialists from this hospital too. He started having severe migraines and daily auras (light flashing in your eye-sight) when he was five years old, which increased in frequency to very concerning levels and started to interfere with his education and attendance at school. After MRI scans and various treatments via one hospital, a referral came through for a second opinion to this specialist hospital.
So far, fortunately Olivier's condition has been improving to a level where it doesn't interfere with his education and life-style anymore, as long as we monitor his diet and intake a bit in combination with vitamin supplements. We have therefore witnessed first-hand the great work these experts can do for young children.
Friends and family have been generous via the fundraising platform for this challenge to donate and provide words of encouragement, to the level where it exceeds the target I initially set, raising a sizeable amount of £1437. My employer, via schemes applied in the UK (Matched Funding), matched the amount, making this charity donation go even further, resulting in a total sum of about £2870 being transferred to GOSH Charity.
Maastricht University School of Business and Economics (SBE) Alumni Office was immediately keen and enthusiastic when I shared what I was up to. Generous sponsorship with Maastricht University t-shirts/hoodies and water-flasks, accompanied by a nice card with words of encouragement have in my view all demonstrated once more the close ties between alumni and the university.
Now the real deal – April 16th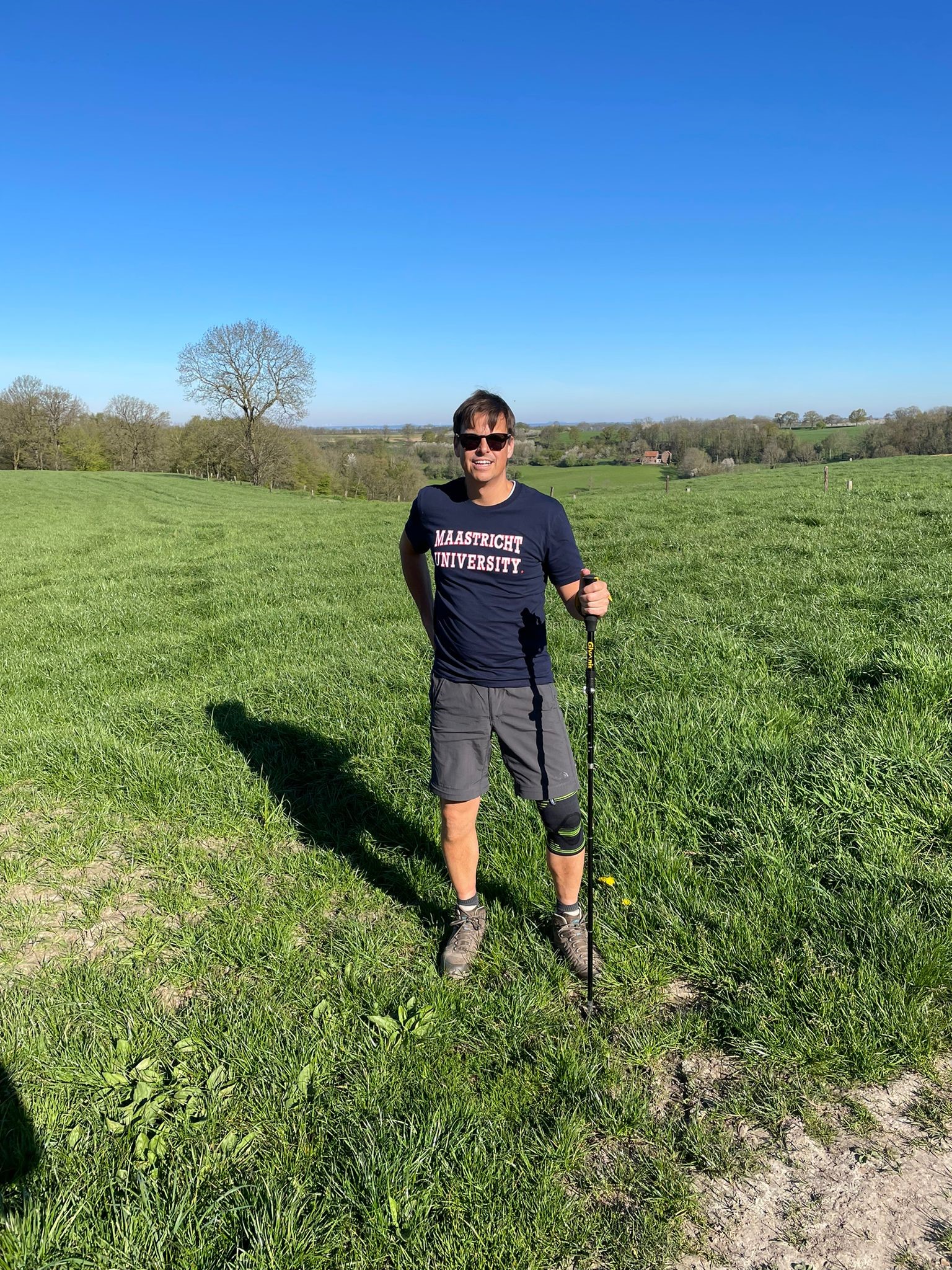 On the day of the challenge, the weather conditions were fortunately favourable. The weekend in Zuid-Limburg was filled with sunshine and temperatures inching towards the 20 degrees Celsius. In the afternoon I and my companion Willem set off (at 17:00) from Eygelshoven towards the first summit: the Wilhelminaberg. From here you can see the three-border-point ('drielandenpunt') at the horizon. We would pass that point as well, but only a few hours later. Crossing the German border, via the Sneeberg, and across parts of the Siegfriedlinie, we arrived in Vaals for a first recovery break as we were 27km into the hike. Night had set in and our head-torched were switched on.
Continuing via the Drielandenpunt, along small paths and dense forests steadily to the Eyserberg, followed by the Gulperberg, we stopped for the second recovery break. At this point we were 51km into the hike and it was around 3 am. Although initially anticipating stopping at the50km mark, Willem indicated he wanted to continue for a bit longer. My father-in-law joined then also joined us for the next 26km.
We continued our route for a few hours and as the sun rose we made our way toward the Belgium border (Teuven). Willem stopped in Teuven after having hiked a very respectable 70 km. After Willem left, my father joined me for the final 32 km; also my wife joined me for the next 10km. Via the Hakkenberg and Kattenrot we arrived in Mheer, where we had the third recovery break. From Mheer we crossed the Belgium border once more and head to Eijsden, where we had the last break to prepare for the final 14 km. At this moment I had hiked the longest distance I had ever done and I started to feel that my feet became a bit sore.
Final kilometers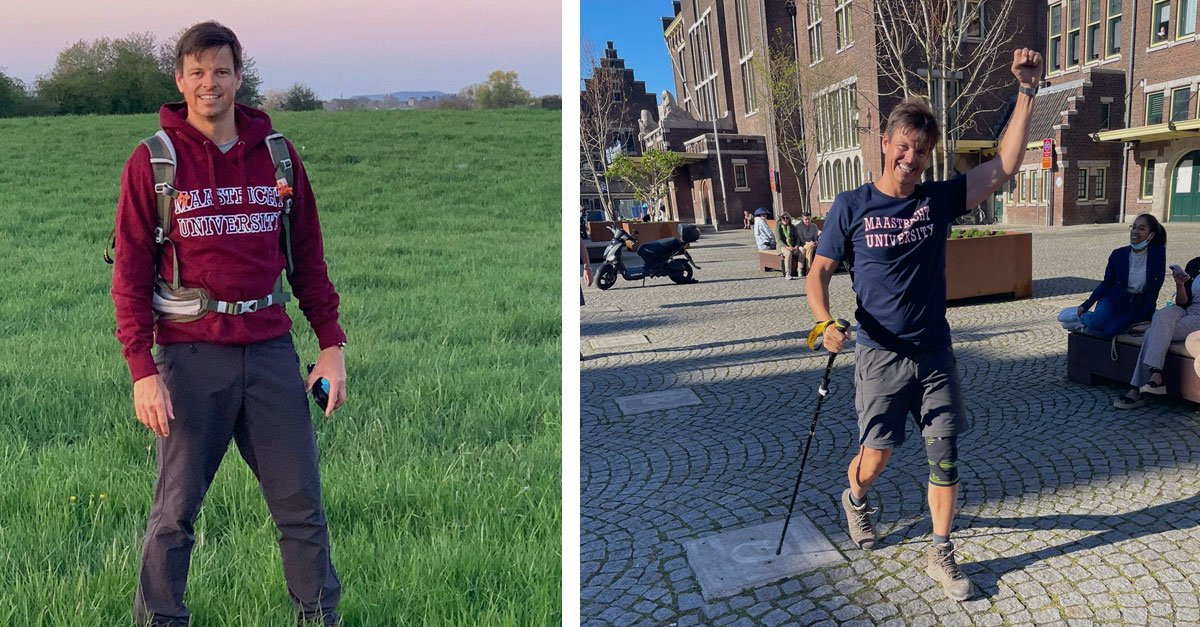 With the end in mind and the feeling that 14km from that point onwards should ultimately be doable, we continued via d'n Observant to the ENCI (an old cement quary), where we had to climb 215 steps before we could make our way towards the end-point, Maastricht Station. SBE Alumni Coordinator Leann Poeth kindly awaited me along this part of the route for some words of encouragement and to evidence it with a photo.
Arriving at Maatricht Station, I had walked 103 km, in a time span of 25 hours. Family and friends were waiting proudly and jubilantly at the finish with banners in their hands to celebrate this momentous success. A bold physical challenge, that has resulted in great memories and contributed to the vital work that GOSH does!
Also read
Fossil subsidies undermine climate policy, says Patrick Huntjens and other colleagues in an opinion article.

SBE alumnus Riccardo Notarangelo works as a Project Researcher at the University of Vaasa in Finland. In this article, he shares how his studies and experience at SBE and his love for rugby contributed to him going to where he went and ending up where he is.

Obligation for energy label C for offices seems to have desired effect