Anniversary Book Faculty of Law
The Faculty of Law's Anniversary Book is now available!
On the occasion of the 35th anniversary of the Maastricht University Faculty of Law, the faculty has published an anniversary book. In this book, the foundation of and development into the current faculty is described, completed with many new and old photos. The book can be purchased at bookstore The Tribune in Maastricht (regular price: € 34.50, student price: € 29.50 for students with a valid UM student card).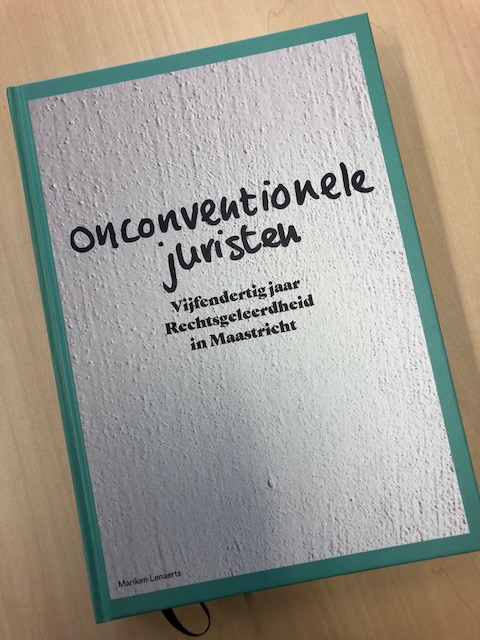 In September 1981 a mere handful of pioneers, armed with a pen and a packet of handkerchiefs, entered the former Jesuit monastery at the Tongersestraat in Maastricht. They were determined to start a new, fresh programme in Dutch law, based on a new didactical method: Problem Based Learning. On 6 September 1982, the first 99 guinea pigs started with the new programme, tucked away in a corner of the Jesuit Monastery, as the renovation of the Nieuwenhof was not yet finished. Nowadays, that experiment has developed into a full-grown faculty, harbouring about 2,800 students and 250 staff members, with three bachelor's programmes, nine master's programmes and an international outlook.

Anniversary book
In the academic year 2016-2017 the Maastricht Faculty of Law celebrated its 35th anniversary. On the occasion of these celebrations an anniversary book was published titled 'Onconventionele Juristen. Vijfendertig jaar Rechtsgeleerdheid in Maastricht'. The book consists of interviews with and by persons who were closely involved in the most important developments of the faculty in the past thirty-five years. A short historical overview provides the necessary context and all this text is brightened up with more than a hundred pictures, both new ones and golden oldies. The book, which is in Dutch, is for sale at bookstore De Tribune in Maastricht for € 34.50. On presentation of a valid UM-student card you get a € 5 discount.
Please find more background information in the blog that was published earlier.
Also read
27 September 2023, Brussels | "The green transition in mobility is going well, but it could be a lot better. Until 2040 and 2050, the infrastructure we need to build, will be impossible to achieve on an individual level." With this conclusion, Turi Fiorito director of the European Federation of...

The EU-funded project FullCompensation aims to make the compensation of pain and suffering damages more equitable and efficient. To this end, the project led to the development of a model legislative proposal and guidelines, based on comparative and empirical evidence. These documents are intended...

"Wie als slachtoffer zijn recht zoekt, verdwaalt gemakkelijk in juristerij en een wereld waarin veel onbestraft blijft", aldus Steven van de Put, promovendus aan de universiteit Maastricht. "Dit moet én kan anders. Het kan niet zo zijn dat individuen of groepen van individuen die iets ergs is...