Crisis Case Challenge 2021
The Crisis Case Challenge is a collaborative initiative of the SBE Student Council and SCOPE to help local companies during COVID-19. It was created by students for students, and it offers students an opportunity to apply their knowledge and skills to real-life situations. During the CCC, students work together in teams with the purpose of providing creative and strategic solutions to local and small businesses heavily affected by the pandemic. 
Participating companies and case winners
Building on the success of last year's inaugural event, this year's CCC had a total of 176 student participants. In teams, students worked on different cases from the five participating companies. Below you can find the winners of the Crisis Case Challenge 2021:
Stadslab Case: Lisa Schulz, Marijn van der Staaij, Naomi van der Vliet and Niek Johan Klaver (Team 3) 
MVV Maastricht: Camilla Jost, Marlo Alexander Frings, Matthis Stöver, Onat Murtezaoğlu (Team Puzzles)
IXT Recruitment: Riccardo Notarangelo and Madalina Vrancean (Team RiMa)
Precious Plastic: Catherine Garrn, Julia Antonioli, Julia Caroline Mahlstedt, Pauline Moody (Team TWG Consulting)
Sound Academy: Christian Bloier and Theodor Plaul (Team C&T Strategy Consulting)
Company Acquisition
With the help of UMIO, the team reached out to several companies to be part of the Crisis Case Challenge and to receive support from Maastricht University students.
Would you like your company to participate in the next Crisis Case Challenge? Please send an email to ccc@scope-maastricht.nl
Collaboration with local companies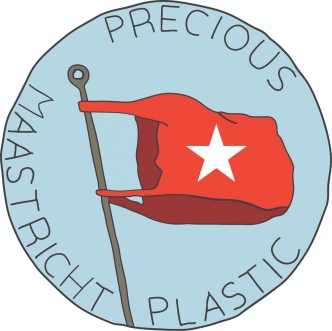 One of the participating companies this year was Precious Plastic Maastricht (PPM). Its primary aims are both to provide the people of Maastricht with a local upcycling opportunity for plastic waste, and also to provide education that can encourage a sustainability mindset within the community. Precious Plastic challenged students to create a business plan that would help them achieve their goals for the next 3 years.
The winning student team in this case was TWG Consulting. Although creating a plan like this during Covid-19 was especially difficult, the team persisted in developing creative solutions. First of all, to create more awareness about plastic pollution, the four women of TWG Consulting advised PPM to, for example, start educating children from a young age by offering plastic waste projects in primary schools around Maastricht. Secondly, TWC Consulting advised PPM to build bigger and newer machines to upcycle plastic waste material. Another creative aspect of TWC Consulting proposed business plan was to introduce an 'active member community', consisting of individuals who can actively participate in the journey toward sustainability, and also help raise awareness.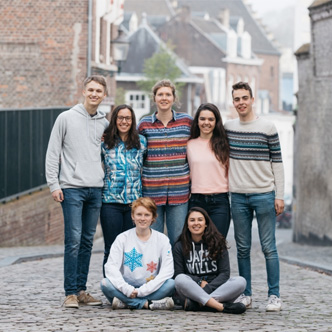 TWC Consulting suggested that PPM could recruit new members for this community during INKOM, for example, and they could also organize workshops to actively engage these members in the concept of reducing plastic waste.
According to Precious Plastic Maastricht, their participation in the CCC was inspiring and rewarding:
"We are glad to have participated in the Crisis Case Challenge. The student's submissions brought us new insights and ideas we are definitely going to use in the future. Our goal is to reuse plastic in different ways, but also create awareness, and taking part in CCC has really helped us by inspiring us with original ways to keep doing this. We would definitely recommend companies that have a strategic problem, and who would be open to new ideas created by students, to take part in the Crisis Case Challenge." – Precious Plastic Maastricht
Bringing knowledge outside of the classroom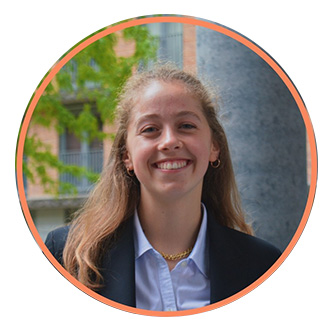 Similarly, students also found great practical value in the CCC 2021 experience:
"First off, I'd highly recommend everyone with any time to spare to take part in the Crisis Case Challenge. My team and I had the possibility to carry out in-depth research on the non-profit company, Precious Plastic Maastricht. With the opportunity to dive into the many facets of the business, such as operations, customer base, future outlook and financials, we have all expanded our practical knowledge from university theory to real life practice. The challenge itself is not as time consuming as one might think, as long as the preparation is spread out over the two months available, and CCC is definitely the best way to get some insight into the consulting world." - Julia Antonioli, member of TWC Consulting, the winning team for Precious Plastic Maastricht
As the students of SBE, we would like to thank our faculty for supporting our initiative, UMIO for their help in company acquisitions, the judging process and their support for our project.
We would also like to thank Christopher Pena, Ankie Titulaer, Sander Jansen, Daniel Badie, Sabine Nievelstein, Joep van Haren, Gordon Miessen and Sabine Janssen for evaluating the students' submissions, and all of the students who participated in the challenge!
Blog written by Jolie Kox and Elif Karakurt