Connecting people through football
This story starts in 2016, when Aaron Martin is still studying International Business in Maastricht. He finds economics, but also international politics, very interesting. Aaron is surprised by the growing anti-European sentiment at the time. Together with among others Benedikt Kau (University College Maastricht), founder of the WhyEurope platform, he wants to raise a positive voice. They want people to be able to show in an accessible way that they are proud of Europe. And what better way to do so than with a European football shirt?
'UM & Europe' in the spotlight
2022 marks the 30th anniversary of the Maastricht Treaty; time to take stock of European integration. Moreover, a special conference on the future of Europe is scheduled in Maastricht from 11 to 13 February 2022. Plenty of reasons for the European university of the Netherlands to launch a new series of stories, and to publish an overview of all of our 'UM and Europe' information. Read more.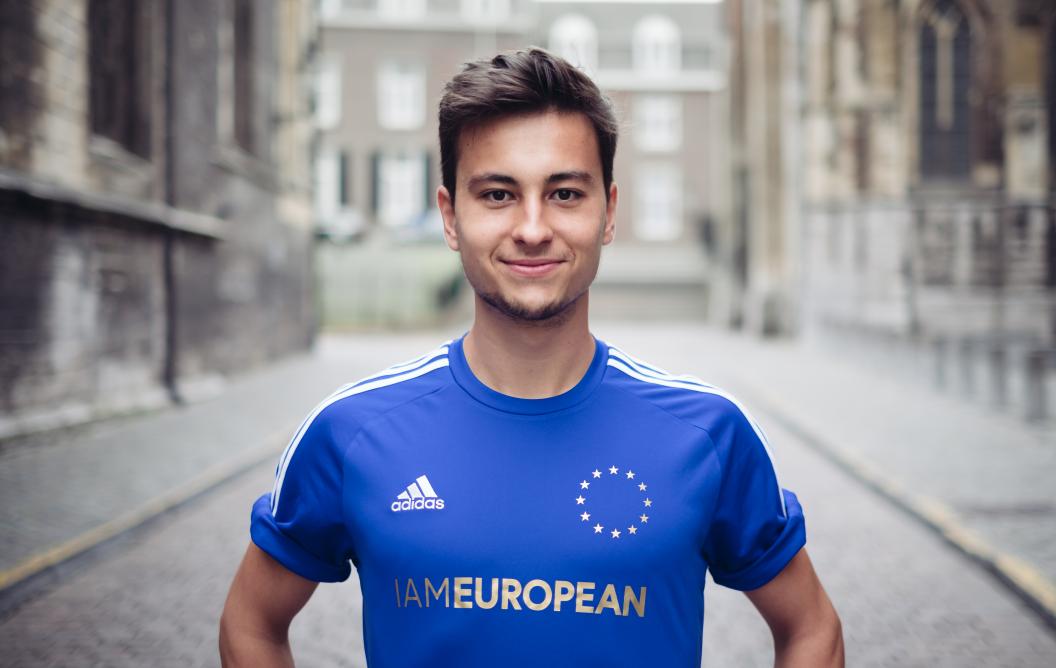 Contributing to a more positive European sentiment
Aaron: ''To our surprise, such a shirt did not yet exist, so we got to work. In the first period, we sold about 700 shirts through crowdfunding! My mother and brother helped pack all the orders. It is great that with this initiative we were able to contribute at a micro level to a more positive European sentiment.'' Meanwhile, Aaron is no longer involved in selling the shirts; he works as a consultant in Munich. Does he still wear 'his' football shirt? ''I like to wear it to the gym or when I play football. And it is still fun to see friends - and sometimes even strangers - wearing it!''
For more information, visit www.whyeurope.org.
Photography: Michel Saive.
Also read
The first paper ever written by Jiaru Zheng, a second-year bachelor's student in Digital Society, was published as a journal article. The paper focused on the pop music album 3811, in which singer Tan Weiwei advocates for the status of women in China.

With the project 'About not being an Einstein', made possible by a grant from the Diversity & Inclusivity Office, Anke Smeenk wants to ensure that being gifted is more widely recognised at Maastricht University.

Match is for students who want to develop themselves while making a social contribution in Maastricht. A good example is the Match For Brighter Futures (MFBF) project, in which UM students give secondary school students extra attention and guidance when doing homework.