Bachelor Knowledge Engineering Top Rated Programme Keuzegids Hoger Onderwijs 2016
Knowledge Engineering received the Quality Seal "Top Rated Programme" for the third consecutive year from Keuzegids Hoger Onderwijs 2016! With a total score of 78 and a ++ evaluation Knowledge Engineering offers the best interdisciplinary academic education in the Netherlands in the field of Artificial Intelligence.
"Knowledge Engineering is doing very well, just like the previous years. The courses are of high quality and students appreciate the method of examining and grading. Project Centered Learning gives students the opportunity to put the acquired knowledge into practice. Students enjoy working as a team to solve actual problems from businesses."
The Keuzegids Hoger Onderwijs is compiled each year by an independent editorial board at the Centre for Higher Education Information to help students select a study. The 2016 rankings were compiled based on student assessment and judgement of experts on the bachelor's programmes, the professors, the facilities and more.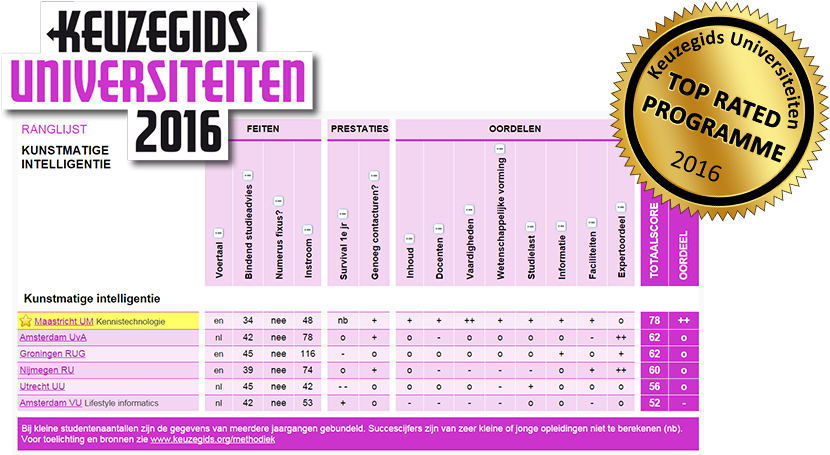 Also read
Reusing waste as a source for new materials appears to be an effective way to reduce the use of fossil-based sources in the production of materials such as plastic. However, how do you do this on a large industrial scale? In late November, Maastricht University and its partners TNO and Brightlands...

The Sexual Safety Programme has made the online version of the "Are you okay?" lecture available to all Maastricht University (UM) students. It aims to promote sexual safety and sexual well-being.

Nine out of ten miscarriages happen in the first three months of pregnancy. Researchers at Maastricht University Medical Center have found that in 70% of these cases, the embryo has a genetic abnormality.