Anna Schueth and Ilja Arts win Amrapali Zaveri Award
In November 2020, Anna Schueth, post-doctoral researcher at the Department of Cognitive Neuroscience (FPN) received a NWO AES VENI grant to further develop and apply her ground-breaking, light-sheet microscope prototype. On 9 March, she received the Amrapali Zaveri Award for Early Career Data Scientists. The award is an initiative of the UM Institute of Data Science to honour and memorize their colleague Dr. Amrapali Zaveri, who passed away in 2020 at a very early age. Anna and Amrapali were friends and worked together on various projects.
Anna Schueth: "My work sets an example for other (young) scientists, because I demonstrate that it is a great experience to work in teams with members from different disciplines and with a vast variety of expert knowledge. Amrapali and I first worked in different disciplines, but when these two disciplines of data science and brain science/microscopy merged, truly great things happened. We planned to work on my VENI project together, which is at the cross section of data science, brain science and microscopy. Now I continue to work on our ideas with other international data scientists at UM and beyond, and this work will have a high impact both at UM and globally. We wanted to foster an interdisciplinary culture at UM, building bridges between different institutes and faculties and share data FAIR and openly. I will continue to work on our common goal."
Plans
Schueth's VENI research project is at the intersection of microscopy, brain science and data science. Her goal is to produce novel 3D microscopy data using human brain patient samples, which will give new insights into neurodegenerative diseases for the very first time. Moreover, she is working together with the Department of Pathology at MUMC+ on prostate cancer. Her plans with the award, however, are broader: "With the award money I want to start an educational and interdisciplinary event series, which is called 'Data Science meets Brain Science & Microscopy', together with Pint of Science Netherlands (PoS), for researchers, the public, and high-school kids. The event series will have several editions and targets a broad audience, such as local researchers in data science, microscopy and brain science to enhance fruitful and interdisciplinary collaborations at UM. In particular, the 'local edition' is a way to honour and remember Amrapali, as it represents our collaboration and the work we have done together at the cross section of data science, brain science & microscopy. When I met her in 2017, she sparked my interest to learn more about data science, apply it better to my project and increase interdisciplinary work."
Events
The event series will host international researchers from the cross section of data science, microscopy and brain science worldwide to foster new international connections among UM researchers and broaden out-of-the-box expert knowledge. Schueth will also organize teenager editions in corporation with local schools. Schueth: "I want to talk with classes about data science, microscopy and brain science and give them insights into the life of a scientist, including virtual lab tours and interactive sessions. This will foster the interest in science already at a young age. Especially girls will be interested in talking to female scientists as a role model. Overall, the entire event series is targeted towards all genders and people from all cultural and social backgrounds. After each event, videos will be uploaded to the PoS YouTube channel and can be shared with other schools and classes. Additionally, these videos will be shared with the online mentoring programmes for STEM education 'Cybermentor' and 'MintorMe'.
annaschueth.com
But there is more to Anna Schueth than just the brilliant researcher. In February 2021, she set up a website and blog where people can write blog posts about experiences, fears, losses, and feelings they find difficult to share with others. Schueth wanted to relieve the stigma around mental health issues including suicidal thoughts or suicide attempts by relatives, pregnancy, abortion, miscarriages, dealing with loss and grief, as well as disabilities and chronic illness:  "In 2020 and 2021, I met many people at work who came to me to talk about their personal struggles and stigma they were dealing with every day. So, I decided to be brave and speak up publicly and share my own experiences to show my colleagues and friends that they are not alone with this". She described that her mother struggled with bipolar disorder, including several suicide attempts, which caused Anna a lot of trauma growing up. Furthermore, Schueth shares the loss of both her father during her PhD and her baby after 11 weeks pregnancy during her post-doc. Schueth, a first-generation student, had to work multiple jobs, because her parents could not support her financially: "I relate and I understand, because I have been through a lot myself," She invites people to share their stories too. "I am blown away by the trust and the overwhelming feedback," says Schueth. People from all over the world reach out to me and either want to thank me for my 'inspirational', 'unique', 'brave' and 'beautiful' work or they send me their stories too. "It makes me so incredibly happy to help others and see that after years of hiding they are brave enough to finally have the courage to speak up."
"Please reach out (anna.schueth@maastrichtuniversity.nl) if you would like to share your story too. Everybody is welcome on my blog annaschueth.com and I am very grateful for everyone's trust."
Data Science Award for Prof. Dr. Ilja Arts
Prof. dr. Ilja Arts of MaCSBio (FPN and FSE) received the Amrapali Zaveri Data Science Award for her proposal to organize a MaCSBio Science Day on 'Gender in Systems Biology' and to enrich the institute's website with interviews with the institute's researchers. Professor Arts is the founding Scientific Director of MaCSBio.
The jury describes their decision as follows:

"The committee decided to give the award to Ilja Arts, who showed significant contributions locally and nationally, and has a clear role in community engagement and leadership. She has positions in high-level policy and funding organizations that enable her to influence funding strategies, promote diversity and support underrepresented groups.
The committee was inspired by her plan to organize a conference focused on 'Gender in Systems Biology' in which she aims to invite speakers from underrepresented groups but also puts attention on gender-bias in research data and development of computational models. Additionally, she wants to develop short interviews to promote diverse researchers to showcase their work so they can inspire and act as role models for others."
Text: Margot Krijnen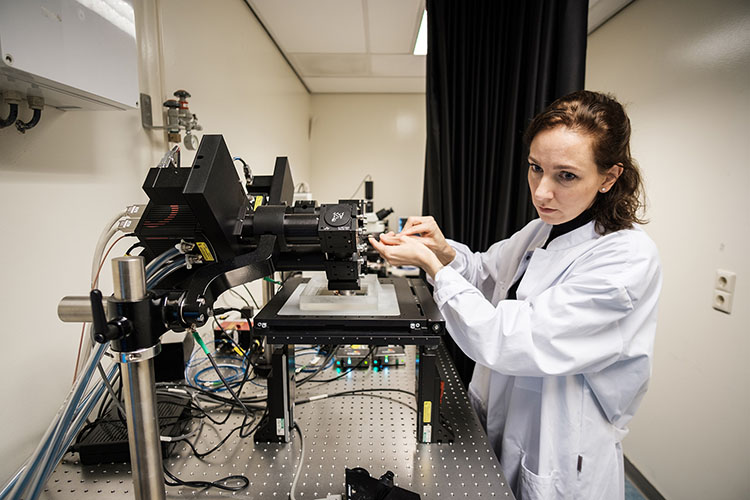 "Dr. Anna Schueth stood out as a successful researcher involved in an innovative and high-impact research project at the intersection of microscopy, brain science and data science. She inspires other young and future scientists as a STEM mentor for high-school girls. Her plan to use the award money to establish an educative and interdisciplinary event series called 'Data Science meets Brain Science & Microscopy' as part of the Pint of Science Netherlands really convinced the committee that she deserves this award."
Dr. Martina Summer-Kutmon, member of the Amrapali Zaveri Award jury. Assistant professor in the Dept. of Bioinformatics (BIGCaT – FHML) and Centre for Systems Biology (MaCSBio – FSE)
 "Anna is an ambitious and excellent young research fellow, who has, besides her research, set up amazing initiatives, targeted at young women, to introduce them to STEM research. She is also a mother and the way she combines all these activities makes her a true role model and deservedly the winner of the Amrapali Zaveri Award in Data Science."
Dr. Claudia van Oppen, member of the Amrapali Zaveri Award jury. Deputy Director of Maastricht University Library and Manager of the Department Research Support and Development. 
The Amrapali Zaveri Awards for Data Science are sponsored by University Fund Limburg/SWOL.