'Bacteria & Borders': An artistic research project
Come and listen, look and read about the artistic research on the impact of borders on bacteria and virusses.
Bacteria & Borders is a collaboration between visual artist Marlies Vermeulen and social scientist Alena Kamenshchikova. In a series of podcasts they tell more about their collaboration between science and art, the pitfalls and the unique chances. During the pandemic, their research became more current than ever.
This collaboration was made possible by the Mingler Scholarship, awarded to Marlies Vermeulen and Klasien Horstman in 2020. The Mingler Scholarship is an initiative of the Dutch Society of Arts and The Young Academy, part of the Royal Netherlands Academy of Arts and Sciences and is financially supported by the Niemeijer Foundation.
The presentation of Bacteria and Borders will take place on 10 March from 16:00-18:00 at Zuyd Hogeschool, Nieuw Eyckholt 300, 6419 DJ Heerlen, Netherlands.
Bacteria & Borders will be displayed until the 18th of March. Afterwards, it will travel to various institutions and universities.
More information about the project (in Dutch)
Also read: Interview with Klasien Horstman 'Redrawing borders'.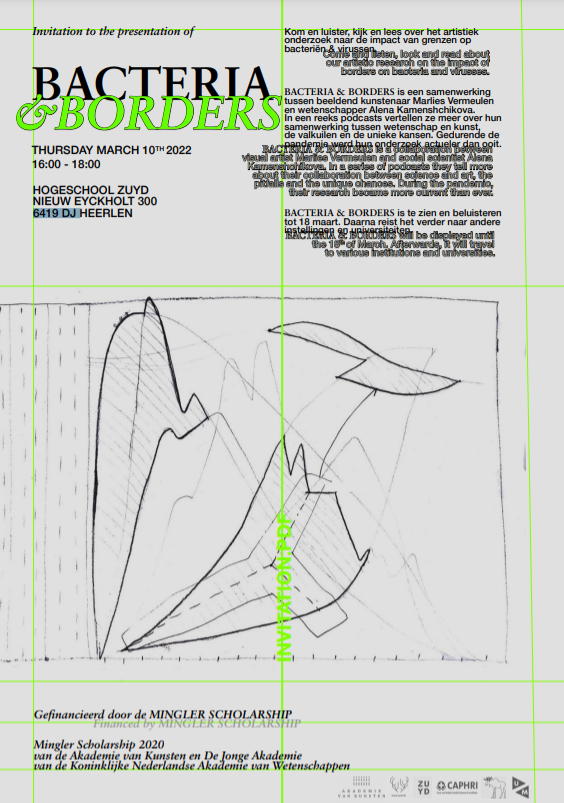 Also read
Symptoms of gluten sensitivity are partly to do with people's expectations, if celiac disease and wheat allergy have been excluded as causes. Recent research at the universities of Maastricht and Leeds shows that the expectation that gluten causes gastrointestinal complaints plays a crucial role in...

Nine out of ten miscarriages happen in the first three months of pregnancy. Researchers at Maastricht University Medical Center have found that in 70% of these cases, the embryo has a genetic abnormality.

Marielle Wijermars and Christian Herff will receive this year's KNAW Early Career Award. The Award is intended for researchers in the Netherlands who are at the beginning of their careers and who have innovative, original ideas.