Michel Dumontier (M.J.)
Dr. Michel Dumontier is the Distinguished Professor of Data Science at Maastricht University, is the founder and Director of the Institute of Data Science at Maastricht University, and is a co-founder of the FAIR (Findable, Accessible, Interoperable and Reusable) data principles. His research aims to unlock the potential of data for scientific research. He is an expert in building and mining knowledge graphs for drug discovery and personalised medicine. 
Dr. Dumontier is a principal investigator in the Dutch National Research Agenda, the European Open Science Cloud, the NCATS Biomedical Data Translator, MCSA ITN KnowGraphs, and the Horizon Europe AIDAVA projects. He is the editor-in-chief for the journal Data Science. He is internationally recognized for his contributions in bioinformatics, biomedical informatics, and semantic technologies including ontologies and linked data.
semantic technologies, ontology, linked data, machine learning, data mining, data qualilty, ontology quality, data integration, drug discovery, personalised medicine
BSc (Biochemistry) from the University of Manitoba in 1999
PhD (Bioinformatics) from the University of Toronto in 2004
Assistant/Associate Professor at Carleton University (2005-2013)
Associate Professor at Stanford University (2013-2016)
Distinguished Professor at Maastricht University(2017-)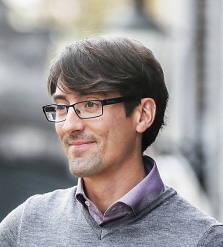 Michel Dumontier (M.J.)
Distinguished Professor of Data Science
Institute of Data Science; Brightlands Institute for Smart Society