Maastricht University Ambassador team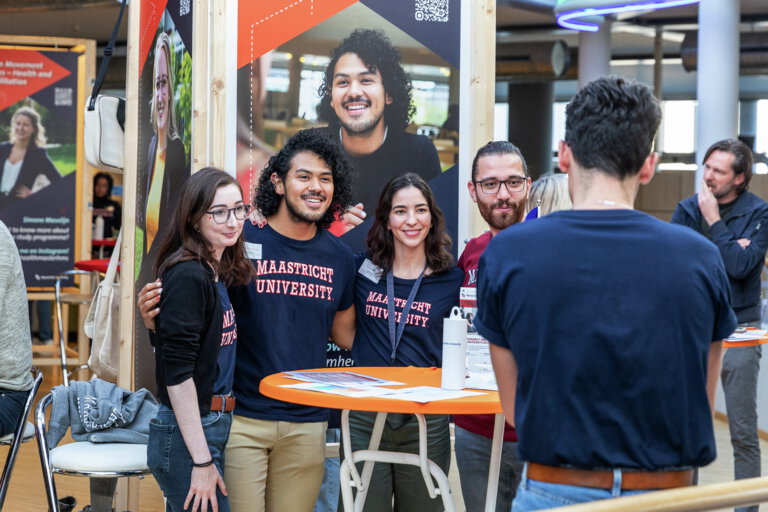 Are you enthusiastic about your university and the PBL method (or PCL) method?
  Do you enjoy studying in an international environment?
  Do you like living in Maastricht?
  Are you willing to share your experiences with prospective students at promotion events?
 Do you have a Dutch Social Security Number and Dutch Health insurance?
Then check the full vacancy and join our UM ambassador team! 
General Information 
At information fairs and other activities for prospective students Maastricht University (UM) is always represented by its students. For this purpose, UM has its own team of ambassadors, consisting of students who are trained in presentation skills and who are informed about all ins and outs of studying in Maastricht. Working for both faculty as well as country teams is a possibility as well! In addition to working during recruitment activities, you may be asked to perform other activities.
We are looking for enthusiastic and motivated students
There are two kinds of ambassador teams:
- Faculty ambassadors (every faculty has his own team)
- All-round ambassadors, Dutch and International (ambassadors who have well-rounded knowledge concerning all UM programmes)

We are looking for enthusiastic and motivated students for both teams, who feel closely attached to UM. The working hours for an ambassador depend on the amount of promotion activities of 'your' team and your own availability. There are busy but also quiet periods of work. You are therefore expected to be flexibly deployable. But of course, your study always comes first!
The faculty teams
In the faculty team you will present your faculty to prospective students. You are highly motivated about your faculty and able to express this enthusiastically with knowledge of all the admissions and programme details. You will get intensive training, after which you will visit information fairs and schools, and help at open days and other events (online and offline).
There are 6 faculty teams:
Law
Health, Medicine and Life Sciences
Psychology
Arts and Social Sciences
Economics & Business
Science & Engineering: 
University College Maastricht
Department of Advanced Computing Sciences
Maastricht Science Programme
University College Venlo
 
The all-round teams
As a member of the all-round teams, you are intrinsically motivated and enthusiastic about the UM. You have well-rounded knowledge concerning all UM programmes to present them professionally. Besides, you are somewhat familiar with the formal procedures concerning admission. Members of the all-round team are concerned with the international recruitment and assist in other events and happenings; such as online presentations about Maastricht University in general, PBL-presentations and/or customized school presentations. Moreover, (online) fairs, -webinars and -1-to-1 talks (Talk to an International Student) are part of your tasks.
Which all-round teams do we have:
 Dutch Allround team, only for Dutch events
Allround International teams, which include: 
-International schools team (ambassadors with international school education, i.e. International Baccalaureate, A-Level) 
- Country Team Germany 
- Country Team Belgium

For more information about contracts and payment, please visit the website of InterUM. 
Application procedure
Do you have the skills and characteristics listed below? Then you might be eligible for our ambassador team. 

Skills and characteristics of a member of the ambassadors team:
 You are enthusiastic an motivated, you want to work for Maastricht University
 You have affinity with UM and are representative
 You have good presentation and communication skills
 You have a good command of English (or Dutch if applicable)
 You are independent, flexible and creative
 You have knowledge of the functionalities and possibilities of Zoom and other online presentation tools
 You are interested in other cultures and norms and values
We expect applicants to be available for at least one year to work at different activities. We offer a 0-hours contract what means no fixed hours or a fixed income.

Having a driver's license, a good command of multiple languages and/ or work experience will put you at an advantage.
Application procedure ambassador team
Please check the schedule below for the available vacancies. In order to apply, please send your CV and application letter to the e-mail address of the team you are applying for:
All-round team
E-mail address
Deadline for applications

Netherlands

19 June
International
Country teams:

CT Germany 
CT Belgium
CT International schools

join-us@maastrichtuniversity.nl 
19 June
For further information about becoming ambassador, please send your question to um-ambassadors@maastrichtuniversity.nl.
Your work as an ambassador will start in the new academic year.
In order to become an ambassador, you are required to participate in the central organised ambassadors training. Every team organise his own training around August and September.