Klaartje Peters (K.)
Klaartje Peters (1969) holds a Special Chair in Local and Regional Governance for 1 day a week. The rest of the week she works as a independent researcher and writer. Her research focuses on political decision-making, both at the national and subnational level, and on regional and local governance.
Recently she focuses her research efforts on scrutiny and accountability in local government, and the work of local councillors.
In 2015 she published Een doodgewoon kabinet. Acht jaar Paars 1994-2002, about the two 'purple' cabinets in the Netherlands, led by prime minister Wim Kok. 
In 2007 she wrote an influential book on the reform of regional governance in the Netherlands.
She works as a freelance lecturer for several Dutch universities, at master and post-graduate level, and is involved in many different in-company training programs for politicians and civil servants, ranging from trainees to high-level civil servants of several ministries.
She is the chair of the Court of Audit of the municipality of Beuningen, and a member of the Court of Audit of the municipality of Venlo.
Klaartje Peters (1969) studied public administration at Leiden University (the Netherlands). In 1999 she earned a PhD in political science at the Vrije Universiteit in Amsterdam. Her PhD thesis, that was awarded the annual Dutch Political Science Association Dissertation Award, treated the subject of power in political decision-making in the Netherlands.
After that she worked for several years in The Hague, the government seat of the Netherlands, as a senior staffer in the Dutch parliament, in a public management consultancy firm and at NICIS Institute, an urban policy thinktank.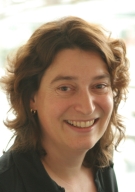 Klaartje Peters (K.)
Professor of Local and Regional Governance (0,2 fte)
Politieke Wetenschappen
Faculty of Arts and Social Sciences