Debating the future of the Energy Charter Treaty
The EU, as the key driver of the Energy Charter Treaty (ECT) Modernisation, has shown its determination to reform the ECT investment protection standards and the investor-state dispute settlement (ISDS) mechanism, while aligning the ECT with EU climate policy enshrined in the European Green Deal. After almost three years of negotiations and 13 negotiation rounds, the fate of the ECT is to be decided. A decision on the Treaty's amendment is expected on 24 June 2022 at the final ad hoc Energy Charter Conference. In addition, on 16 June the Court of Justice of the EU will deliver its opinion on the compatibility of the intra-EU arbitration in the modernised ECT.
This seminar, organised in cooperation between the Australian National University Centre for European Studies (ANUCES) and the Maastricht University Institute for Transnational Legal Research (METRO), will discuss the future of the ECT. 
 The seminar will be delivered in a hybrid mode, at Maastricht University Campus Brussels and online via Zoom.
 This event is supported by the Erasmus + program of the European Commission: 620168-EPP-1-2020-1-AU-EPPJMO-PROJECT EU Climate Change Agenda in External Trade and Investment.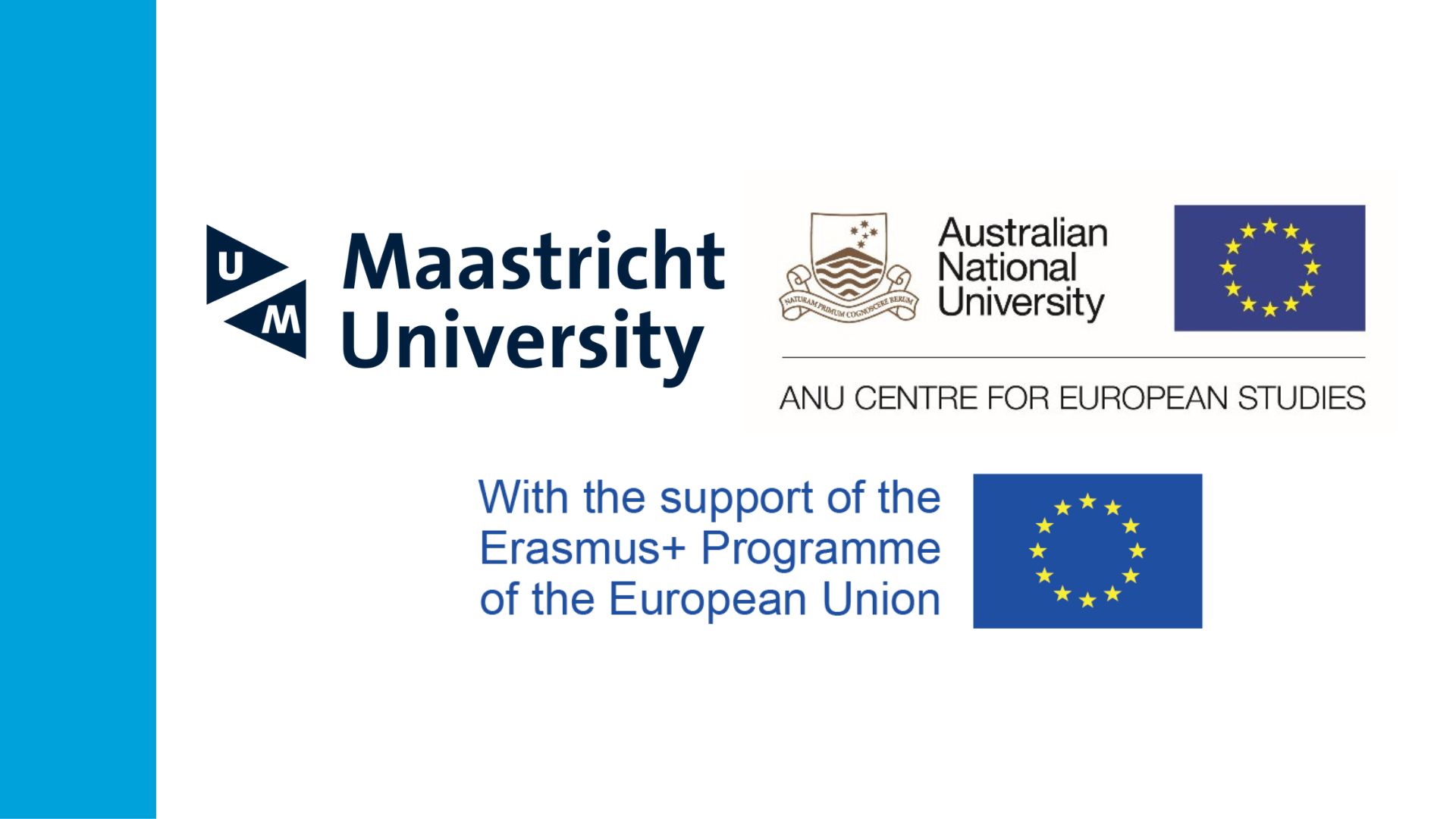 UM Campus Brussels & Online via Zoom
Program
12.30 Lunch
13:00-13:10 Introductory Remarks
Dr Ivana Damjanovic, ANUCES / University of Canberra
13.10-14.50 Panel I: The external dimension of the ECT
The first part of the seminar will provide EU policy and legal perspectives on the future of the ECT. The EU has proposed a gradual phase-out of the investment protection of fossil fuels and new investment protection standards as part of the ECT Modernisation. The discussion will address the proposed changes and their compliance with EU's climate objectives, the right to regulate, and the CJEU case law. If not reformed, will there be a reason for the EU and its Member States to remain bound to the ECT or should they collectively withdraw from this treaty?
Moderator: Dr Ivana Damjanovic (ANUCES / University of Canberra)
Speakers
Institutional perspectives (Dr Alex Wilson, European Parliamentary Research Service)

ECT substantive standards and EU law (Professor Matthew Happold, University of Luxembourg, Barrister)

The ECT and the EGD (Professor Nicolas de Sadeleer, University St. Louis Brussels and Assistant Professor Laurens Ankersmit, University of Amsterdam)

Legal Implications of a modified ECT or the withdrawal of the EU and Member States (Professor Nicolas Angelet, Université Libre de Bruxelles, Attorney at Law, Brussels Bar and Associate Tenant, Doughty Street Chambers)
Panel Discussion
14.50-15.00 Coffee Break
15.00-16.50 Panel II: The future of the dispute settlement under the ECT
The second part of the seminar will consider the key legal issues stemming from the clash between EU law and international investment law. In particular, the discussion will address the fate of the controversial ISDS in intra-EU arbitration, in light of the existing investment tribunals' and CJEU's jurisprudence.
Moderator: Dr Constantijn van Aartsen (Maastricht University)
Speakers
CJEU jurisprudence and intra-EU arbitration: an overview (Dr Ivana Damjanovic, ANUCES / University of Canberra and Professor Nicolas de Sadeleer, University St. Louis Brussels)

Implementation of the Komstroy and PL Holdings judgments (Quentin Declève, Attorney at Law, Van Bael & Bellis)

Legal Implications of the ECT status quo (Dr Cees Verburg, Attorney at Law, Pels Rijken)

Legal mechanisms for carving-out intra-EU arbitration under the ECT (Johannes Tropper; University of Vienna)

Comments by Dr Tim Rusche (Legal Service, European Commission)
Panel Discussion
16.50 Concluding Remarks
Dr Constantijn van Aartsen, Maastricht University
17.00 Conclusion of the event