A. Dandashly
Assem Dandashly is an Associate Professor at the Department of Political Science at Maastricht University. Prior to joining Maastricht University in September 2012, Assem was a Research Fellow at the Kolleg-Forschergruppe "TheTransformative Power of Europe" Freie Universität Berlin. Assem holds a PhD in Political Science (2012) from the University of Victoria, BC Canada.
Prior to moving to Berlin, Assem was a Research Associate at the Centre for Competition policy at the University of East Anglia. He was also a research assistant and sessional instructor at the University of Victoria. In 2008-2009, Assem was a visiting researcher at the Economic University of Krakow in Poland and the Central European University in Budapest. Before moving to Victoria, Assem was a Fulbright Graduate Student at Marquette University, Wisconsin-USA.
Office Hours: Every Monday 9:00-11:00 or by appointment.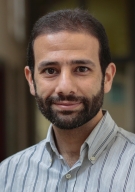 A. Dandashly
Politieke Wetenschappen
Faculty of Arts and Social Sciences