Getting jobs in the Eurobubble: A game of inches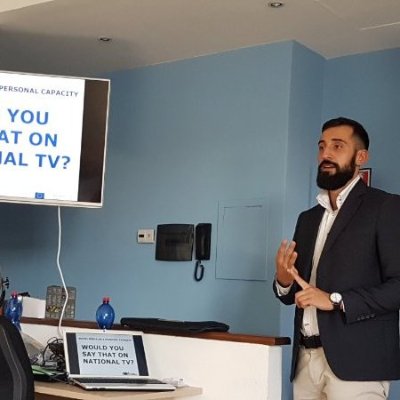 I had a lot of fun at the EU Studies Fair. For me it proved a very fruitful event for both students and professionals who are trying to get a foothold in that lions' den that I call "Eurobubble jobs." In my experience this can be quite a daunting challenge, but if it has been a journey that I think it is worth blogging about.
The most frequent questions I got:
1. I'm a student. How do I land an internship?
2. I'm an intern. How do I move from "intern" to "employed"?
3. How can I maximize my time in the most efficient way while looking for a job in the EU sphere?

Let's get down to business.
 
How did I land my first internship? It was 2010, a terrible time for job hunters. With a sluggish economy, in the middle of the worst crisis that Europe had witnessed since 1945, graduating between 2008 and 2012 was probably not the easiest time to lay the foundations of your career. Basically, there were no jobs around and all whether it be businesses related to politics, economics or communication, unpaid internships were really all that was on offer. As a totally broke "economic migrant", I could hardly afford unpaid work. I remember that together with a friend of mine at Maastricht University, we strategically worked our way towards getting a paid internship.

Firstly, we sent (literally) hundreds of spontaneous applications to all kind of businesses we thought might be interested in our profiles, not only in Brussels but in cities around world. I even remember getting an offer to go to Tbilisi to work for a think tank which I seriously considered doing – I really needed something.

Secondly, we screened a database of alumni from Maastricht University and looked at what they were doing. We also contacted them to see how they got their first jobs, and asked if we could get some tips and recommendations on which direction to move. Finally  we took the plunge and headed to Brussels for a couple of nights just to check out what these alumni were doing and see where people hang out after work. It was during those nights that we realized that public affairs is not all about knowledge (seriously, it's actually only a small part of it). That's when I realized I needed to change my mindset.
 
85% of your financial success is due to your personality and ability to communicate, negotiate, and lead. Shockingly, only 15% is due to technical knowledge. Carnegie Institute of Technology.

To cut a long story short, we dared. We dared making the extra step to make sure we covered all possible angles in what was a pretty desperate search for employment, leaving no stone unturned. Eventually I got a paid traineeship at Bruegel which then turned into a job…but not after getting a few hundred rejections from all other businesses. Rejection is bound to happen. If it doesn't happen it means you are not setting yourself the ambition you deserve. You are just playing safe, away from disappointment but also away from opportunities.

Ergo, 1) be daring, 2) don't give up no matter how many rejections you get and 3) cover all possible angles in the way your present yourself to the market.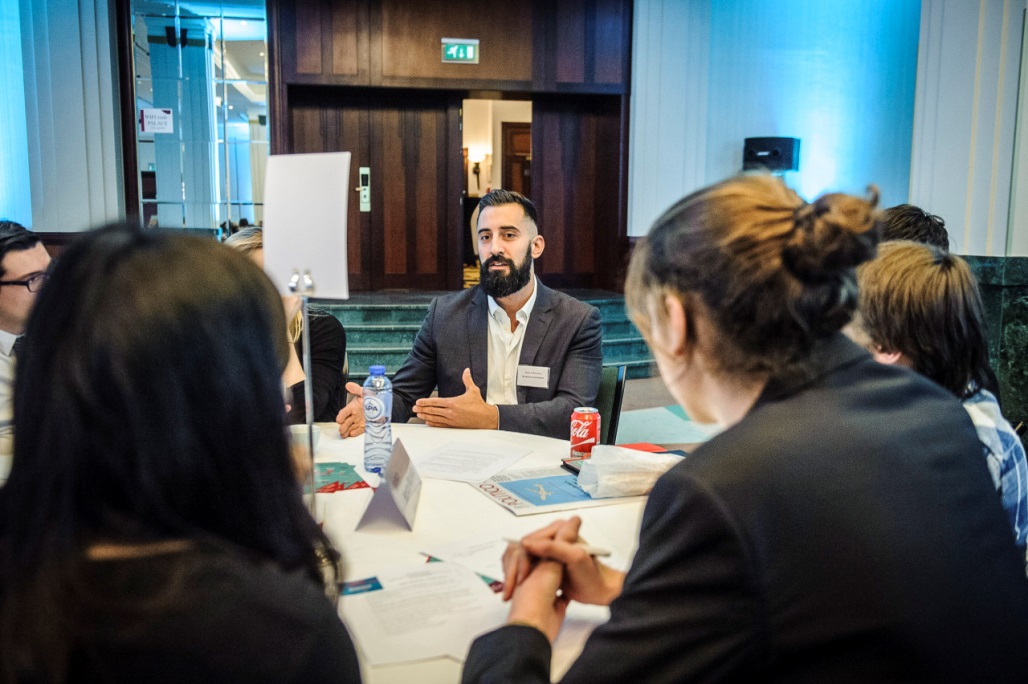 How can I maximize my time in the most efficient way while looking for a job in the EU sphere?
In the Eurobubble there is no real straightforward way to do this. But if I was forced to set out a clear-cut method to look for jobs it would be probably be something like this:
25% of your efforts have to be around generic applications and letters of presentation. These will give you an overview of what is out there, how companies, businesses and institutions are structured and the way they publish vacancies. It's the mandatory background on the environment you are trying to enter.
25% should be on highlighting your social, extracurricular skills, passions and interests. This is a game of inches. For that one job in the bubble you applied for, trust me, there will be 100, 200 or 500 more people with similar profiles fighting for it. How can people decide to hire you over someone else? Most of the time, it's what you don't expect that will catch somebody's attention. It might be a particular experience you have shared, an unusual language you speak or a common passion (whether it is photography, travelling or rock music) with your examiner. Don't leave anything relevant behind when you present yourself.
50% of your time should be on targeted and strategic approaches. These are direct, tailored and personal e-mails, handshakes or comments that hint at a potential "meeting" or "a coffee" to follow up a conversation.
They shouldn't be about jobs or employment but they should casually and in the least intrusive way possible propose an encounter where you present yourself as "a person" before being "a professional." Why 50% into this? Because it will take you much more time to approach 5 people with this method than approaching 20 companies in a speculative fashion.

Surprisingly, this is where most young professionals fail, in my opinion for one main reason: The overdigitalization of our interactions is creating a society where human interactions are scary or even unknown. People born after the late 90s already jump into this world where interactions and dialogue are fully digital among peers. People born before that back to the 70s have more flexibility since they experienced this change and can apply both interactive methodologies. (I'm 31 and find myself somewhere in the middle). This is not an outcry against digitalization. It is just a fact of life.

On top of this, there has been a substantial change of values among generations. I'm generalizing here, but I confidently see how the generation of our parents had completely different values based on prosperity and stability (whether this was financial, societal, geographical or marital) while the current youngsters value freedom, experiences and independence on all fronts. More and more of us are not as fussed about buying houses, nor cars, nor getting married nor crave that lifelong job contract that our parents so desperately want us to get. So, why be shy, right?We have learnt to be more flexible and ready to adapt. But it is important that we exploit this flexibility.

As a sort of experiment, but also as a work management filter, when people ask me for a meeting, a reference, a favour etc., I always give them my phone number straightaway and say "Call me whenever." Out of these people roughly 5 % call me while the remaining 95% don't follow up, forget or come up with written excuses for not making things happen. In my experience, that 5% who reached out to me over the phone were successful in starting a business, organizing a conference or getting a valuable contact. That is because they want to be champions in what they do and they do what they gotta do with no excuses.

There is one more point I particularly wanted to get across the people I talked to during the event. In my opinion Brussels is like bodybuilding: It's not for everyone. I'm not saying that you need special skills to come here and land an EU sphere job, but not everybody is ready or willing to play the game. What I'm saying is that the Eurojobs (in the wider sense) game is not 9AM to 5PM. It's actually from 5PM onwards. Do you want to get a comfortable 9 to 5 job in an office and be happy with that? Cool. You can do that anywhere in the world from San Francisco, to Milan, from Kuala Lumpur to Dakar. Why choose Brussels?

Do you want to build a career in the field of international institutions, relations and affairs? Then Brussels is the place for you (together ex aequo with Washington, Geneva and the city of London). But that "career" is made of a lot more than sitting in the office in front of your desk. It's a lot about shaking hands, going to conferences, making yourself known on social media, blog, talk, chat, explore, fail, learn and start over again and this is the part that is not for everybody. Many people have the capacity of doing this, but this is likely not everybody's vocation. The same way that people have the capacity to prepare for a fitness competition and to train every day, diet seriously, follow a coach, a nutritionist, and a physiotherapist, but not everybody is meant for it. Personally, I am addicted to both the institutional communications/relations game and bodybuilding but this is just me.

To summarize the key piece of advice I gave at the Euro Studies Fair…. it all comes down to following your true vocation which doesn't depend on what your family or friends or society tells you to be. It is about what you want to be or become, taking risks, being laser-focused on a goal, and willing to pursue it no matter what it takes to get you there. You are hard wired to follow the path towards the completion of your goal. Now get out there and make things happen to achieve your goal in life because ain't nobody gonna do it for you. I'm up for coffee or protein shake whenever you like.
 
About the author
This blog was written by Marco Ricorda, who graduated from Maastricht University in 2010 with a MSc. in European Studies. Currently Marco is working as Social Media Manager of the Joint Research Centre of the European Commission in Brussels. Interested in more blogs from Marco? Check out his personal blog page.
 
About the author
This blog was written by Marco Ricorda, who graduated from Maastricht University in 2010 with a MSc. in European Studies. Currently Marco is working as Social Media Manager of the Joint Research Centre of the European Commission in Brussels. Interested in more blogs from Marco? Check out his personal blog page.
Other blogs:
Also read
In this article I discuss several differences between startups and starting businesses. I find this important because over the last year, I've gotten increasingly frustrated about the types of questions I (as a startup founder) would get. "Can you already live from your startup?" "Why is raising...

As a family therapist in an ambulatory setting, I see varying psychiatric disorders in multiproblem families. I specifically work with families who not only suffer from any kind of disorders, but also are affected by mild intellectual disability. This blog encompasses two parts. First, it will give...

Many companies make use of professional coaching for their employees. Having well performing, healthy and happy employees is the key to success for them. In this article you will read why companies in the 21st century choose for digital coaching instead of traditional coaching on location.