Summer time: things to do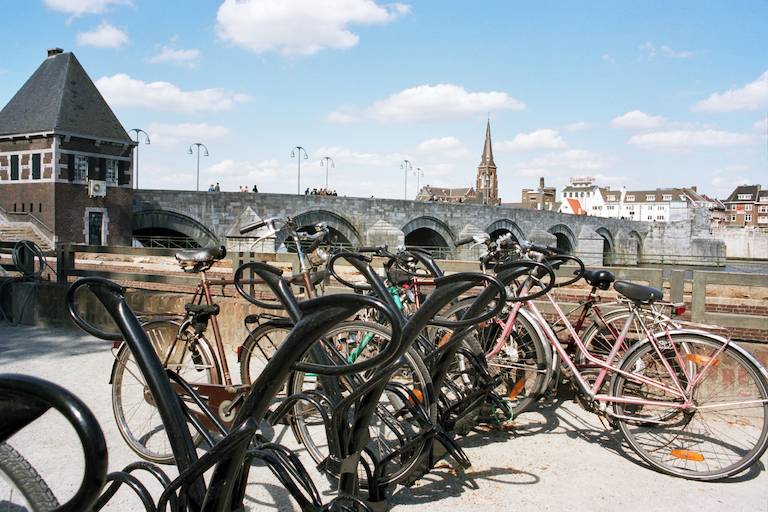 Maastricht is a typical student city: it's deserted from all life in the summer. The remaining brave ones are almost only here to get some cash at a part-time job, study medicine and thus have to work shifts at the hospital or work at a company as in an intern.  This means life is less vibrant then it normally is and thus you can invest time into getting to know the area a bit better. It's time to take out your bike and start exploring.
Visit 'The beach'
The Netherlands is pretty small and although Maastricht isn't near any sea or ocean, getting to the beach will only take you 2 – 2.5 hours (Belgian and Dutch beaches). If you do not wish to travel that long you can chill at the beaches near the river. All across 'de Maas' you can find so-called 'Dagstranden (day beaches)'. The closest one is 'Oost-Maarland'. Right besides Oost-Maarland you can find Funvalley, a recreational area where you can do outdoor activities such as Paint-ball.
Enjoy the nearby villages
Maastricht is situated in Limburg, one of the only area's in the Netherlands with a surface that comes remotely close to a hill-sight. It is particularly lovely in the spring/summer and a lot of villages are filled with tourists. If you are looking for a rowdy night out, this is no place to go. It breathes serenity and tranquility, which means the louder people stay away. Just grab your bike and start biking towards 'Valkenburg' or 'Gulpen' and enjoy a special beer at one of the terraces over viewing the countryside or the picturesque streets.
Floriade: Wolrd Horticultural Expo
Until the 7th of October you can admire a homage to gardens and flowers. Beautiful architecture entirely done by professional companies will stun you while you can enjoy several shows and taste nice dishes from several chefs. Just visit the website of the Floriade and admire the beauty gardens and nature has to offer us.
Across the borders
An international arts festival in Aachen, a nearby German city. Filled with music and open air, Across the Borders tries to bridge the gaps between European cultures. And again, just check out the website for more information.
Across the real borders
One good thing about Maastricht is its location. Situated next to Belgium and only about 20 km from Deutschland, it is pretty easy to go culture hopping. You will immediately notice when you go across the borders. The landscape and architecture changes as well as the culture. Aachen and Liege are pretty chill to hang out for a day or two (tops), but if you are willing to spend some more time it;s gonna pay off. The Belgian city of Leuven and the German city of Cologne are true recommendations!
Go to the 'Zoo'
Due to the fact that the squirrel is one of the most dangerous animals in the Netherlands, we needed to get the wildlife to us. And yes, even our province has its own real time Zoo; the Gaiapark . Although I am pretty sure you have seen your share of more spectacular zoo's in your life, it can hardly be called a waste of time. Just chill back and snap some shots of wildlife to get this summer past, whenever the weather is not 30 degrees and sun.
About the author
Joep van Agteren studied Psychology at Maastricht University. He was a contributor to the Maastricht Students blog from October 2010 to August 2013.
Other blogs:
Also read
There are many inevitable things that we have to go through in life from the moment we are born: learning how to eat using a fork, learning to use the toilet, saying 'thank you', etc. This sequence of proper societal integration continues until we are adults. We always have to adapt to our...

Keir Plaice, a former semi-professional cyclist and 3rd year Bachelor Arts and Culture student, is embarking on a cycling ride of a lifetime. He is riding the route of the original Tour de France of 1903 and documenting his experience in his Le Grand Tour column in the cycling magazine Soigneur...

Every year since 2009, fashionistas descend to Maastricht as the city hosts the FASHIONCLASH Festival. It has attracted more than 900 talents from 50 different countries. This year's 8th edition is bigger and better, involving more than 150 designers and artists from all over the world who will...