21 Tips to Survive UCM (For UK Students)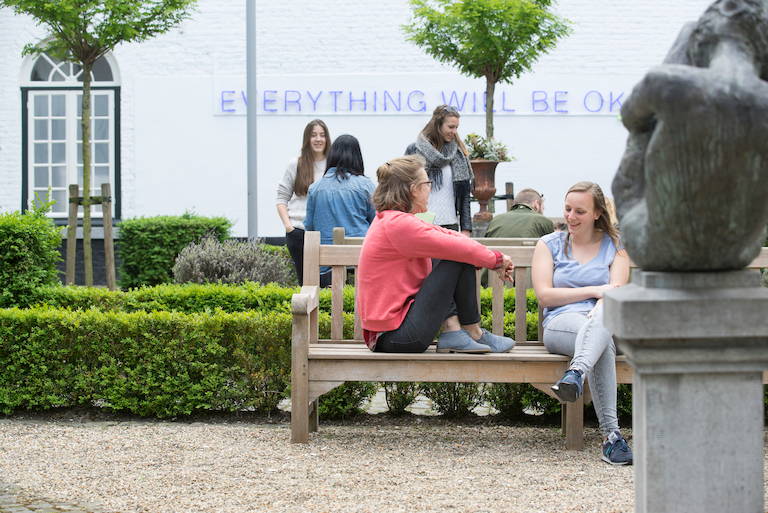 So, after a semester at UCM, what I can say is this: a few words of warning/experience/advice/recommendation for future UCM students, especially those coming from the UK:
UCM is tough. It is a higher work load than many other Universities. You will hear of your friends at uni in the UK doing far less work  with longer holidays. But this is the price we pay for doing so many different disciplines.
Don't do Contemporary World History in your first period (or Philosophy of Science). They are killers.
A 7 is fine. UCM works on the 1 – 10 grading basis (not A, B, C)  10 is the best and 5.5 is a pass. However, I made the mistake of thinking that therefore a 7 is not really that good, where, in reality nobody ever really gets a 10. A 9 is almost unheard of. An 8 is pretty awesome. 7 is above average I would say. 6 is more than passing, and probably what most people are getting in their first semester. 5.5 is  a pass and passing at UCM means that in fact you are doing really well.
Don't feel guilty about what some of my friends call the 'Native-English -guilt'. Generally UCM-ers speak more than one language, and it is not unusual to meet those enviable people who speak English, Dutch, German, French, Spanish, Portuguese, Japanese, Chinese, Urdu, Swahili and Ancient Greek. Oh, and they are learning Norwegian- just on the side. Don't feel bad about this, as many UK students have simply not had as much opportunity to learn other languages in such depth. You get the opportunity to go to the language centre as part of UCM and many of your fellow students can help teach you.
Don't underestimate the level of English. You may think that UCM is full of Germans and Dutch using English as a second or third language and therefore as a UK student, of course you would have a higher standard of English. But don't be fooled, the standard set is high and I get the impression that UK students are not let off lightly.
UCM is APA. APA is the American Psychological Association form of formatting essays. It is probably different from the footnote-ing style you may be used to with Highers/A-Levels etc. This takes time to get used to and UCM is very strict about the implementation of APA.
You will have to specialise. You have an academic advisor and you have to plan out your  curriculum rigorously so there is not really a lot of room for trying too many different things out.
Apartments in Maastricht are very different from halls in the UK. Be warned though, I would recommend getting into an international student house as the Dutch student houses can be a bit cliquey and often they do not have a 'community' feel, rather just individual rooms. This didn't really suit me as I like to talk to people, especially if they are living one metre away. The Guesthouse is often full of exchange students and is a little pricey. Living in Belgium is an option, but then you cannot get the studyfinance. Also it is really quite far away.
Germans are everywhere. Just saying.
You sometimes get asked questions in lectures. They notice if you fall asleep… not that I have ever done that….
Bring some 50 cent coins for the coffee/hot choc machine on the first days, it helps you get through the day and the closest cash machine is at the Business faculty.
Work Hard, Party Harder. Pretty self-explanatory.
Referring to the point above, I would say that the Alla is to be avoided at all times unless completely drunk and reckless. If this is the case then I encourage you to enjoy the Alla with all your drunken might.
Jobs are tricky-ish to get, but once you start to get to know people they become more and more easy to find out about. But having a job and UCM is also a challenge.
Brits often drop out of UCM. (I blame the UK education system and the fact that not many UK students study abroad
Join Universalis. You get discounts. On everything.(It's really easy to join on the Intro Days)
Get an Albert Heijn Bonus Card.
Speak up in PBL
Join clubs and stuff, it can be lonely when you are not on a campus/in halls
Choose Euroshopper
Get a bike, you're in the Netherlands now… Should cost about 50 to 80 euros.
And that's just about all I can say so far…hope it helps for some of you who are hopefully starting at UCM in August. After just a semester I have to say that UCM is one of the best places to be, although tricky at first.
About the author
Catriona studied at UCM. She was a contributor to the Maastricht Students blog from June 2011 to October 2011.
Other blogs:
Also read
As exams are starting all over again, the library and university buildings become more crowded then ever. Finding a quiet study spot is not possible unless you will participate with the early morning German runs. Luckily there are some secret spots in Maastricht where you can find the peace and...

While I'm writing this blog I'm still calming down from my football match tonight. We lost again (but we finally scored!) and I got very mad (emotional like one of my teammates called it), and since the game was pretty late (10 p.m.), I still need calming down before I can sleep. But this will work.

So you are a prospective student and need to find your way around. You can stroll down the internet to find everything that you need before you arrive here. But why bother? Here's a summary of some of the most basic things you need to know before you arrive.