Research institutes
Centre for European Research in Maastricht
The Centre for European Research in Maastricht (CERiM) is a Jean Monnet Centre of Excellence providing a venue for interdisciplinary research and joint projects and events in the fields of European law, governance, and their respective history. We bring together researchers from the Faculties of Arts and Social Sciences (FASoS) and Law (FL) at Maastricht University.
Fast facts
Jean Monnet Centre of Excellence
Joint initiative of the Faculty of Arts and Social Sciences and the Faculty of Law
Common research programme Reshaping Europe in a Globalising World
Focus on the interactions between Europe and global developments
Led by Prof. Andrea Ott and Dr. Giselle Bosse
CERiM website
Research
CERiM focuses on the interactions between Europe and global developments. How is the European Union responding to changes in the world? To what extent can Europe and the EU contribute to the development of global regimes in fields such as human rights, economic and financial regulation, asylum and migration, and many others? And is the EU capable of doing this within the current institutional configuration? Historians look into the Europe-global link which has been developing over the past decades and how 'the global' has shaped Europe as much as Europe has contributed to the shape of global affairs.
Research lines
Differentiation & Flexible Integration
Constitutionalising Europe
European Governance & Market Integration
Europe & the World
Education
CERiM's scientists are involved in educational activities within different undergraduate and graduate programmes. Innovative teaching practices are implemented and disseminated through active engagement with the scholarship on teaching and learning. Their expertise lies in:
constitutional law of the European Union
internal market and non-market issues
interplay between the EU and national law
European administrative governance
history of European integration
the EU's external relations

Monica Claes
"The EU maintains to respect the constitutional identity of its individual member states. Nonetheless, the meaning of the concept remains vague. What is this constitutional identity made of? When is it violated, and who ought to judge whether this is the case?"
Read the whole interview

Sophie Vanhoonacker
"Although many people relate to national rather than European politics, Europe really does affect our daily lives."
Read the whole interview

Thomas & Ellen
"There's an urgent need to find answers to questions the disciplines are unable to solve in isolation, so the logical step was to found a centre that would allow us to cross disciplinary boundaries."
Read the whole interview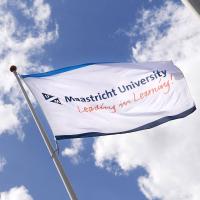 Centre for European Research in Maasticht
A joint venture between the Faculty of Law & the Faculty of Arts and Social Sciences