Research institutes
Brightlands Institute for Supply Chain Innovation
The Brightlands Institute for Supply Chain Innovation (BISCI) develops smart and sustainable innovations in supply chain management. Set up by Maastricht University and the Province of Limburg in early 2019, BISCI seeks to apply the latest results of logistics research to address the challenges of service providers in the region and beyond. In addition, the institute trains the next generation of professionals who can contribute to supply chain innovation in the industry. BISCI derives its strength from closely collaborating with partners in the public, private and community sectors.
Fast facts
Focusing on digital and sustainable supply chains
Aiming for triple helix collaborations
Located at the Brightlands Campus Greenport Venlo (Villa Flora)
Join our collaboration
The BISCI expertise and innovation centre is to start operations this summer. It will be part of the 'ecosystem' of Brightlands Greenport Campus Venlo, in which the business community, academics, students and representatives from various governments work together through open innovation and co-creation.
In this way, BISCI contributes directly to the innovation and competitiveness of individual companies and organisations in various sectors and helps strengthen the region's economic infrastructure.

BISCI was set up by UM and Limburg province to help boost the regional economy.
A Brightlands institute

Brightlands is an open innovation community in a global context, connecting four campuses in the province of Limburg: in Maastricht, Heerlen, Sittard-Geleen and Venlo. The campuses provide entrepreneurs, scientists and students state-of-the-art facilities to support development, education, innovation and growth. Naturally, there are close links between all four Brightlands campuses, and together they enable Limburg to serve as an innovation region where researchers and entrepreneurs take on the major challenges in the areas of materials, health, food and smart services.
Research themes
BISCI is closely connected to the department of Marketing and Supply Chain Management of the Maastricht University School of Business and Economics. The department offers an established team of scholars and an existing infrastructure that facilitates high-quality research relevant to industry.

The "triple bottom line" is a key concept within smart and sustainable supply chain management. It holds that organisations should commit to focus on social and environmental concerns, just as they do on economic gains. For every company, there should be a harmonious balance between "profit, people, and the planet" to obtain long term value creation and corporate social responsibility.

Research at BISCI is driven by new technological developments, the use of digitalisation and big data, the scarcity of resources and the role of people within the supply chain.
Education
Currently, BISCI is connected to two MSc programmes in Supply Chain Management:
Global Supply Chain Management and Change (in Venlo)
International Business / Supply Chain Management (in Maastricht)
Exemplary research topics include:
Augmented reality (AR) in warehouses
Autonomous vehicles and platooning
Smart sensors in containers
Drones for last-mile delivery
Developing stronger but lighter packaging
Supplier-enabled logistics services innovation
Traceability of CO2 emissions throughout supply chain
Digital technologies in logistics activities
News
The rise of compliance reporting to make the lucrative coffee and cocoa trade more sustainable means millions of smallholder farmers generating valuable data. Who owns this data and who should benefit? SBE's Fair & Smart Data Spearhead Sidi Amar and his team have developed some principles.

Over the past two months, two student teams from SBE participated in the finals of the ISM Global Case Competition. Out of the 8 final teams, the ISM jury selected the team from our Master GSCMC in Venlo as the winner!
More news items
After eighteen months of preparation, the Brightlands Institute for Supply Chain Innovation (BISCI) in Venlo can continue with the implementation of logistics projects. With BISCI, the logistics region North Limburg has a knowledge center in which knowledge institutions, companies and government...

A recent study states that for women in procurement, the pay gap is 21% and that even increases to 35% for higher procurement positions. With no difference in performance in terms of quality, companies need to mind this gap!

Since January 2020, BISCI participates on behalf of Maastricht University in the research project Holland Robotics Logistics.

For BISCI, 2021 will be a year full of opportunities to contribute to making supply chains more sustainable and digital.

Diogo Cotta, Assistant Professor at Maastricht University, School of Business and Economics, gives a brief introduction to his roles and resposibilities within UM and BISCI. He explains in brief the research that he is currently working on, the current project at BISCI and living in the Netherlands...

Operational excellence and product leadership depends on regular first-hand information exchange with the best suppliers on the market and on a deep understanding of the world beyond these suppliers. For 2021, let us take inspirtaion from Paul Bocuse and his procurement principle.

Prof. Dr. Frank Rozemeijer, NEVI Professor at Maastricht University, gives a brief introduction to his multiple roles and resposibilities within UM and externally as well. He shares his experience with academia, practice and finding the right balance between the two.

The Netherlands is a country of people with a trade instinct, but also with a moralistic side. However, this seems to be changed because of the COVID-19 crisis. A strong shared purpose would help procurement professionals navigate these ethical challenges accelerated by COVID-19.

Our BISCI colleague, Dr Ing Victor Verboeket, shares his experience of successfully defending his PhD titled 'Supply Chain Disruption: The Game-changing Impact of Additive-manufacturing'.

At the end of August several companies, amongst them vidaXL, Moonen Packaging, Seacon Logistics, Arvato Supply Chain Solutions and Brightlands Institute for Supply Chain Innovation (BISCI), joined together to create Supply Chain Valley (SCV). The SCV is a collaboration that seeks to work with...

Since January 2020, BISCI participates on behalf of Maastricht University in the research project Smart Packaging for Intelligent Logistics. A consortium of triple-helix organizations participate in this ambitious project, funded by OpZuid and the European Union.

Lieven Quintens, Senior Researcher at BISCI, gives a brief introduction about his role at BISCI and UM, the important role of researchers and his favourite restaurant in Maastricht among other things.

The COVID-19 crisis has made it very clear that professional buyers and supply chain managers (SCM) are important for our economy. COVID-19 has been a wake-up call for many companies and the spotlight is on Procurement and SCM. So, how do we actually deal with risks in our supply chains?

Ton Geurts, Business Development Director at BISCI, gives a brief introduction about his role at BISCI, his views on sustainable development and an insight into how he enjoys life in Maastricht.

Bart Vos, Scientific Director at BISCI, gives a brief introduction about his role at BISCI and UM, his views on team building and an insight into his activities on a normal working day. 

Working from home has become the norm for many of us these days. Some love it while some would prefer to go back to their old routine. And yet, there are many reasons to believe that working from home, or at least a more flexible way of working, is the new normal. In this article, BISCI's Business...

Grant and Shreyas officially joined BISCI on 1 July as project managers. In this role, they work closely with Business Development Director Ton Geurts and support projects involving sustainability and digitalisation. After one month on the job, they share their first impressions and thoughts. 

After over three months of virtual meetings, emails and video conferences, Brightlands Institute for Supply Chain Innovation (BISCI) had its first in-person Summer Meeting on 10 July.

Earlier this month, Procurious (a global business network for supply chain management professionals) published its first Supply Chain Confidence Index. The study reveals that nearly all (97%) of the 600+ SCM professionals surveyed experienced a supply chain disruption related to COVID-19.

Ton Geurts, Business Development Director at BISCI, has recently contributed to a research article on the future direction of purchasing and supply management. 

The Brightlands Institute for Supply Chain Innovation had its first event at the Brightlands Greenport Campus hosting around 200 guests with exiting workshops around digital and sustainability.

Set up by Maastricht University and the Province of Limburg in early 2019, the Brightlands Institute for Supply Chain Innovation (BISCI) drives state-of-the art digital and sustainable supply chain innovation, combining expertise from knowledge institutions, businesses and government. Last week, we...
Events
We're open to collaboration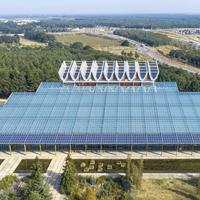 +31 43 38 83839/3680
bisci-sbe@maastrichtuniversity.nl