Southern comfort
Just over a month ago, they were celebrating that spring had finally arrived in Maastricht. The day after, they sat on a plane home – where they still are (home, that is, not the plane…). First-year UCM students Giulia Petrilli in Puglia, Italy and Max Griera in Catalonia, Spain share their experiences of the coronavirus crisis in Southern Europe.
The timing was rather unfortunate. "It's been cold and grey for so long; and now that it's finally sunny, I don't get to be in Maastricht with my friends," grumbles Max Griera in his native Sant Cugat, a town just north of Barcelona. He and Giulia Petrilli, who is currently with her parents in Southern Italy, are only two of thousands of UM students experiencing lockdown abroad – or home, depending on how you look at it…
Everything changed in just a day
"It was crazy – everything changed in just a day," Max remembers. "I was having drinks with my friends and everything was great. We heard about the lockdown, there was talk of borders closing, and we started looking for flights." He wasn't sure what to do at first. "I really like being in Maastricht – but with all my friends going home and education moving online, I decided to book a flight." At Brussels Airport, the seriousness of the situation hit home when he was stopped at a makeshift outpost to have his temperature checked by masked officials. "It was bizarre and a bit scary…"
Giulia had also wanted life in Maastricht to continue as normal but her parents insisted and bought her a flight. "The next day, I was on my way to Bari. Many flights were cancelled but I got lucky." Meanwhile, her parents drove five hours from Rome to her grandmother's house in the north of Puglia. "We have a garden there and it's less densely populated. They were just in time - the day after would have been too late." Giulia was glad to be home – but wary. "We share the house with my grandmother, so I self-isolated for two weeks."
Really hitting home
No one in the family is affected but Giulia has received news of a friend's father going to the ICU for treatment. "I've known this man all my life. Even though the news have been very grim for weeks, it's different when it hits someone you know well." She says there is support for the very strict measures, but she has also noticed people taking liberties to pray together for Easter or to synchronise their supermarket visits for a one-and-a-half-metre face-to-face chat.
Giulia enjoys the company of her family, the sun and the good food. At the same time she's haunted by the pictures of deserted streets in her native Rome. She remains proud of her city – and also of Italy's healthcare system. "They are doing an amazing job under very difficult circumstances – they've shown the kind of professionalism people don't usually associate with Italy."
In Spain, only essential workers and those buying food and medicine or walking the dog are allowed outside. "Theoretically, you could get fined up to €30,000 for breaking the rules. The first day I walked the dog, I was stopped twice by police – there are even drones surveying the streets in Sant Cugat." Max considers the measures proportionate though. "I have asthma and my mother is also in the risk group, so I get it."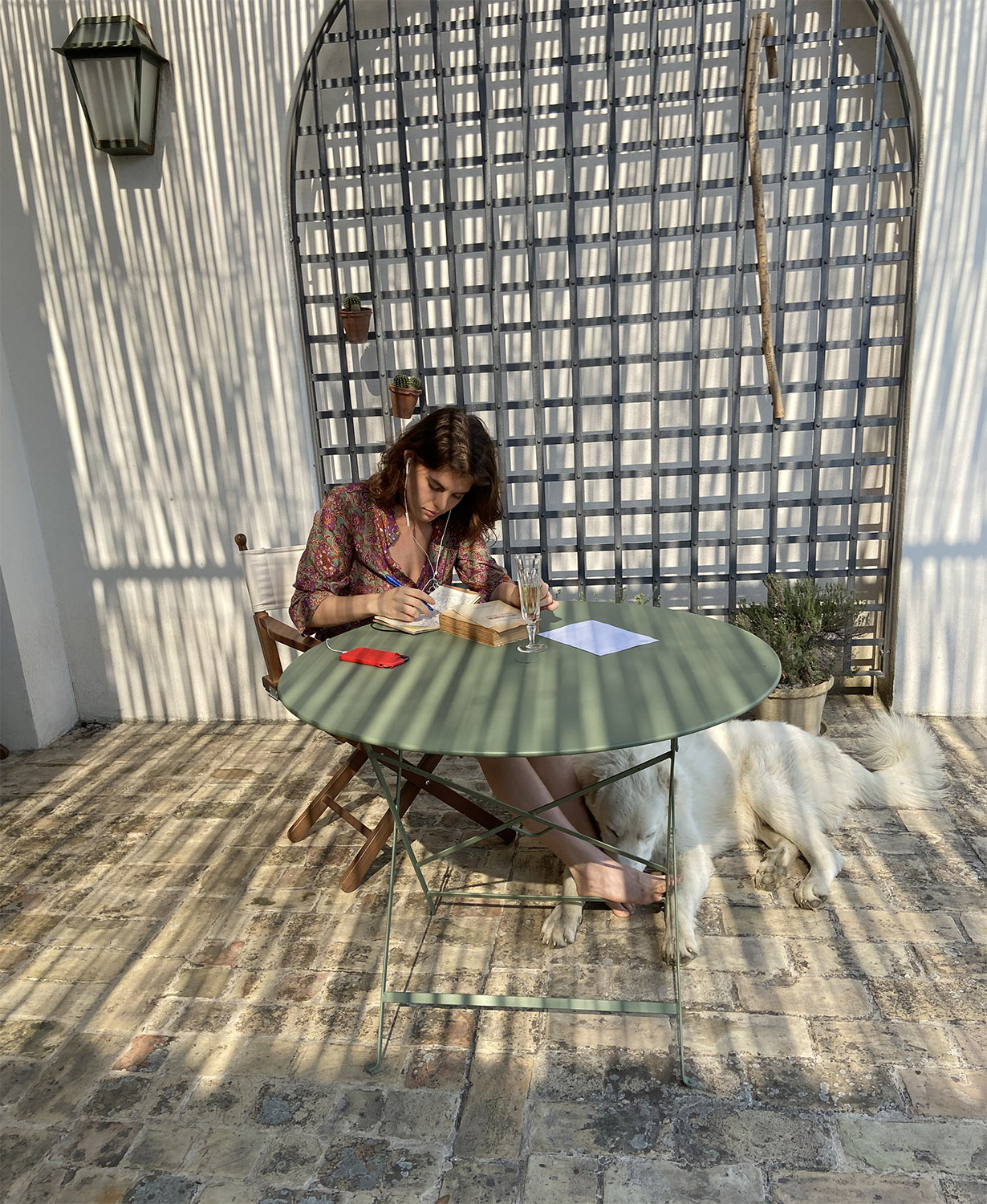 Giulia Petrilli in Puglia
This article is part of 'We're Open', a series of stories about the UM community's many activities during the coronavirus pandemic.
Disinfecting the dog
Max still gets out most days to do groceries at the food markets and walk his dog – but things are far from normal. "I wear a mask and gloves, and I disinfect the dog's paws afterwards. My sister wanted to volunteer in the hospital but there was too much of a risk that she might infect us."
They both miss Maastricht, the close-knit UCM community and their friends – as well as structure. "It felt like a holiday at first," Max remembers. "I hadn't been home in three months, so it was nice and relaxing: I had drinks with my friends via video conference, slept in, and watched a lot of Netflix…" Then, the need to study forced him into a better routine.
Max doesn't really take to online education: "I just love the sense of community, talking to the people after the lectures and so on – I really miss it!" Giulia, though, was positively surprised: "It's better than I'd thought. UM has put in a lot of effort and it was quite a smooth transition." She agrees that structure is vital. "I try to get up at roughly the same time and plan ahead."
Grateful for the little things
Giulia enjoys having the time to contemplate the learning outcomes in greater depths. She has even started learning French during her time in self-solation. At the same time, she advocates enjoying the small things in life and finding a healthy balance. "At this point, I'm really excited if I get to do the groceries!"
Both hope to return to Maastricht before the summer – but aren't too optimistic whether that might be possible. They will certainly bring back a heightened sense of appreciation. "I look forward to start rowing practice again," says Max, "and I miss the library a lot."
"I really enjoy walking to class; it will be even more beautiful when it's sunny," Giulia concludes. "And I really enjoy living on my own, making my own decisions..." So there's that to look forward to – and whatever the opposite of social distancing is. "Yes, meeting people, lots and lots of people!"
Also read
Nikola Prianikov came from Kyiv to study Data Science and Artificial Intelligence in Maastricht. He talks about how UM's Foundation Programme opens doors for international talent, how he enjoyed his study experience despite war and pestilence, and how the Netherlands has come to seem like a viable...

How do you fix a crack in limestone, such as mergel? Well, simply ask some bacteria to do it for you. In short, this is the goal 11 students from Maastricht University set themselves to do. They succeeded and ended up in the TOP10 best undergraduate projects competing in the iGEM competition. For...

Campus Venlo students win first and third prizes with food innovations