The new Blade Runner comes from Maastricht
Meet the new Blade Runner: Noah Mbuyamba, first-year medical student from Maastricht. That's his ambition. And he's giving it everything he's got. First though, Noah needs to overcome a few hurdles, including doing some crowdfunding to a able to buy a blade. "I really want to make my mark in life with all that I've got left."
A fanatic footballer player…
Noah was really into football before he lost his right lower leg in a scooter accident in Indonesia last year. "I would have played in the first team of VV Scharn this year, as a right back. You can put all your energy and enthusiasm into football, but also all your joy and sorrow. And the group feeling within the team is just great."
… turned fanatic sprinter
Unfortunately, there is no more football for Noah ("I won't even try, it's too painful"), and so he has set his sights on another goal: the one hundred meter sprint. The Dutch Olympic Committee*Dutch Sports Federation recently scouted Noah for the National Talent Team and now he trains weekly at the top-notch Sports Centre Papendal, close to the eastern city of Arnhem. His goal is to get into the national team and then run the hundred meters in less than 12.40 seconds at an Olympic qualifying tournament. "That will give me a good chance to go to the Paralympic Games."
UM support
Maastricht University supports Noah's ambition by giving him priority in planning practicals and tutorial groups. In addition, he can train free of charge at the UM sports facilities and he receives a small financial contribution. Noah knew at an early age that he wanted to become a doctor. "Now, I'm even more motivated: nobody should ever have to face what happened to me."
Like a bird in flight
Noah's perseverance clearly shows in his crowdfunding campaign video. He's always been tenacious, he says. "But I didn't really need to be in the past. Everything used to go smoothly in my life.  And for me, that's not really special either. For me, it's like a bird flying through the air."
Go to the crowdfund website   where Noah is trying to raise € 8,500 to buy his own blade or watch his video below (in Dutch).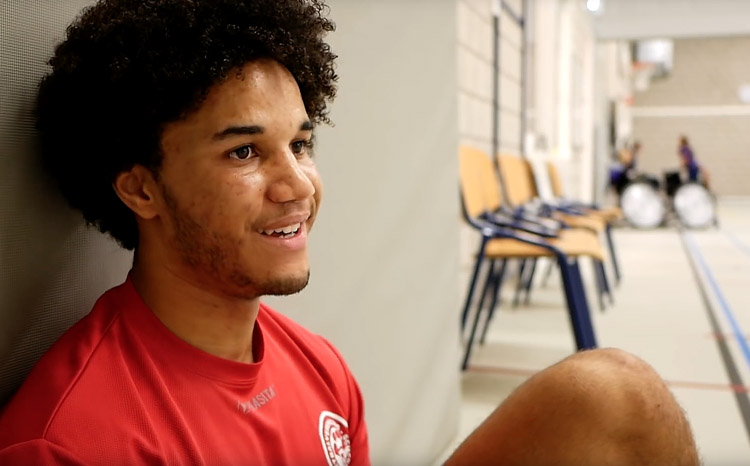 Also read
Together with you we will create a unique and tailor-made program, taking into account everyone's wishes and needs.

After several rocky years, Maastricht University alum Lea Vink has found her feet in Vienna. Professionally, she is taking new steps at the crossroads of aviation and organisational psychology. And on a personal level, luck has smiled on her since her transition from man to woman.