New executive program at UM & MIT
Global Real Estate Leaders Program
The University of Maastricht (UM) and the Massachusetts Institute of Technology (MIT) Center for Real Estate have partnered to offer the pioneering Global Leaders Program in Real Estate  This unique opportunity is designed for a limited international group of individuals with ten to fifteen years of real estate industry experience. This program provides these professionals with the skills and knowledge required to the next generation of leaders in the real estate industry. 
The program consists of courses taught over four week-long sessions on two continents. The first week starts in March (March 25 - April 2, 2023) in Maastricht (including field trips to Amsterdam, Rotterdam and Eindhoven), the second and third week of the program will take place in Boston from June 18 to July 2, 2023 (including a field trip to New York City), and the last week of the program will be from September 23 to October 1, 2023, in Maastricht (including a field trip to London). 
Highlights of the program include captivating lectures and interactive workshops by world-class leaders and inspiring academics whom have had a formative and transformational impact in their field, as well as a number of site visits to some of the most innovative and advanced buildings and ongoing developments projects in Europe and North America. Academic Directors of this Global Program include Prof. Siqi Zheng (MIT Center for Real Estate), Prof. Nils Kok (Maastricht University), Prof. Piet Eichholtz (Maastricht University), Prof. Juan Palacios (Maastricht University and MIT Center for Real Estate). 
Admission is a selective process based on your professional achievements and organizational responsibilities. The early-bird deadline for applications is January 15th, 2023, and the final deadline for applications is March 1, 2023.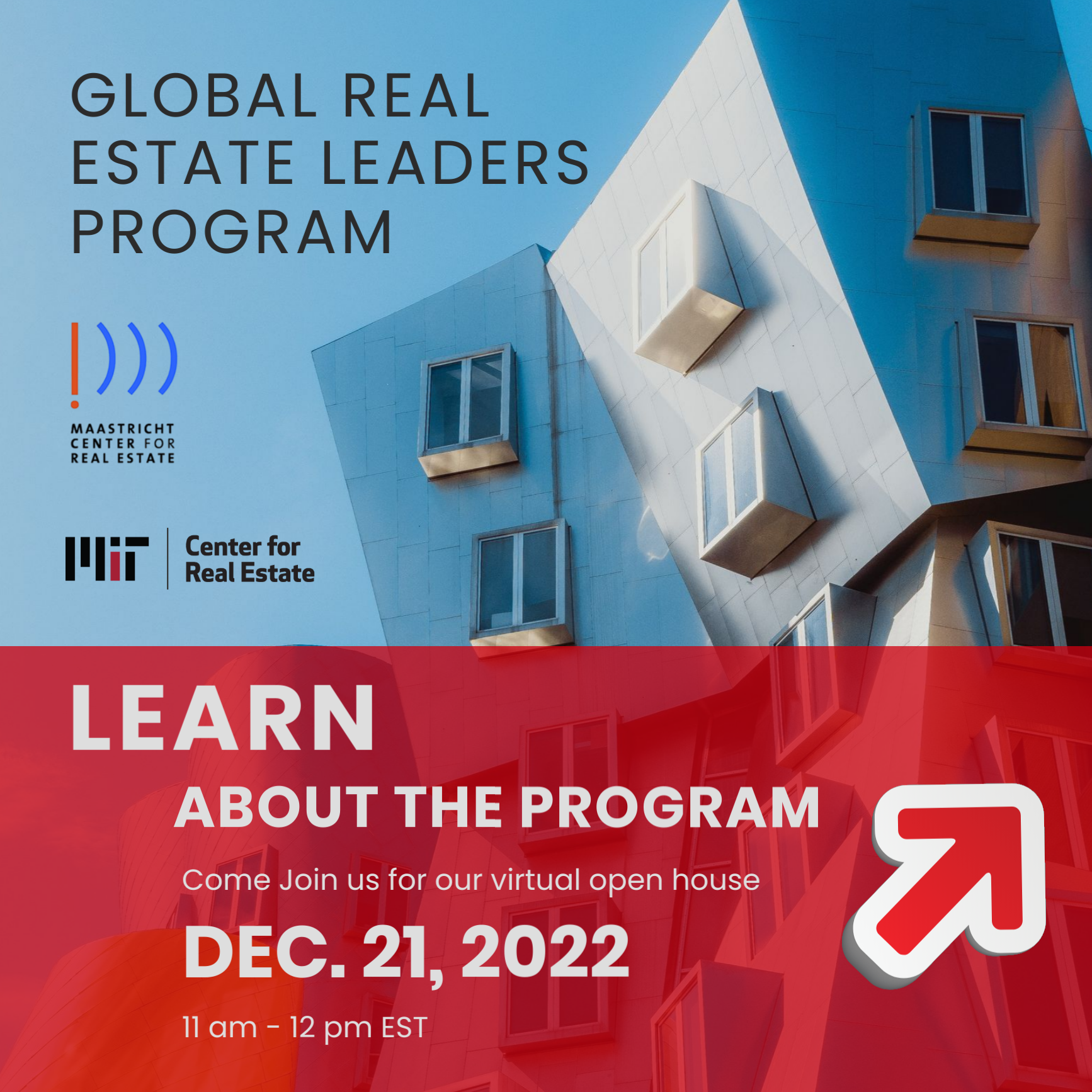 To provide an opportunity to learn more about the program in an interactive way, we host a number of open evenings (online). The next one of these will take place on December 21 at 11am Eastern Time (5pm Central European Time). You can register for this event or be informed about the dates of our next open evening through the following  link.
Also read
Rob Bauer wins golden Pension Pro Award

HBO graduates entering the labor market hardly need to look for a job and almost all can find work at their own educational level. This conclusion can be drawn from the annual HBO Monitor of the Research Center for Education and the Labor Market (ROA).

Ann Vanstraelen (professor of accounting and assurance services) was named today as a new member of the Royal Netherlands Academy of Arts and Sciences (KNAW).