Collaboration Maastricht & Radboud: ambitions are taking shape
This spring saw the publication of the ambition document 2023 – 2027 regarding the collaboration between Maastricht University and Radboud University. That document describes the focal points for the coming years. Meanwhile, projects in the workplace are becoming increasingly more concrete, and some of them are now ready for a second edition. Deans Mariëlle Heijltjes (Maastricht) and Sijbrand de Jong (Nijmegen) discuss their experiences with this university collaboration.
Before Mariëlle Heijltjes became dean of Maastricht University School of Business and Economics in September 2022, she worked at UMIO, the branch for executive teaching at that faculty. While there she collaborated with colleagues at Radboud Management Academy, UMIO's equivalent in Nijmegen, to develop a leadership programme for personnel at the UMCs in Nijmegen and Maastricht.
"In that period, I had weekly contact with the colleagues in Nijmegen," she says. "As dean, I have less frequent contact with my Radboud colleague. But that's not a problem because of what's being done in the workplace. And I prefer that to long conversations. Call it the 'prototype approach': start something and see how it goes; then you'll inevitably run into things. You discover that things are done differently elsewhere. That's fine, you learn from that."
That leadership programme for both UMCs, Toekomstbestendige zorg [Future-proof healthcare], will hopefully have a second edition. "It's nice that the UMCs already have a long alliance. Now with the added collaboration between UMIO and RMA, you see that both alliances continue to learn from each other."
Heijltjes is also proud of other projects: researchers collaborating in the field of Artificial Intelligence, an exchange of knowledge with policymakers about accreditations. "And there are ideas about collaborating in the area of education for PhDs. Those are relatively small target groups, and it seems efficient to see if we can complement each other. An additional benefit for the researchers is that collaborating like this creates a larger network."
Master programme in Venlo
Sijbrand de Jong, dean of Radboud's Faculty of Science, is also enthusiastic about the projects currently underway with the Faculty of Science and Engineering at Maastricht University. "The most important aspect is the preparation of two Master's programmes: Crop Technology and Technology for Big Science. The latter programme might still change, but we've come far with the former. That will be a Master's programme about technology and food production, which we want to offer at the Brightlands campus in Venlo. We want to be physically present there with a shared complex of greenhouses where we can do experiments. That also reflects the region."
Nijmegen and Maastricht are complementary in the new Master's, says De Jong. "Nijmegen is good in system ecology, which is closely related to food provision – that's reflected in all of the discussions about farmers. What do certain decisions mean for the whole chain? But we know less about the technology of food production itself. Maastricht, however, has a strong collaboration with food production companies and food technology companies."
The approach to education is also complementary, says De Jong. "We have extensive experience with the classical biology programme and now we're going to transition to a programme with a more integrated approach to food production and the various related issues. Maastricht has a long tradition in that interdisciplinary, problem-oriented approach."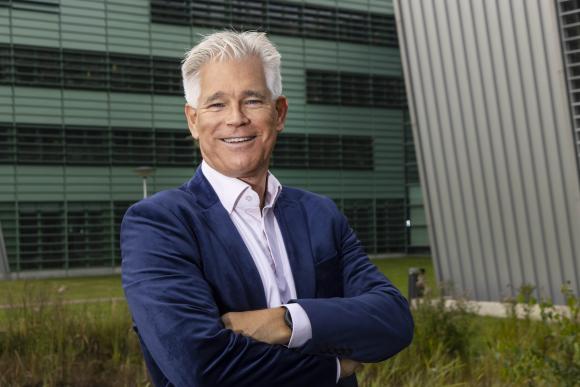 Reacting to the market
Being socially relevant to the Zuidoost Nederland region – and far beyond. Both deans view this as a wish and an opportunity.
Heijltjes: "With regard to projects concerning Lifelong Learning in which the Open University, regional Universities of Applied Sciences and schools for secondary vocational education also participate, we want to develop activities with a view to the job market. There are regional job market studies that show what knowledge and skills are needed. We want to respond to that with programmes for both students and people who are already employed."
De Jong expects that the Master programme Technology for Big Science will also contribute to a much-needed workforce. "That one is about developing technology for innovative science. For example, the Einstein telescope, a large research project in which both Maastricht and Nijmegen participate, needs a lot of new technology, which in turn needs new fundamental knowledge about developing this technology. Students in this Master's programme learn how they can work together with fundamental scientists and people in the industry. There's a high demand for this, not only in the region but also globally."
Ambition document 2023-2027
Maastricht University and Radboud University have worked out the ambitions for their collaboration. The ambition document 2023-2027 sets out the focus for the next few years and explains how the collaboration will be facilitated. What are the plans, in a nutshell?
Click here to read the
Ambition document 2023-2027
Also read
As a UM community, we are deeply saddened by the devastating earthquake that struck Morocco. We sympathise with everyone affected in any way by this disaster.

The beginning of the new academic year at Maastricht University (UM) also marks the introduction of the new UM Sexual Safety Programme. Information, classes, and training events will be offered in a variety of different formats and on multiple occasions with the aim of increasing sexual safety among...

On October 25 2023, the Marc Cornelissen Brightlands Award will be presented for the fifth time. Candidates can apply for it until 15 June. The award is aimed at anyone in the Netherlands-Germany-Belgium border region who is working on a dream to accelerate the circular transition. A prize of €35...