Gerhard Weiss (G.B.)
Artificial Intelligence, theory and applications
Gerhard Weiss is a Full Professor of Artificial Intelligence and Computer Science at the Department of Data Science and Knowledge Engineering (DKE) at Maastricht University since 2009. He served as the Chair of DKE from 2010 to 2020, and is a co-director of the DKE Swarmlab robotics laboratory. From 2014 to 2017 he was a Honorary Professor at the Department of Computer Science at the University of Liverpool (UK).
Before joining Maastricht University he was the Scientific Director of SCCH GmbH (Austria), where my main responsibilities were e.g. the supervision and control of R&D projects for companies, the national and international positioning, strategic alignment, research and innovation management, coordination of funding acquisition, and industrial and scientific networking. Before that he was Assistant Professor at the Computer Science Department at Technical University Munich (Germany), where he headed the AI/Cognition research group at the Chair for Theoretical Computer Science and Foundations of Artificial Intelligence.
He has been engaged as a scientific consultant for various European companies, including startups, SMEs and global players. Moreover, he served as an advisory board member of companies. A particular focus of this engagement has been on the bi-directional know-how transfer among industry and academia.
His main research interests are in automated knowledge processing and the foundations and practical applications of artificial intelligence and multiagent systems. He is particularly interested in smart, adaptive and autonomous systems as well as in ethical aspects of AI applications.
He received his PhD in Computer Science from Technical University Munich and the Habilitation Degree from Johannes Kepler University Linz (Austria).
For further information and details you may want to visit my personal website.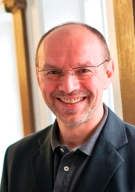 Gerhard Weiss (G.B.)
Full Professor of Computer Science and Artificial Intelligence
Extra Activities
None
Dept. of Advanced Computing Sciences
Faculty of Science and Engineering