Dr E. Hortal Quesada
Dr. Enrique Hortal has a proven record in brain signal processing and classification, having worked as a member of the Brain-Machine Interface Systems Lab at Miguel Hernández University of Elche, Spain. During this period, he gained valuable experience as a researcher, culminating in the successful completion of his PhD in Industrial and Telecommunications Technologies in February 2016.
In April 2016, Enrique Hortal joined the Department of Advanced Computing Sciences (DACS) at Maastricht University as a post-doctoral researcher. Subsequently, he was promoted to the position of assistant professor in the same department in August 2019. As of the academic year 2019/2020, Dr. Hortal has taken on the responsibility of coordinating the Bachelor thesis program within the DACS department. Effective from the year 2023, he has also assumed the role of coordinator for the Cognitive Systems research area (former Affective and Visual Computing Lab).
Furthermore, Enrique serves as the coordinator of the Erasmus+ project JOINclusion, which has the objective of developing a collaborative serious game to promote social inclusion in primary schools. He is also a Principal Investigator (PI) of the H2020 RIA XR2Learn project, which is focused on creating a platform for the collaborative creation of human-centric extended reality (XR) applications for education.
Dr. Hortal's research interests are mainly focused on the implementation of Artificial Intelligence (AI) in the medical and education fields. His teaching activities are related to Machine Learning and Computer Science/Programming.
Main research grant initiatives at UM:
XR2Learn (7.6m euro, 387K for UM)
HORIZON – CL4-2022-HUMAN-01-19 Innovation Action. 
Multimodal Behavior Analysis and Emotion Recognition in eXtended Reality.

JOINclusion (291K euro, 77K for UM)
Erasmus+ KA220-2021
Development of innovative collaborative serious games to teach soft skills towards the integration of children with a migrant background 

MaTHiSiS (7.6m euro - 693K for UM)
Horizon2020-ICT-20-2015
Innovation project will develop innovative tools for learning in formal and informal settings, placing learner's emotion in the core of the learning procedure and applying cutting-edge learning analytics and AI tecniques for efficient, personalized learning.


 
Machine Learning
Artificial Neural Networks
Deep Learning
Medical Imaging
Biomedical signal processing and classification
2019-today: Assistant Professor
Department of Advanced Computing Sciences
Maastricht University
2016-2019: Postdoctoral Researcher
Department of Advanced Computing Sciences
Maastricht University
2012-2015: PhD researcher 
Brain-Machine Interfaces Systems Lab
Department of Engineering and Automation
Miguel Hernández University of Elche, Spain
2007-2012: Software Engineer
Microcontroller programmer
Sistemas Avanzados Telecom Levante, Spain (industry)
2006-2007: Research intern
Maintenance and management at the Laboratory of high-frequency electronic devices
Department of Engineering and Automation
Miguel Hernández University of Elche, Spain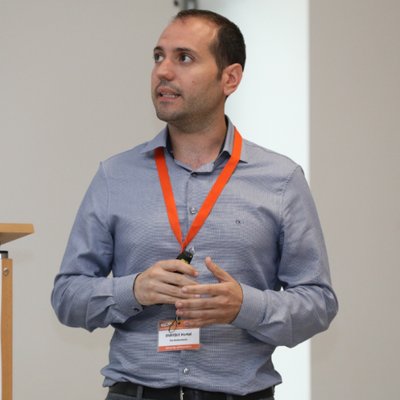 Dr E. Hortal Quesada
Dept. of Advanced Computing Sciences
Faculty of Science and Engineering