Sustainability Week 2023 - Saturday 22 April
Sustainability Festival: Earth Day
Join us at the Maastricht University Sustainability Festival, a celebration of Earth Day organized by Green Office and Klimaat Actie Netwerk and supported by SUM2030 and Studio Europa. 
The festival will feature a variety of activities and events, including an art market at the Sustainability Hub, an info market at the Tapijn area, and a vintage market at Kaleido, all running from 1 pm to 6 pm. 
In addition, there will be workshops taking place at the Sustainability Hub from 10 am to 6 pm, where you can learn new skills and gain valuable knowledge on sustainability-related topics. 
The music will kick off with a speech by the Green Office and Klimaat Actie Netwerk (KAN), followed by the announcement of the winner of the elementary school drawing contest at 5 pm. Until 9 pm, attendees can enjoy food, drinks, and music, creating a wonderful atmosphere to connect with others and celebrate our planet.
Don't miss out on this exciting event!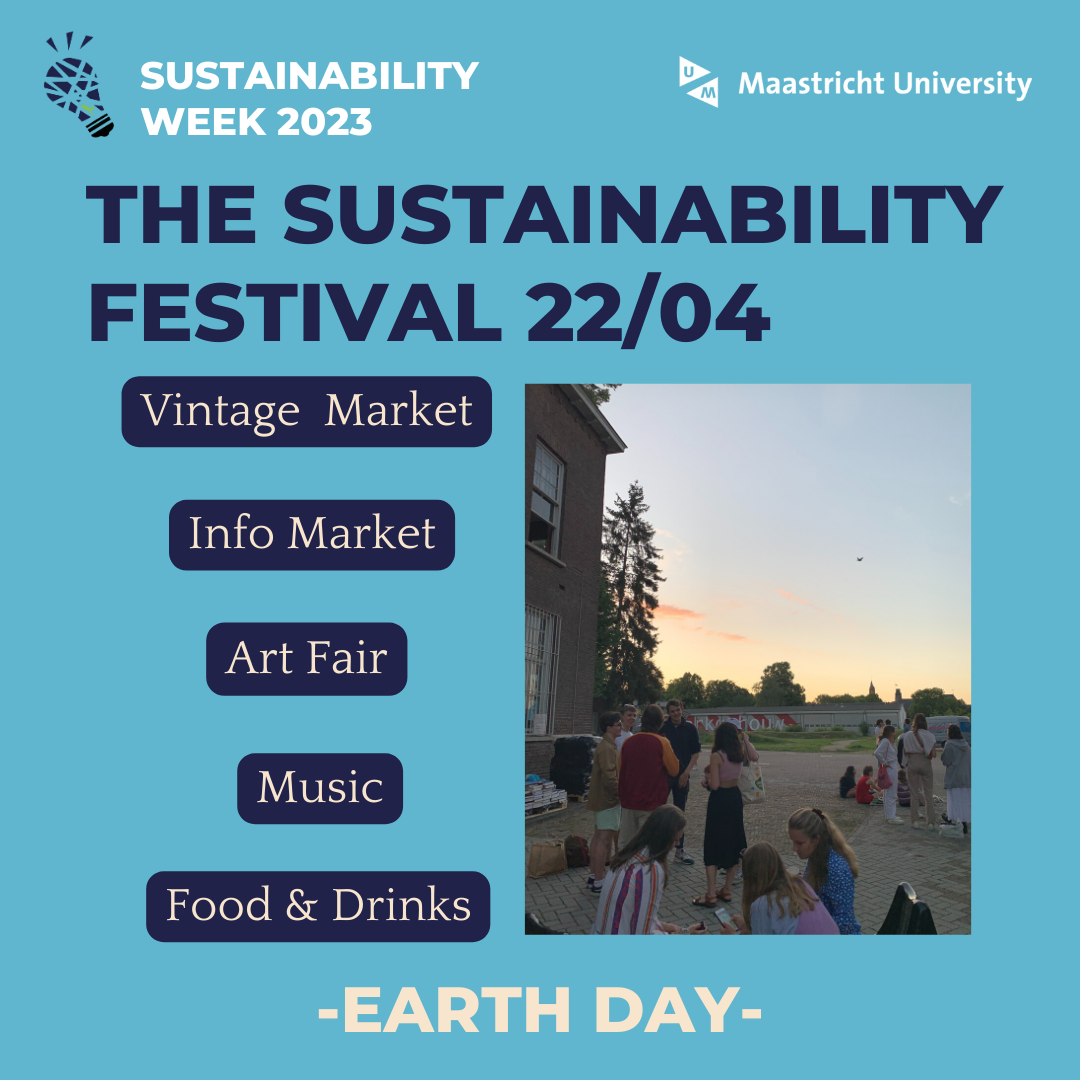 Programme Workshops Sustainability Festival
11:00-11:45 | Workshop: Impactful Careers | Sustainability Hub, Tapijn A, presentation room
 
Provided by: Effective Altruism Maastricht
Many times when we consider our career, it can be hard to know what we want to do. Most of us want a fulfilling career that also contributes something good to the world. But how to achieve this? Is the answer really just to "follow your heart"? 🤔 Effective Altruism Maastricht believes that it's possible to do both, and in this workshop, we take you through some tools you can use to model impact, and what we believe are some of the most pressing problems in the world today. We hope these will help you think about what might make your future career both meaningful and impactful for the world, 🌍
12:00-12:45 | How to be sustainable with limited resources in a constantly changing environment: The example of refugee camps in Northern France | Sustainability Hub, Tapijn A, presentation room
Provided by: Maastricht Goes To Calais
This interactive presentation will give you insights into how to get creative in assembling essential supplies for people on the move. It will show you how the humanitarian organisation roots navigates with limited resources in a constantly changing environment subjected to extreme weather and police harassment, while always keeping their sustainable values.
13:00 13:45 | Participatory Storytelling: The Power of artistic co-creation for Regenerative Cultures | Sustainability Hub, Tapijn A, presentation room
Noelia Martín-Montalvo is a student of Interdisciplinary Art at the Maastricht Institute of Arts. She has worked on participatory projects that have been presented at the Conference on the Future of Europe for the EU Parliament and at upcoming film festivals. In this talk, she will share her experience working on different artistic projects related to Climate Justice, carried out in co-creation with indigenous communities and young Europeans experiencing eco-anxiety to discuss the role of Art and storytelling in the context of the environmental crisis.
13:00 - 14:00 | Food Coop Cooking Workshop | Sustainability Hub, kitchen downstairs
Provided by: Food Coop Maastricht
Are you curious how you can combine seasonal vegetables into a delicious meal? Do you want to know how you can use every bit of the veggies to be more sustainable? Then sign up for Foodcoop's cooking workshop. With vegetables from their local farmer you are going to first cook some delicious food. Afterwards you use the food scraps to dye cotton bags in different colours! See you there
14:00 - 14:45 | Climate anxiety vs climate responsibility: Create what you want to be part of | Sustainability Hub, Tapijn A, presentation room
Provided by: Dis-order
We all have experienced climate anxiety in one form or another. With the large amounts of information available on the news and social media, we constantly get reminded of the danger climate change poses on our planet. This can be an overwhelming feeling causing distress and anxiety. Yet, we run into a paradox in the face of climate anxiety… the more anxious we become, the less actions we are taking. To help, we offer a critical look over your climate anxiety. It is time to start evaluating what we can actually change in our daily life and turn it into our responsibility, which will help alleviate the climate anxiety we experience. We might not single handedly find a solution to global warming but we can evaluate our own responsibility as members of this society. So let's take the necessary steps needed to achieve the heaven we want to live in, rather than hopelessly accept the hell we are scared of. Join our workshop and create the change you want to be a part of!
14:00 - 16:00 | Upcycle Workshop | Tapijn Z, Kaleido
Provided by: Anna Carina (2deuxfilles)
15:00 - 15:45 | How can we make small sustainable changes in times of crisis? | Sustainability Hub, Tapijn A, presentation room
Provided by: Sustainable Student Maasi
Do you want to make a sustainable change but don't know where to start? Do you want to know how you can get active in solving environmental issues? Then this workshop is for you. Together we will come up with easy solutions to local problems in and around Maastricht. We will give you a toolkit to start generating ideas on all kinds of levels, starting with yourself at the individual level. Join us for this workshop to let your creativity spark.
16:00-15:45 | DIY: Make your own toiletries | Sustainability Hub, Tapijn A, presentation room
Provided by: Maastricht 4 Climate
Are you wondering how you can replace your everyday skincare products by more envrionmentally friendly alternatives? Do you want to know how you can easily make them at home? Join Maastricht for Climate in their workshop on sustainable toiletry alternatives. In the workshop you will learn how to use cheap, all natural and accesible ingredients to make DIY dupes. You will learn how to make toothpaste, a scrub and a mask. Are you curious? Join this workshop to get some hands-on knowledge.
17:00-18:00 |

Panel: Climate Activism in a rapidly changing age of Environmental Catastrophe 

| Sustainability Hub, Tapijn A, presentation room | Sign-up link here!
Provided by: Extinction Rebellion
The urgent need for action on climate change has brought together a diverse range of voices and perspectives in the global movement for climate justice. In keeping with this and the theme of Sustainable Week, Extinction Rebellion Maastricht will host a panel discussion on climate activism featuring experts from different fields. With a historian, they will explore the historical perspective of social movements in Europe and how they have influenced the fight against climate change. With a philosopher, they will delve into the routes to achieving social justice and what that looks like in the context of sustainable development. Lastly, there will be a criminal rights lawyer with experience in working on social injustice related issues in the region and affiliations with NGOs like Amnesty International. This panelist will bring valuable insights to our debate on the newest wave of climate activism and the use of more disruptive action to gain awareness and demand change. Additionally, we will discuss protest rights and their implications for climate activism. Join XR for a stimulating discussion on climate activism and its intersection with history, philosophy, and law.
Sign up using this link!