#itseverywhere – Amnesty International Students against Discrimination
At UM, we see diversity neither as bullet-point nor silver bullet - its meaning, importance and implementation are subject of an ongoing conversation in our community. Every day, our staff and students are working in many different ways on making UM a more inclusive organization. "All-inclusive" introduces you to some of those initiatives, in this case: #itseverywhere – Amnesty International Students against Discrimination
As students, all of us live in an international, diverse environment. Dutch campuses are currently home to more than 90.000 full-time international students. However, with opportunity comes responsibility. Sadly, many students still experience discrimination.
Many housing advertisements state "Dutch Only", people are still have their job applications rejected because of their last name or gender. Discrimination is not restricted to institutions and radical individuals, which is why we as student activists of Amnesty International have created the nationwide #itseverywhere campaign to bring our student communities closer together.
Your Voice Is Needed
The campaign offers a safe-space for all of you to talk about discrimination.
Our social media movement encourages all of you to share your personal stories, experiences and observations in order to raise awareness of how students experience discrimination. But that is not enough because in some sense all of us.
Explicitly or implicitly we are all biased and play a role in discrimination. We prefer ingroup over outgroup and when this preference translates into action, that is a form of discrimination. Therefore, we want to initiate a dialogue for students and staff to talk about their perceptions of and experiences with discrimination. It does not matter whether you agree or disagree with us, we want to hear what you have to say – dialogue and understanding one another is the foundation of unity.
When & Where
To provide this safe-space local, Amnesty International student groups all over the country will create cosy pop-up living rooms on Friday 20 April: you can chat with fellow students and staff members over a coffee. In these living rooms, everyone is welcome and every opinion is heard. We want to facilitate mutual understanding and inspire students to join forces against discrimination.
Amsterdam, The Hague and Maastricht are just three of the cities joining the movement. Here in Maastricht, the living room is in front of the Inner-City Library, so stop by for coffee and conversation.
The initiative is supported by UM's diversity officer.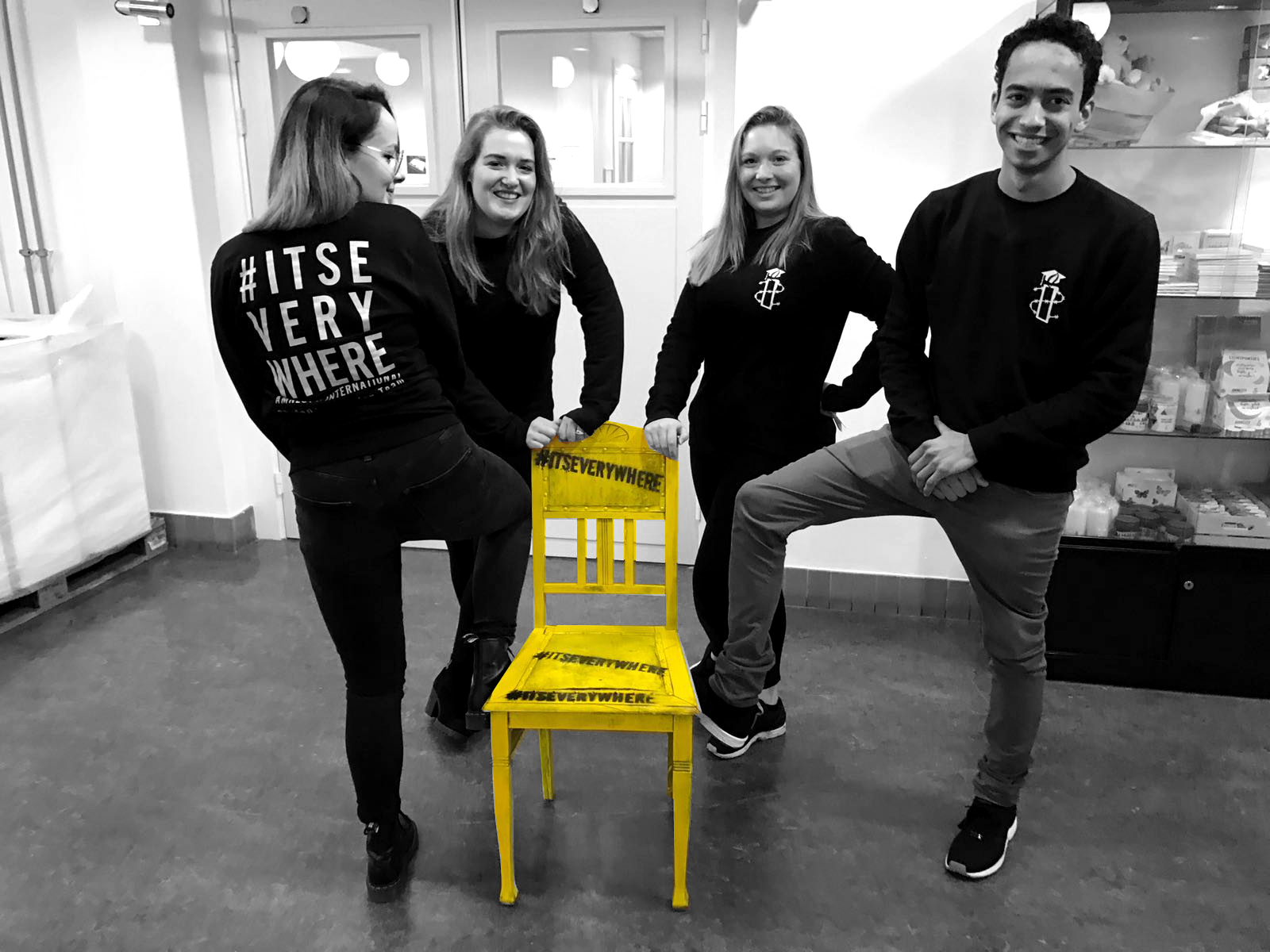 Amnesty International Maastricht Students (AIMS) organise the #itseverywhere campaign and the pop-up living room outside the innercity library