Arrival of Michel Dumontier marks development of interfaculty research programme in Data Science
Top data science researcher chooses Maastricht University

Maastricht University (UM) has recruited Michel Dumontier, a world-renowned researcher in the field of data science. Dumontier (1975), originally from Canada, is relocating to Maastricht from the prestigious Stanford Center for Biomedical Informatics Research at Stanford University. His arrival – he is due to start on January 1, 2017 – will coincide with the start of preliminary activities focused on the establishment of a new Institute for Data Science (provisional name: IDS@UM), which Dumontier will run. In this way UM is responding to the increasing role big data, IT and data science play in education, research, the business sector and society at large. Dumontier will be appointed as Distinguished University Professor in the field of data science with an interfaculty research programme.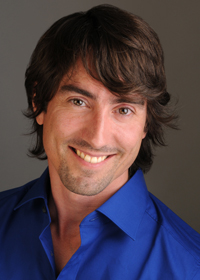 Dumontier has exceptional expertise in data science research. His work focuses on developing computational methods to integrate multi-scale and FAIR (Findable, Accessible, Interoperable, Reusable) data to drive innovative applications in the areas of drug discovery and precision medicine.

Michel Dumontier: "Maastricht University has a bold vision to create a world-class institute for data science research and education that will tackle impactful 'big data' problems that cross the boundaries of traditional disciplines. I'm thrilled at the opportunity to lead this highly collaborative, university-wide effort to overcome barriers to data sharing and to establish a new framework for scientific discovery."

"We are extremely pleased with the transfer of Michel Dumontier", says UM president Martin Paul. "This brings UM closer to its ambition to be a leading player in data science education and research. A focus on data science is an important spearhead to strengthen and stimulate the Limburg knowledge economy."

Advanced algorithms
"Expertise in data science is becoming more and more important for society", Paul continues. "Thanks to developments like the internet of things, smart sensors and social networks, the amount of available data is only increasing. To convert this growing amount of data into useful insights for new research questions and products, increasingly advanced algorithms are needed. In that respect, data science is crucial if UM wants to contribute to solutions for social issues. These may include the development of new medical treatments or sustainable solutions for generating energy, but also improvements in online privacy and security.

"In addition, there is growing demand on the labour market for experts in the area of data science. By providing integrated data science education we aim to meet this growing demand from companies and institutions. Students with training in the field of data science will more easily find employment. This fits in with our efforts at UM to give our graduates the best possible chances of finding a job."

Distinguished University Professor
Michel Dumontier is the fourth of UM's Distinguished University Professors, joining professors Peter Peters (nanobiology), Clemens van Blitterswijk (regenerative medicine) and Ron Heeren (molecular imaging). This special position recognises the stature of these top academics, whose work focuses on scientific developments and innovations that transcend the borders of traditional disciplines.
Also read
The Maastricht Study specialises in conducting microcirculation measurements
 

Prevention of dementia potentially stimulated by drawing up personal risk profile (MUMC+ news).

Less invasive operation, maximum vertebral growth, and no stray metal particles (MUMC+ news).