SBE Awarded AMBA re-accreditation
We are proud to announce that Maastricht University School of Business and Economics (SBE) has received a 5-year renewal of the Association of MBAs (AMBA) accreditation, one of the world's leading authorities on post-graduate business education. This achievement demonstrates SBE's continued commitment to impactful and high-quality education.
"We are honoured to receive the full five-year re-accreditation from AMBA, a testament to our unwavering dedication to providing top-notch education and a strong signal that the complementary strengths of UMIO and MSM are also recognized by the outside world. This achievement reflects our commitment to excellence and underscores the impact of our innovative programs." - Mariëlle Heijltjes, Dean at SBE.
The AMBA accreditation represents the highest standard of achievement in post-graduate business education. Achieving this distinguished accreditation is a mark of quality assurance. It validates the exceptional education offered by our esteemed post-graduate schools: UMIO and Maastricht School of Management (MSM). 
Inspirational, Impactful, Sincere, Global
During the accreditation process conducted by AMBA, members of the accreditation panel, representing senior management from globally accredited business schools, commended the school's vision for being inspirational and global in its impact. They thought the sincerity with which this had been enacted, had made an important contribution to international management education and capacity-building.
The panel also noted that the school could be considered a trailblazer in the interaction between AI and problem-based learning. 
Finally, the panel said that the problem-based learning approach of the University was commendable, with its emphasis on skills development helping to prepare students for the European and international knowledge society.
Triple Crown Accreditation
In addition to the AMBA (UK) accreditation, SBE is both EQUIS (EU) and AACSB (USA) accredited, putting SBE among the top 1% of business schools to be Triple Crown Accredited. Besides assuring the quality of SBE as a business school, the Triple Crown allows us to continue our exchanges, partnerships, and collaborations with a global network of business schools.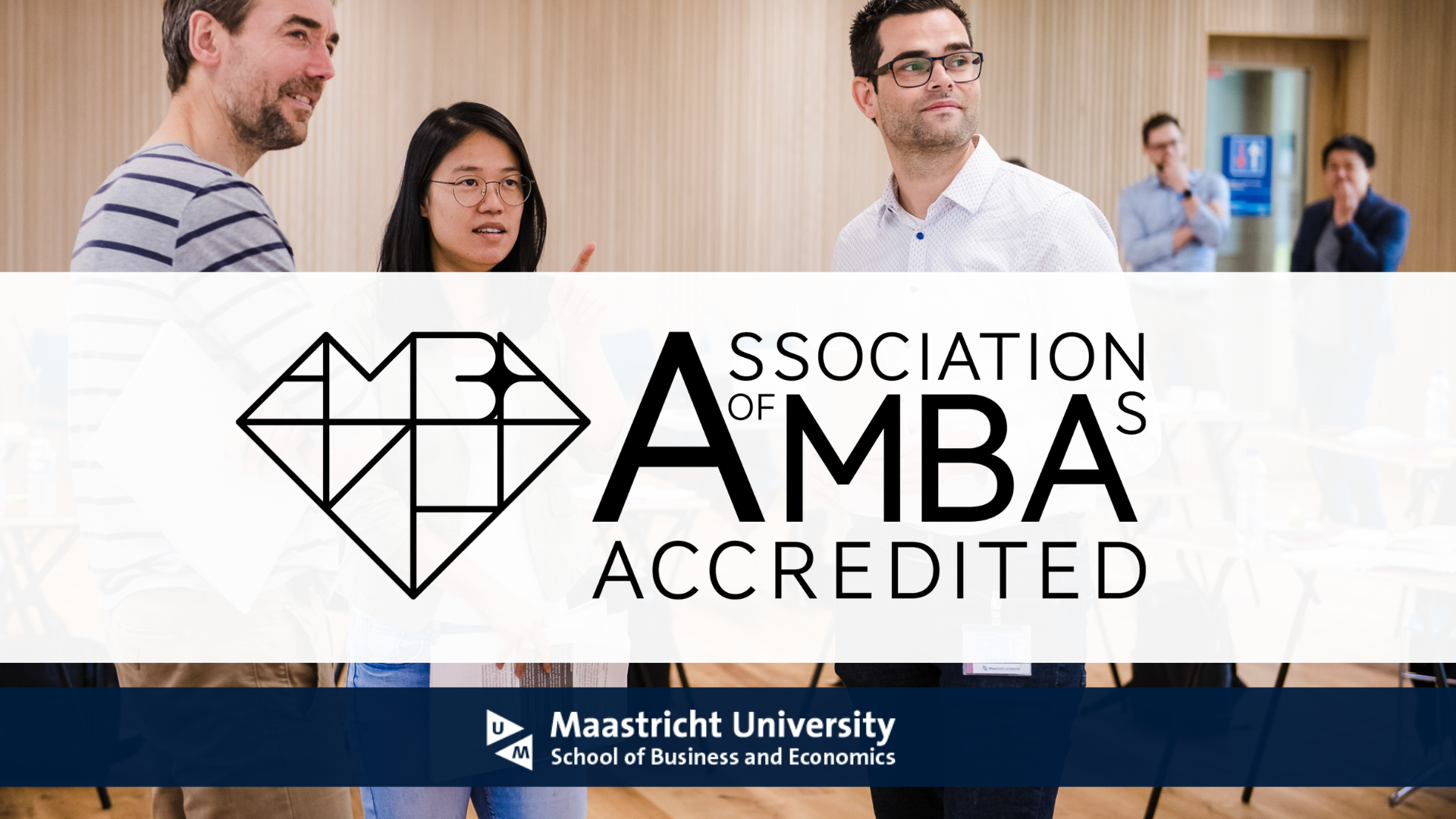 The MBA and MBM portfolio of SBE includes the programmes of UMIO and Maastricht School of Management (MSM): 
Also read
Fossil subsidies undermine climate policy, says Patrick Huntjens and other colleagues in an opinion article.

SBE alumnus Riccardo Notarangelo works as a Project Researcher at the University of Vaasa in Finland. In this article, he shares how his studies and experience at SBE and his love for rugby contributed to him going to where he went and ending up where he is.

Obligation for energy label C for offices seems to have desired effect