UM first university in Europe to register for the WELL Building Standard
New UM building to serve as living lab for sustainable real estate
Maastricht University is the first academic institute in Europe to register for the WELL Building Standard. The structure, design and use of the buildings at the Tapijnkazerne – a large-scale expansion of Maastricht University – will explicitly focus on measures aimed to improve health and well-being. This will benefit both students and staff.
The WELL Building Standard contributes to the health and well-being of building users and combines building and design best practices with evidence-based health and wellness interventions. Consideration is given to design, use of light and air quality, as well as stimulating activity and movement among students and staff.

UM objectives
UM registered the Tapijnkazerne with the WELL Building Standard in the hope that this would be the first building to obtain certification. The university will use the knowledge it acquires during this process for future real estate activities. 'The standard dovetails nicely with our sustainability objectives,' says Nick Bos, vice-president of the Executive Board. 'UM is active in the fields of health and well-being and is interested in the role played by other fields, such as education and research. In this respect, Tapijn can serve as a living lab for our own primary process.'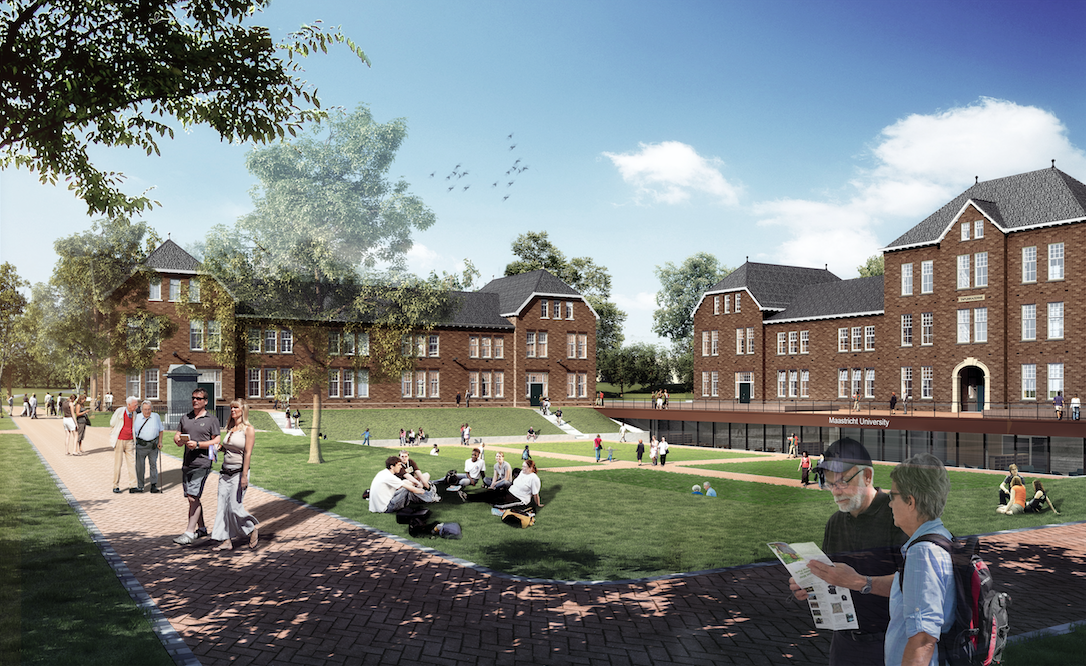 Sustainability research
Professor Wouter van Marken Lichtenbelt, known for his research on how different temperatures affect the human metabolism, considers UM's interest in human-centred sustainability to be a good move. He also sees plenty of opportunities for the Tapijnkazerne to serve as a living lab for sustainability research. The ideas developed at UM can be applied to the WELL Building Standard and then tested, thereby serving a greater good.

Healthy buildings
Associate Professor Nils Kok, an expert in the field of sustainable real estate, is also enthusiastic. 'Our recent research on the effects of indoor climate on health and productivity, which was carried out in homes, offices and schools, clearly shows that healthy buildings yield better results. Students and researchers bednefit from a health learning and working environment. Including health and well-being in the development of the Tapijnkazerne testifies to the importance of sustainability and health for Maastricht University and helps to apply home-grown academic research in practice,' he says.

'This registration is a great addition to the previously implemented project of developing the Tapijn buildings in a sustainable way, with the goal of obtaining BREAAM4* certification,' says UM real estate developer Ralph Herben. 'We are examining the sustainable value of the building in terms of management, health, energy, transport, water, materials, waste, land use, ecology and pollution.'
Also read
Nienke Verstegen, researcher at De Forensische Zorgspecialisten, has conducted research on aggression within forensic care and its impact on patients and staff. On July 6, 2023, she will receive her PhD from Maastricht University with her dissertation 'Hurt people hurt people. Characteristics and...

Patients admitted to hospital due to a severe COVID-19 infection exhibit no evidence of brain damage caused by the disease. This is the conclusion of an extensive study led by Maastricht University.

Due to the Western lifestyle with a high fat diet combined with little exercise, more and more people in the Netherlands are overweight or even obese. This causes an increased risk of type II diabetes. What can be done about this besides a healthier lifestyle? The answer comes from an unexpected...