Meet the SBE alumnus starting a nut butter revolution
Naughty Nuts… the name already makes you giggle and wonder what it's all about, right? Well, welcome to nutty heaven! Naughty Nuts GmbH is creating a nut butter revolution by producing 100% natural, vegan, organic nut butters in a range of inspiring flavors, such as Cacao Crunch and Blueberry Bash. And if your taste happens to favor the classics, Naughty Nuts has you covered there too, with delectably smooth or crunchy peanut and almond butters.
The story behind this mouth-watering mischief begins with two friends, Benjamin Porten and Lorenz Greiner, who met while studying business and entrepreneurship at the University of Köln. During those years, they also connected with Just Spices, a German start-up focusing on high quality and tasty spice mixes. Then in 2019, while Benjamin was completing the Business Intelligence & Smart Services (BISS) master program at Maastricht University, Germany was facing a peanut peanut butter crisis! The crisis, triggered in part by crop failures and an increase in tariffs by the USA, was so widespread that it made news headlines, and it sparked Ben's desire to find a solution.
In October 2020, Ben and Lorenz rejoined forces and officially embarked upon this new entrepreneurial venture, which would become Naughty Nuts GmbH. Whereas other nut butters often contained palm oil, industrialized sugars, and other additives, the Naughty Nuts duo wanted to bring back the health benefits and unparalleled taste of pure ingredients. Utilizing their combined expertise in supply chains, marketing, and data analytics, they set to work kindling relationships with angel investors, key suppliers, and production facilities. Moreover, since Ben was well aware of the benefits of 'value co-creation' from his studies at UM, they actively engaged and sought input from members of the public in product development, in keeping with a 'lean startup' approach—and the company has already successfully launched its webshop, less than five months in! At the moment, shipping is possible only within Germany, but within the next few months the company expects to expand delivery to Austria and other regions of the EU as well.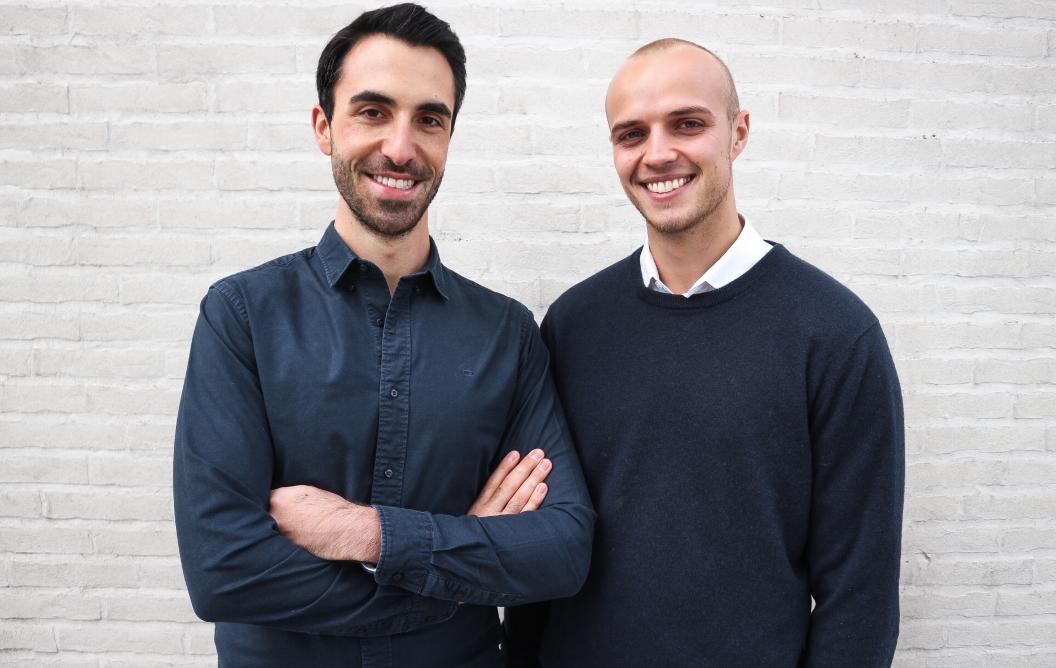 Benjamin Porten and Lorenz Greiner
Ben's advice for aspiring entrepreneurs
So, how did this duo manage to accomplish all this in such a short time, and particularly during the Covid-19 pandemic? In a recent phone conversation, Ben offered these tips for budding entrepreneurs:
Build your network early—at the moment you might not realize what is possible, but down the road it may become an unforeseen asset.
You don't have to reinvent the wheel—that is, you don't have to overthink your ideas, or look for ones that are too complicated or fancy.
Go out and test your ideas, connect with people, get feedback from people early and continuously—and implement changes quickly.
But how about facing challenges? According to Ben, as a small start-up, one of the biggest challenges they faced from the outset was finding a suitable production facility—one that would be able to provide not only the requisite high quality but also fair pricing. They really needed to be able to travel and visit in person to establish sufficient trust on both sides, and fortunately the brief Covid-19 'break' during the summer allowed them to do just that.
The other major challenge they have faced has been that of continuing to believe in themselves, despite the endless barrage of critical and discouraging messages coming at them from all sides, albeit sometimes unintentionally.
'You're so small, and nobody believes in you. You get so many people who tell you, oh this is such a stupid idea, or that there is already a lot of competition. And you just have to continue: say thank you for the feedback, and just go on and go straight.'
Follow the Naughty Nuts revolution on Instagram @naughtynuts, and visit the Naughty Nuts webshop.