Students going the extra mile
Match Houses: meet thy neighbour
Match Houses is a chance for students to make a positive impact and integrate into Maastricht's community. They work on improving their neighbourhood and in return, they get to live rent-free in housing corporation properties.
Organising dinners, developing communal areas and playgrounds, running language cafes to help immigrant children with their homework, etc. Match Houses is a community-building project: 15 students improve their neighbourhoods in exchange for living rent-free, i.e. only paying for utilities.
Students part of Maastricht's community
Match Houses is one of the manifestations of UM's increased focus on community building. In cooperation with the municipality, UM has set up several projects focusing on integrating especially international students with the established community. Under the umbrella Studentenstad, they have facilitated projects like international student portal mymaastricht, inclusive student community Kaleido, the Housing Helpdesk, and indeed Match, which facilitate student volunteering in the community.
Frits Koppelaar is Match Houses' project leader. Having previously cooperated on a refugee project, he was already acquainted with the Match team. "By the time I heard about the idea for Match Houses, the Refugee Project Maastricht was already up and running, so this seemed like a great opportunity to set up something new."
Connect with locals
Koppelaar came to Maastricht from the Rotterdam area to study. He can empathise with new students' perspectives. "It's not easy to connect with the locals of Maastricht – as a student you have a pool of friends from class, student cafes, student associations, etc. There aren't that many opportunities to mingle with locals."
So the Match team went to work. First, they reached an agreement with the municipality over a licence. Then they pitched the idea, iterations of which had enjoyed success in other Dutch cities, to local housing corporations. Initially, the housing corporations granted them use of one house designated for demolition. Now, they have five houses and hope to expand further. "In the first year it was about trying out things and finding our feet – now we are starting to see results."
It works for students and residents alike. "We organized an Easter brunch for elderly people in our neighbourhood. They really enjoyed eating together instead of spending the afternoon alone. We had a lot of fun and it was great to see them leave with a smile on their faces!" remembers Janna Boreas (UCM). She and other Match Houses participants, together with the housing corporations, are working on making their neighbourhood Wittevrouwenveld a safer, tidier and nicer place to live.
Frits Koppelaar
How can you make a difference?
The process is straightforward: students get to know each other, then the neighbourhood. They develop suggestions for how things could be improved. They write regular reports, so Match can track the teams' progress. On top of that, there are students working as team coaches to help and carry out a qualitative assessments of the projects' impact.
Ultimately, the impact achieved depends on the students. Match Houses whittles down their pool applicants to 15 participants, a team of three per house. After applying online, students have a phone interview, then a longer interview. Koppelaar says they're looking "primarily for intrinsic motivation: you have to spend around 8 hours a week on the projects, so you need to be the type of student who really enjoys integrating into the local community."
Another prerequisite is being able to speak Dutch – although internationals with just a basic knowledge of the language have also made it into the selection. "You have to be able to establish a connection with people – and that's about attitude more than eloquence."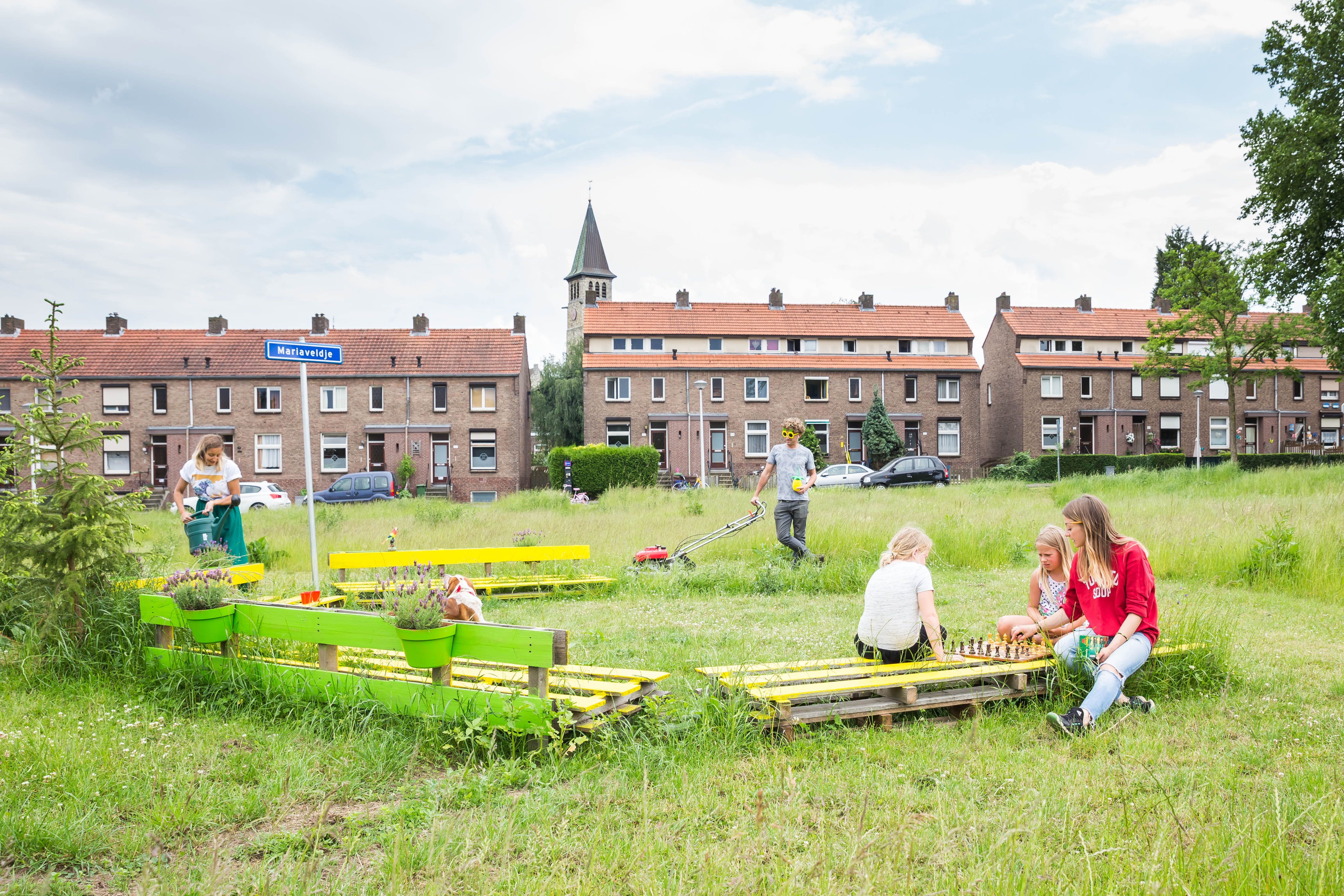 A Match Houses neighbourhood garden
A brighter neighbourhood
On top of community building, the intended outcome is making the neighbourhood brighter – metaphorically and literally: "One of the teams decided to paint the entrance area of their building in happy colours – and the people really liked it," says Koppelaar. In general, the response from the locals, who could be forgiven for being weary of students, has been very encouraging. "They appreciate the effort and you see attitudes change. There are now children ringing the students' doorbell, asking them to play football. That gives you an idea of the impact."
To join Match Houses in September 2019,
apply now!
Also read
On 16 November 2023, METRO fellow Haiyang Yu successfully defended his PhD thesis with the title "Rethinking Environmental Salvage and Salvage Law: Towards an Efficient Mechanism for Environmental Emergency Response in Maritime Accidents?"

Starting or running a student initiative as an international isn't always easy. Especially for those who don't speak the language, navigating official documents and systems can prove difficult. The Student Initiative Helpdesk supports students of Maastricht University who are involved in student...

Last Wednesday and Thursday, an international independent External Review Committee has visited CAPHRI.  We are looking back at a positive site visit with a few preliminary key messages, which we would like to share.