International topconference for sustainability academics and professionals in Maastricht
Maastricht School of Business and Economics to host top international conference on Sustainability and New Business Models in Summer 2023
Challenging traditional ways of doing business is core to the New Business Models (NBM) conference. Since its inception eight years ago, the NBM conference has been bringing together academics and practitioners from across the globe to explore alternative and more sustainable principles to doing business, principles that move away from a sole focus on growth and expansion.
New balance
Much is being discussed already about the importance of balancing the triple bottom line in businesses. It is not only about what we do with our current resources, how we create and deliver value or how we strive to develop a sustained competitive advantage. Our society continues to challenge the traditional ways of doing business, and we are shifting towards new approaches, where leaving a better, more prosperous, and sustainable future to the next generations becomes a central element of our common strategy. For business leaders and entrepreneurs this isn't an easy task, as for many years we have been too much focused on growing, expanding, and exploiting what we can and have, with less attention to the consequences of our activities.
New business models conference
Eight years ago, a group of academics came together in Toulouse (France) to discuss the new paradigms of business models: focusing on "doing" but with less impact on our current resources, using alternative and cleaner sources of energy, different materials and with a more positive impact on society. This is what we call New Business Models, where the organization is driven by more circular or sustainable principles. Since that first meeting in France, the NBM academic community has been involving not only academics, but also different practitioners and entrepreneurs, who have been reunited yearly around the table during an International Conference on New Business Models, which has been celebrated also in Graz, Sofia, Berlin, Rome, and Halmstad & Nijmegen (the last two online due to Covid).
New partnerships
The School of Business and Economics (SBE) at Maastricht University, is excited to be the host of the 2023 edition with the theme of "Building partnerships for more sustainable, resilient and regenerative business models".  Dr. Abel Diaz Gonzalez, assistant professor at the Department of Organisation, Strategy and Entrepreneurship (OSE) is the conference chair. Abel joined SBE in the summer of 2022 and has been involved in the NBM community for several years already. Being offered the opportunity to act as chair, Abel commented: ''I firmly believe in the strength of partnerships to achieve greater positive impact. Our society needs to work and keep thinking forward in the development of complementary partnerships, where win-win relationships are developed between businesses and other actors, where more local, national, and international collaborations are fostered, and where we all can use common resources, knowledge, and capabilities to create more resilient businesses for tomorrow".
The NBM 2023 organizing team further includes Prof. dr. Juliette Koning (OSE Department Head) and Prof. dr. Nancy Bocken (MSI, Professor in Sustainable Business). "In addition to efficiencies that save cost and resources simultaneously, we also need to reflect on slowing and closing resource loops and focus on regenerating damaged ecosystems through new sustainable business models", indicates Prof. Bocken, who has been actively joining the NBM Conference in previous editions.
The conference will also welcome the participation of PhD students to discuss their research during the pre-conference doctoral colloquium. Thanks to a generous sponsorship/grant from the Society for the Advancement of Management Studies (SAMS), there are 15 travel grants (€500) available to join the doctoral colloquium; to be prioritized to PhD students applying from the global South / developing countries.  
Concrete societal impact
"We are very enthusiastic to be hosting this international conference at SBE next year. It firmly resonates with what we believe in as a university committed to sustainability: not only providing excellent teaching to our students and conducting multidisciplinary leading research but also promoting and supporting spaces, like the NBM conference, that facilitates dialogue between academia and practice to create real and concrete societal impact" indicates Prof. Koning.  With more than 15 different tracks, across two full days, the conference promises plenty of time for in-depth discussions and debates on how to develop the next generation of more sustainable, resilient and regenerative business models.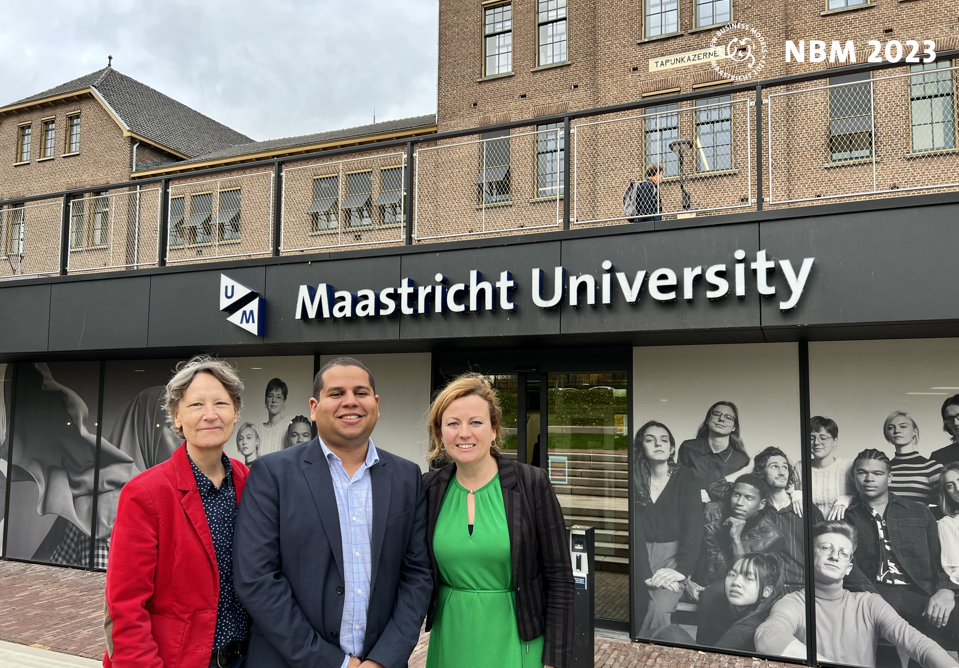 NBM2023 conference organization (Juliette Koning, Abel Diaz, Nancy Bocken)
The call for papers is out, please visit the conference website for the full details: www.newbusinessmodels.org. The submission deadline is Feb 1st, 2023.  For more information on the conference and/or general questions, please email us at  nbm2023@maastrichtuniversity.nl.
Also read
Last week, we were informed of the appointment of our first ever Maastricht University alumnus to become CEO of a publicly traded company listed on the New York Stock Exchange. On 15 November, Robbert Rietbroek was announced as CEO of Primo Water Corporation as of the start of 2024. This Tampa...

Many governments offer financial support to unemployed job seekers with the aim of increasing their willingness to look for work outside their local labor market. Research by Maastricht University shows that this sometimes does more harm than good

School-leavers from secondary education (vmbo, havo and vwo) from the 2020-2021 school year are less likely after graduation to move on to an advanced program in mbo, hbo or wo compared to one year earlier. This and more is shown in the annual school leaver survey by the Research Center for...