Looking back on ETpathfinder's opening
On November 8, Ingrid van Engelshoven - the Demissionary Minister of Education, Culture and Science - opened ETpathfinder during a festive ceremony in Maastricht. Allow us to take you through the day's highlights by means of a photo report.
ETpathfinder is a state-of-the-art physics laboratory, which will serve as a testing ground for the development of technologies for future gravitational wave detectors. ETpathfinder's arrival also strengthens the border region's position as a candidate location for the new European gravitational wave detector, the Einstein Telescope. Read more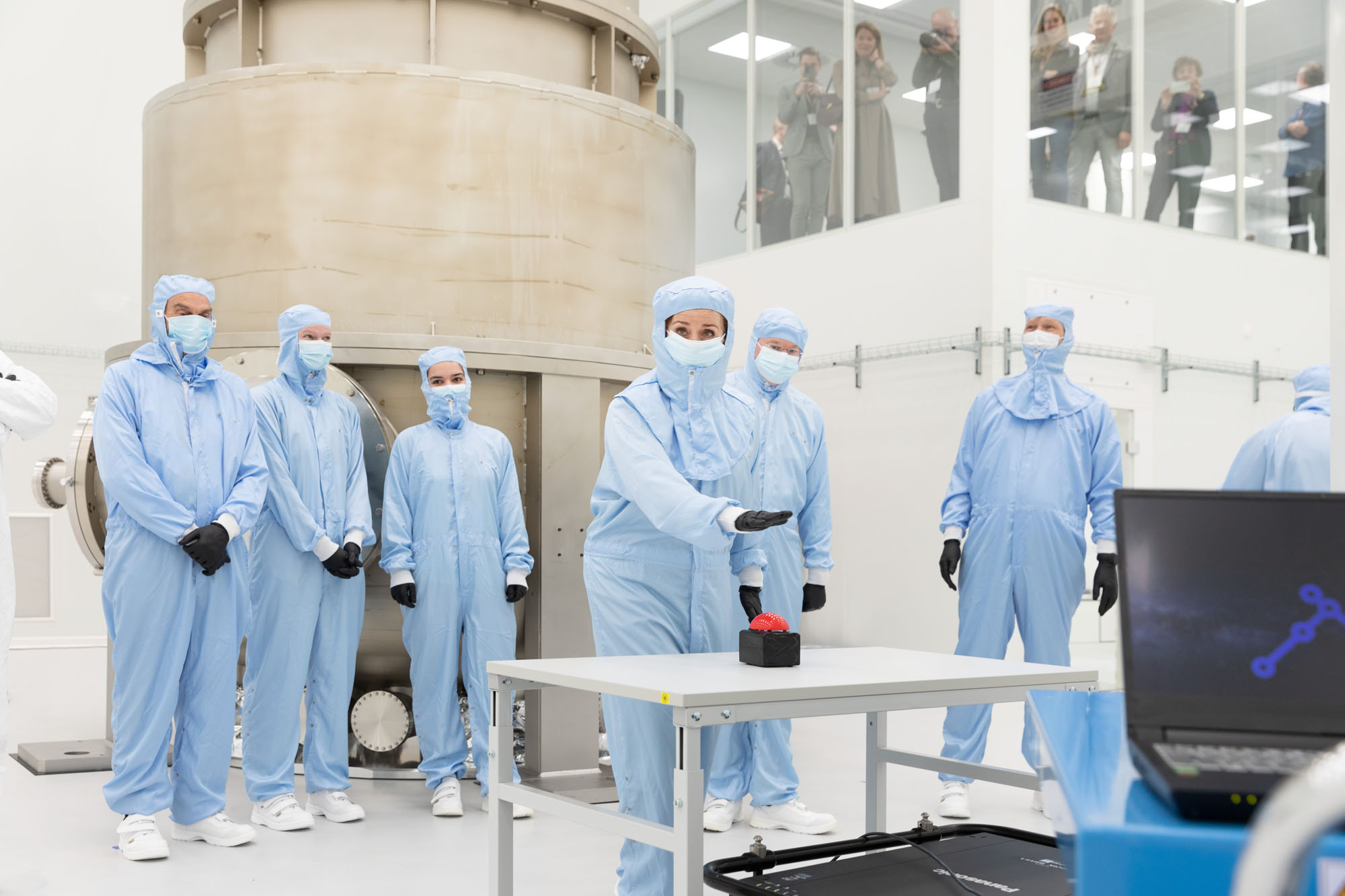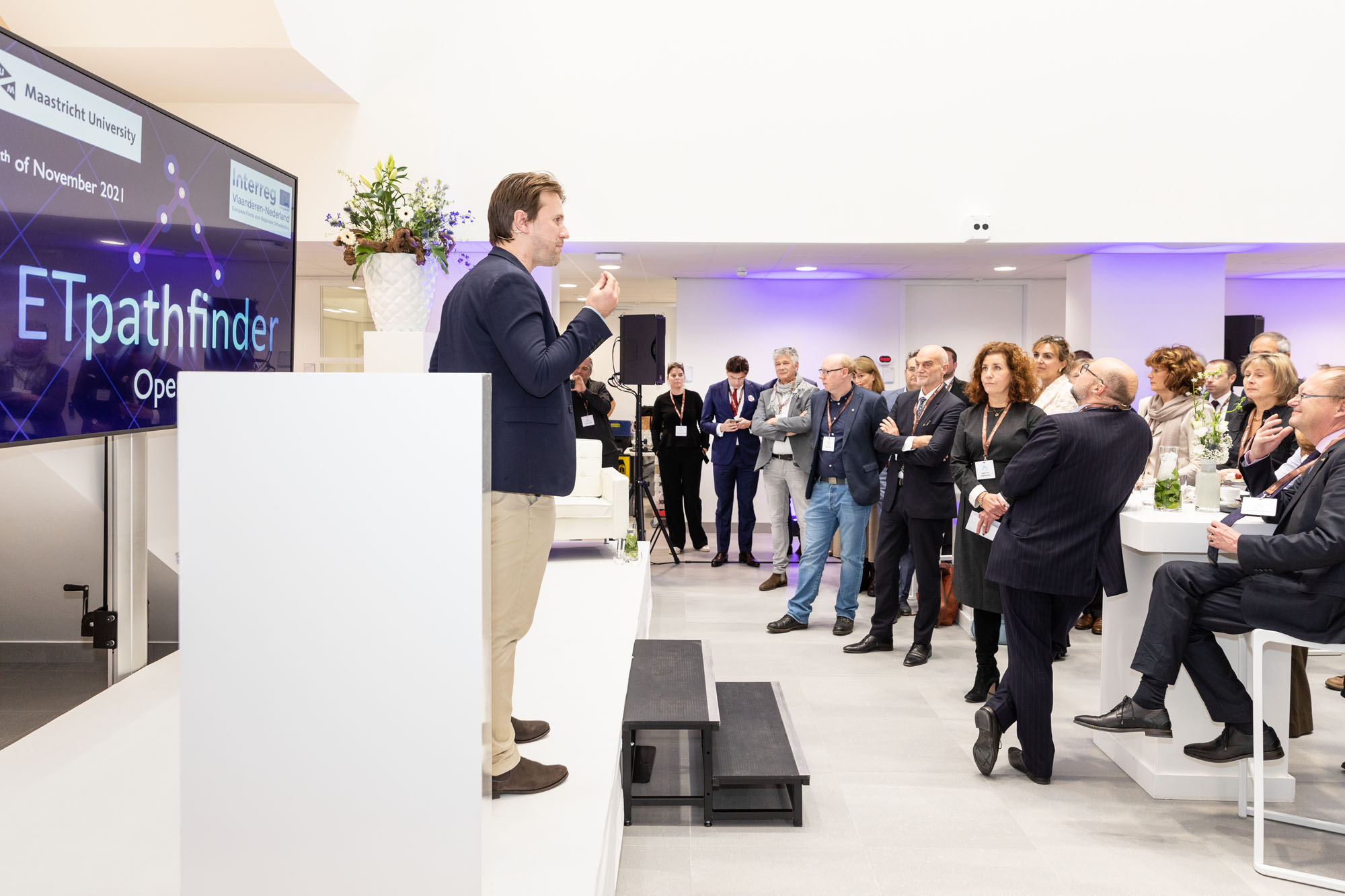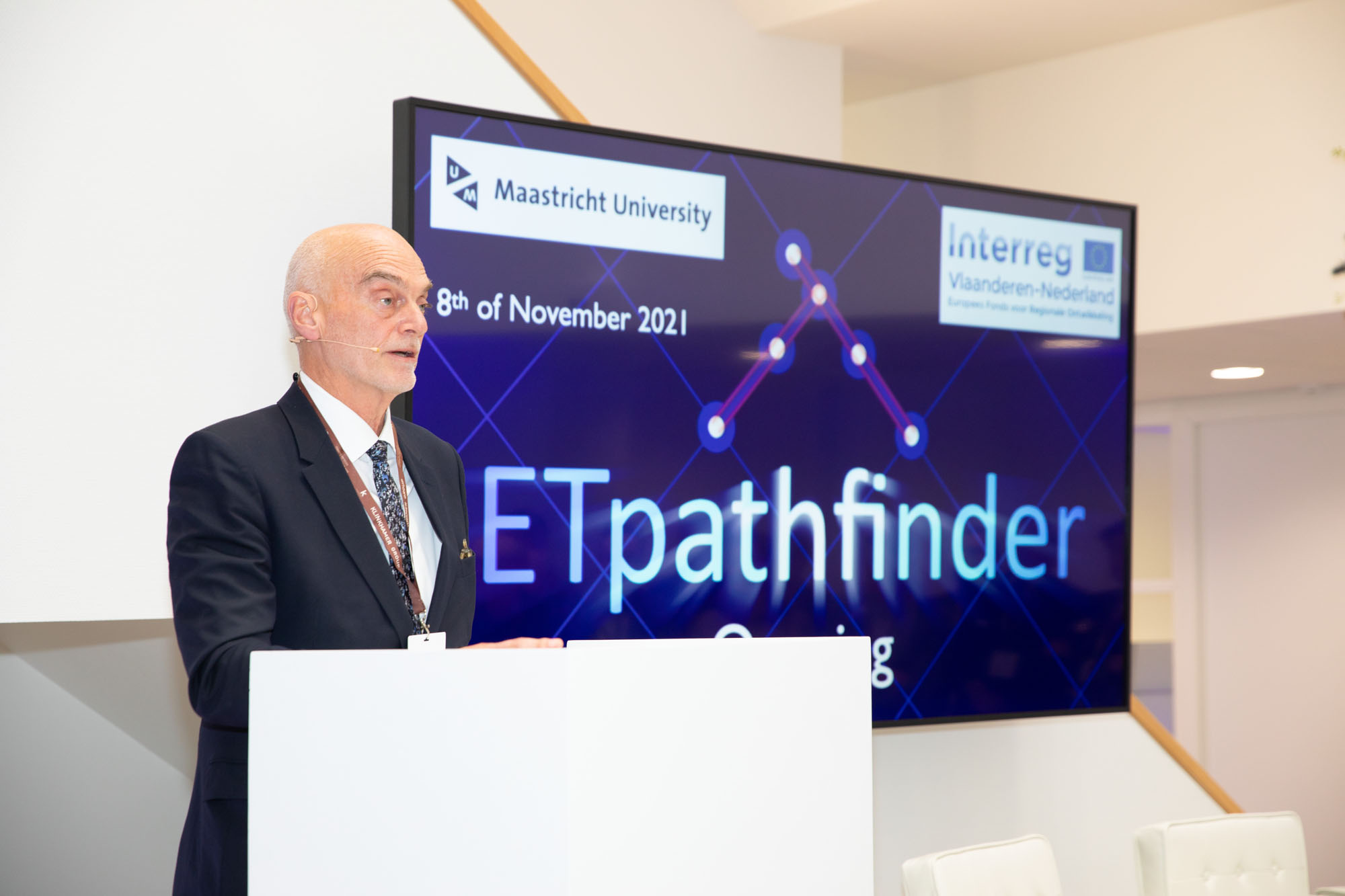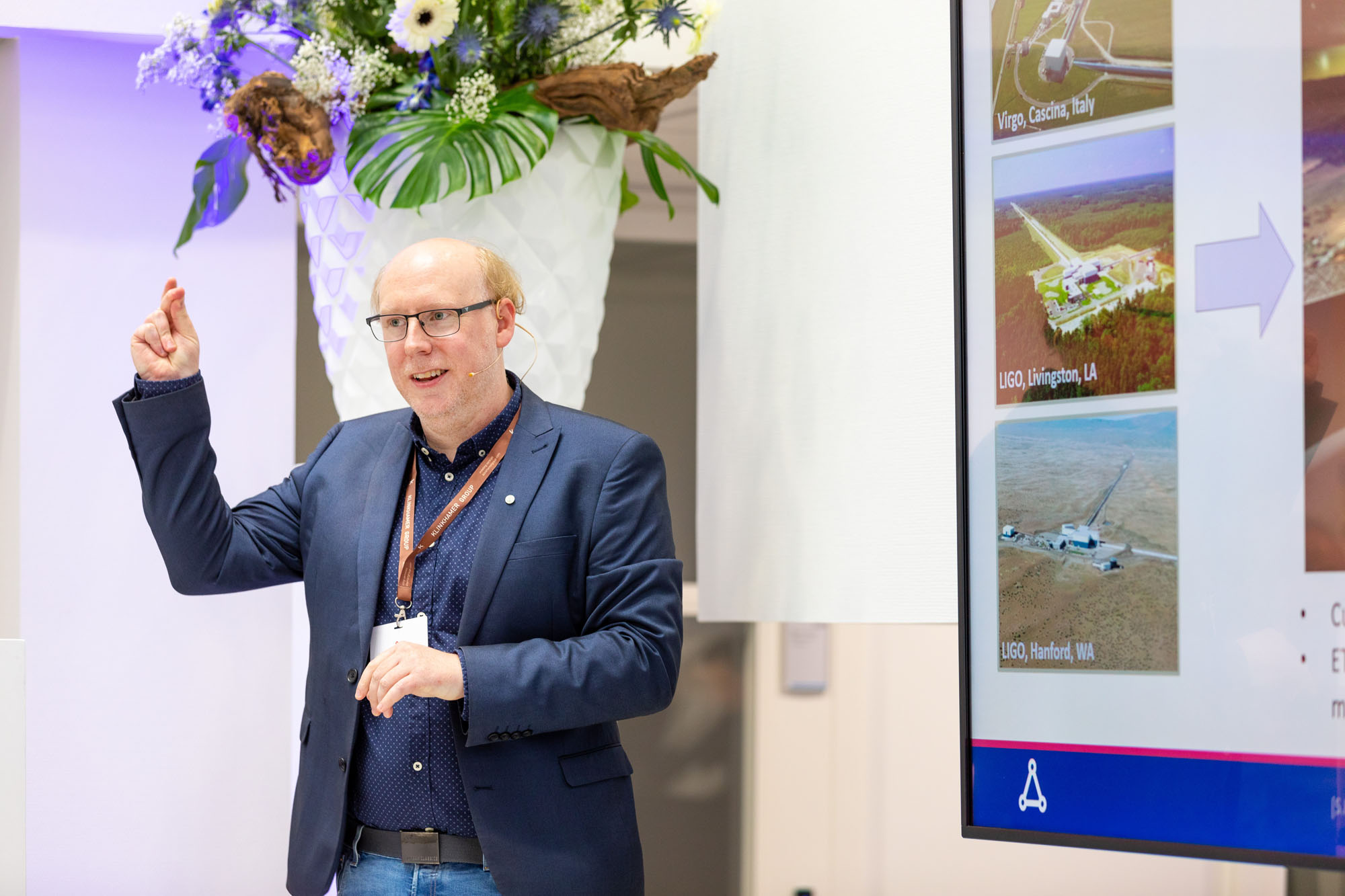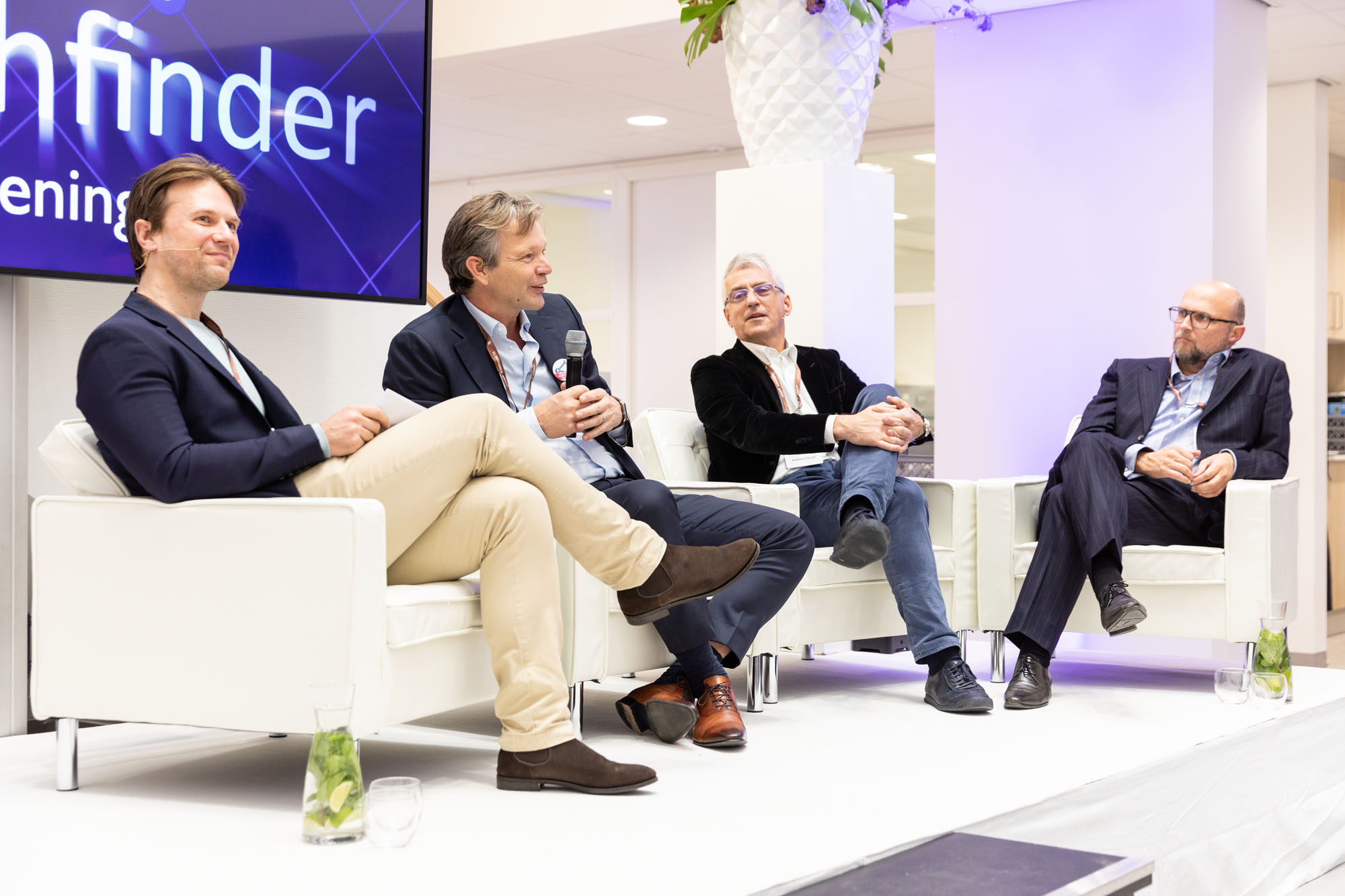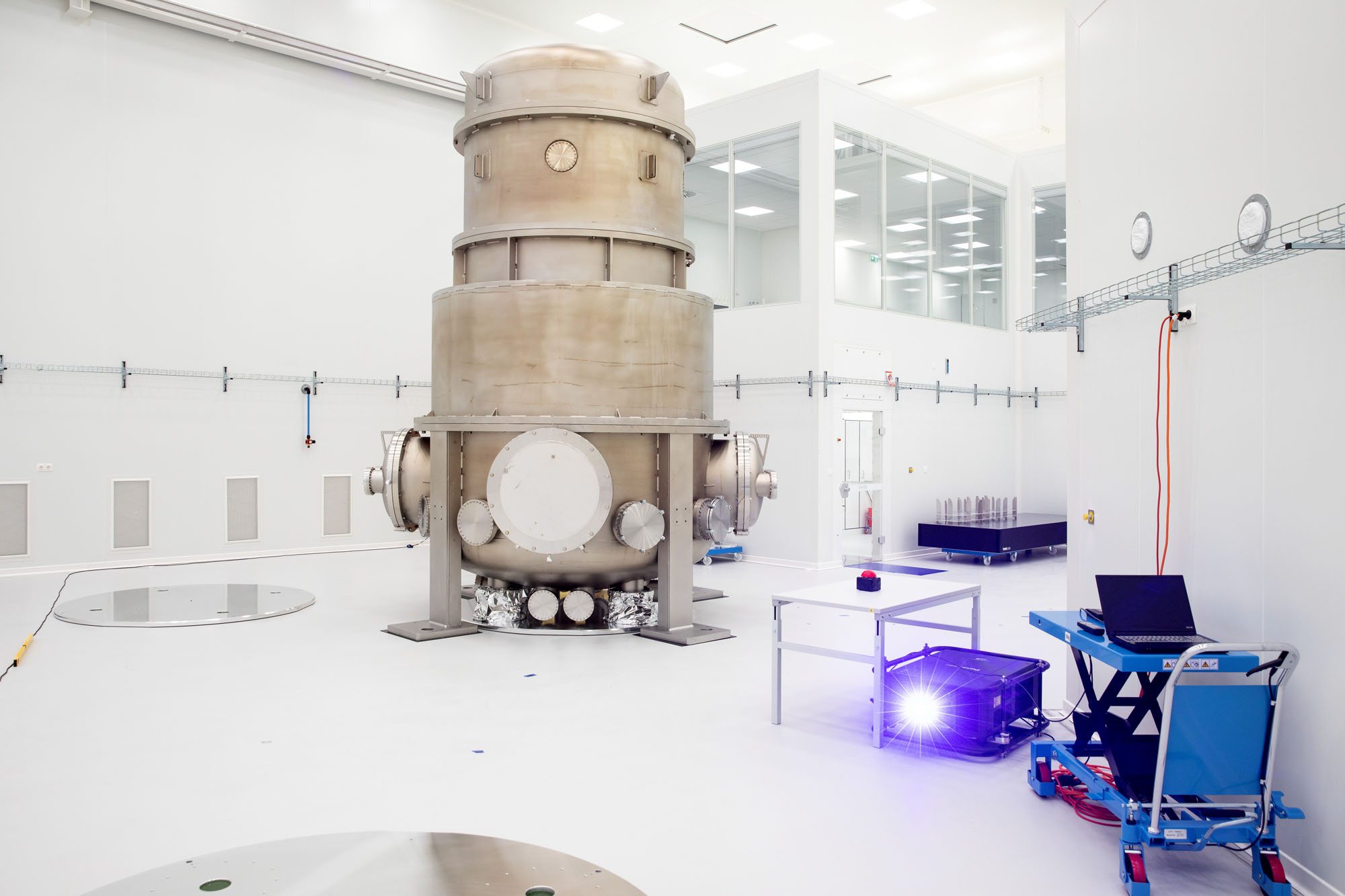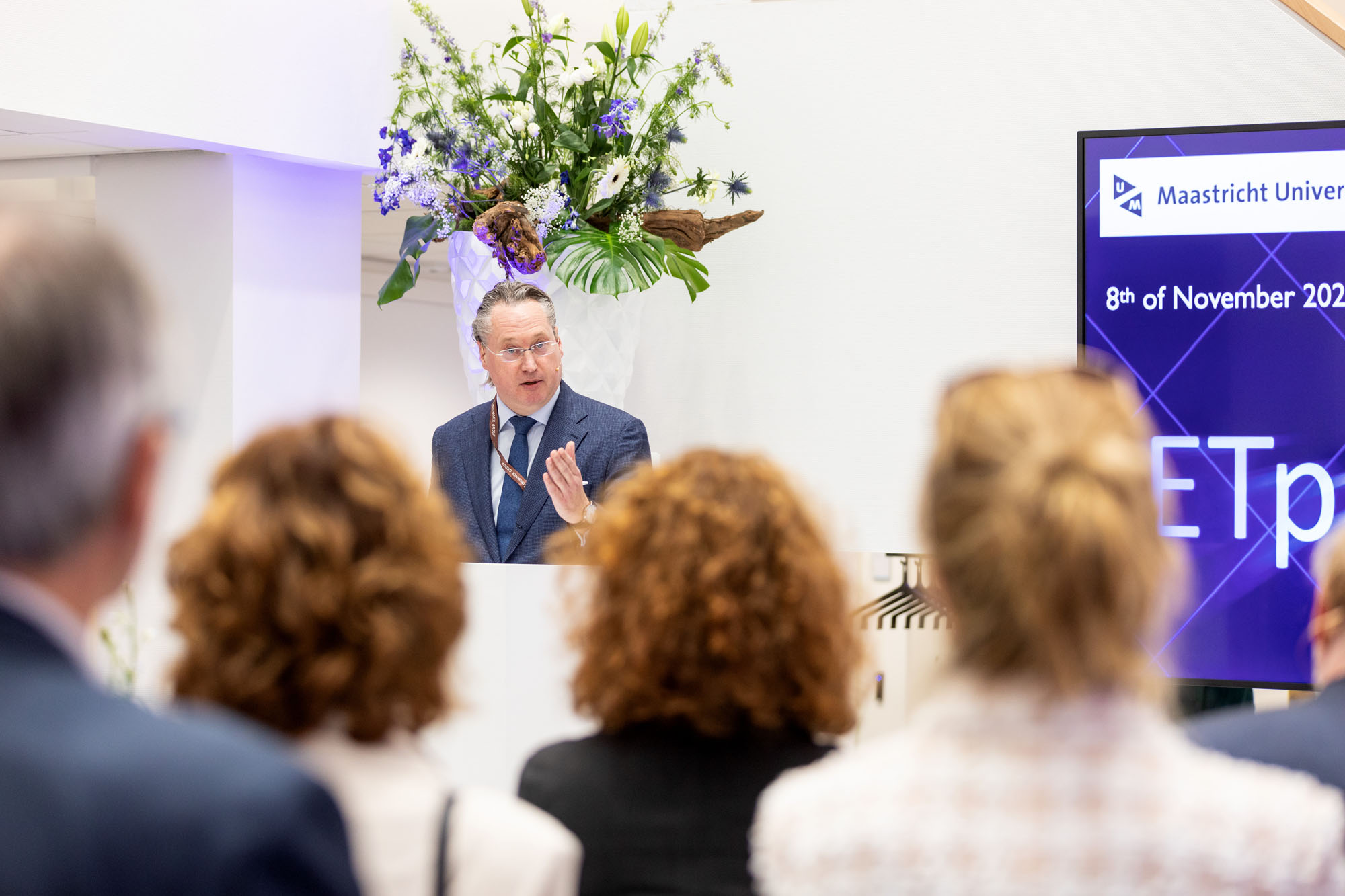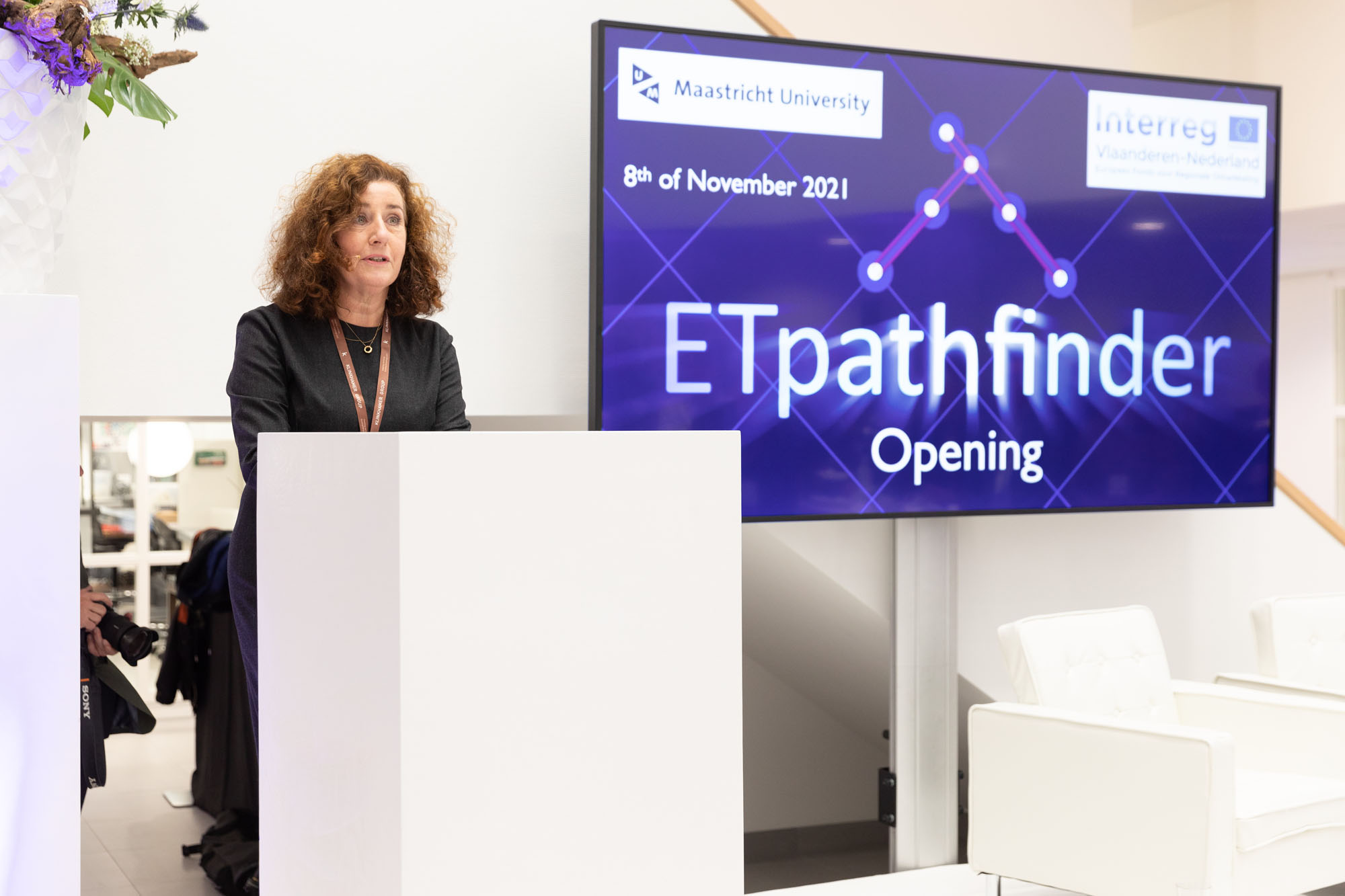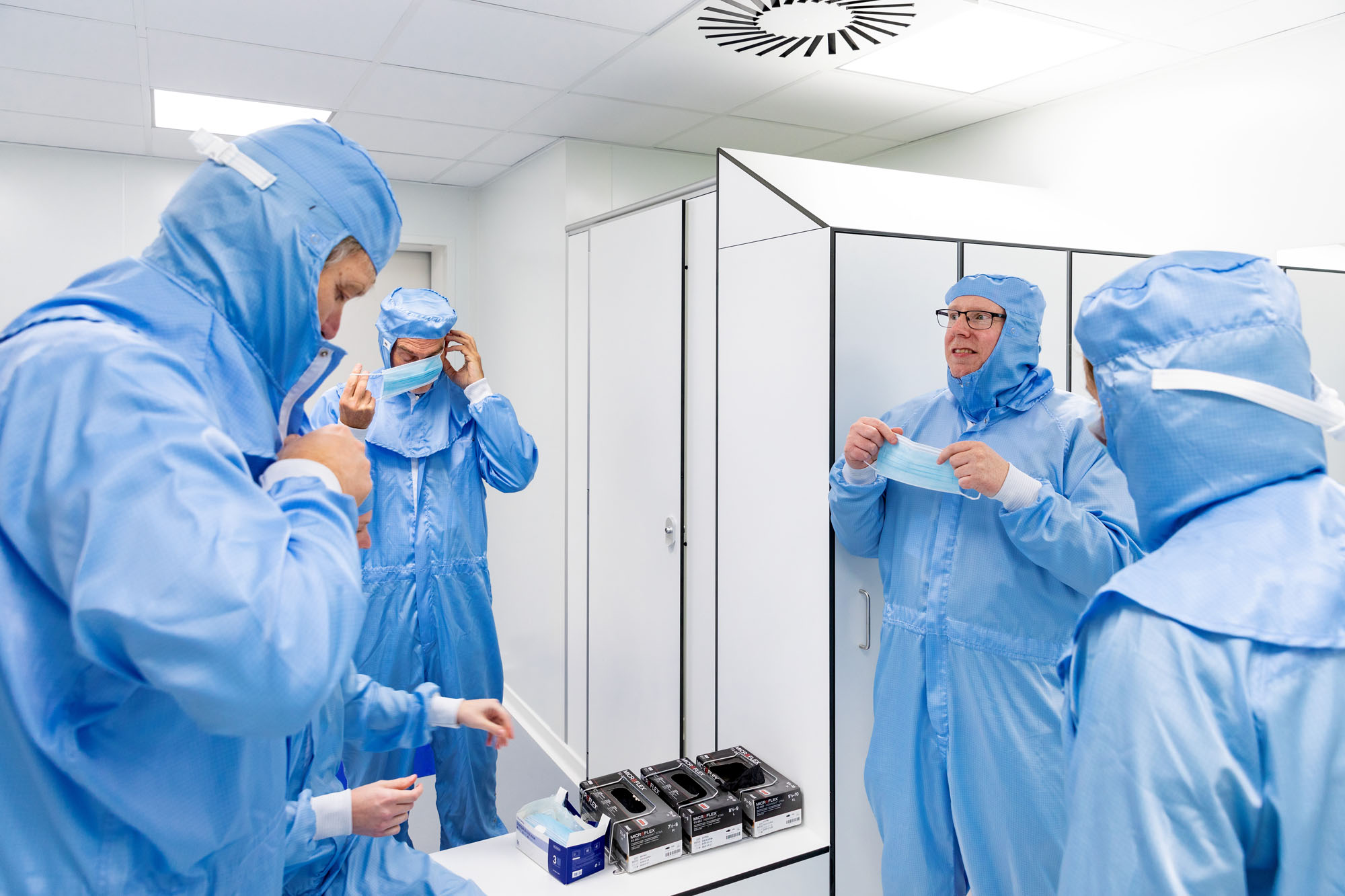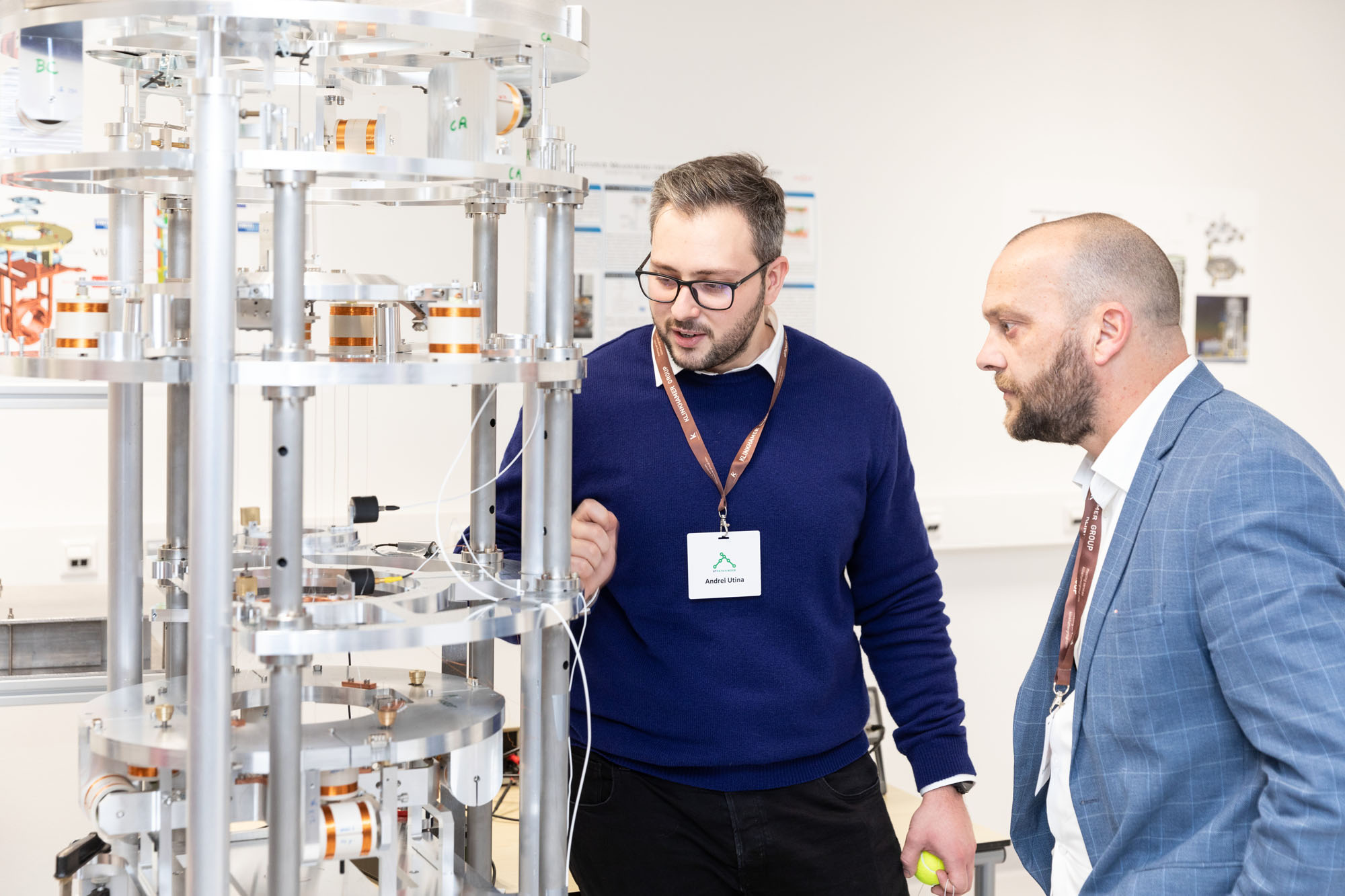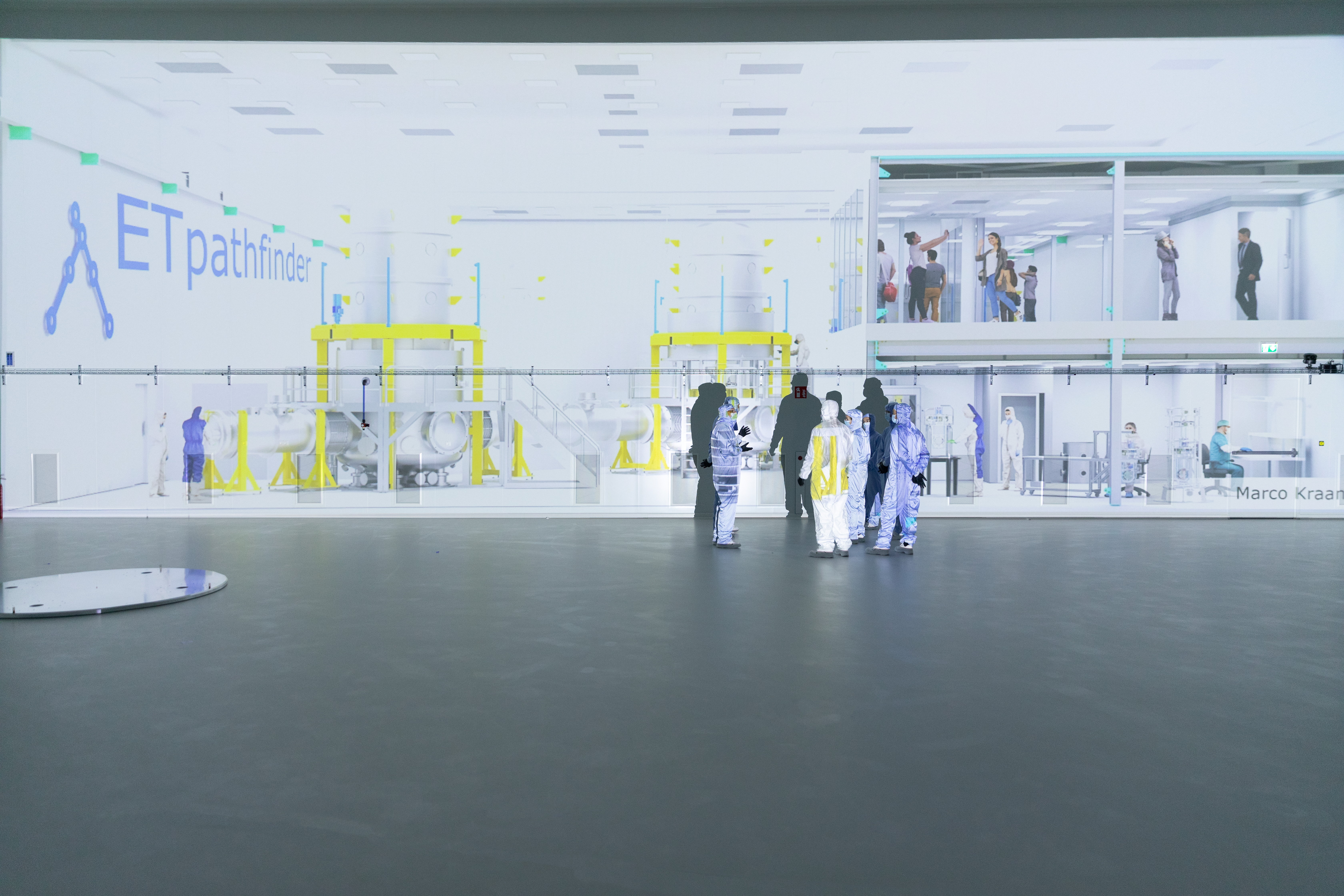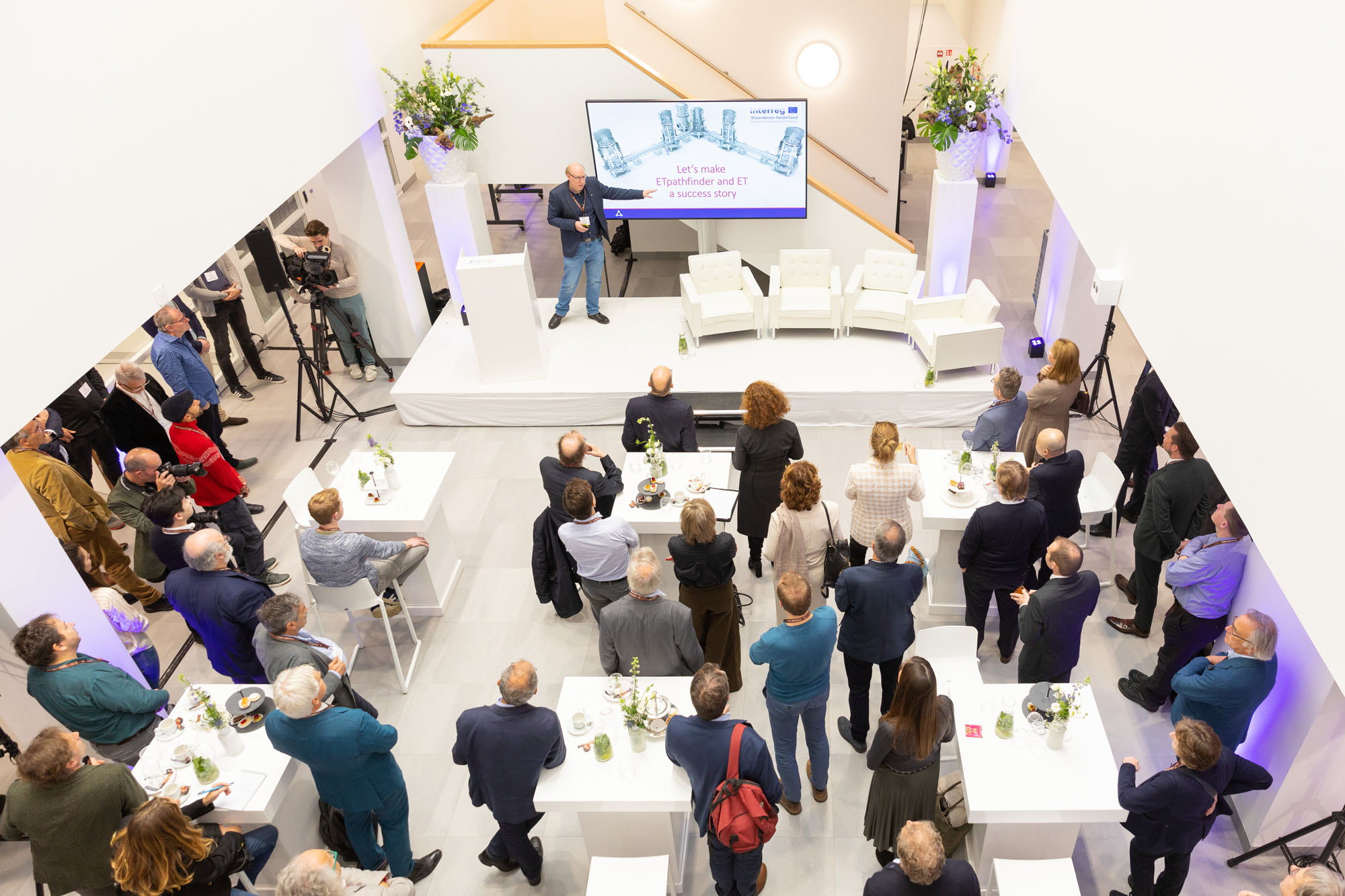 With a push of the button, Demissionary Minister of Education, Culture and Science Ingrid van Engelshoven officially opened ETpathfinder from inside the cleanroom, where ETpathfinder is currently under construction. As the name suggests, the cleanroom has to be kept very... clean. Dust particles and other debris negatively affect the high-tech set-ups inside. For this reason, it's only possible to enter the cleanroom in a dedicated suit and after taking a so-called 'air shower'.
Prior to the opening act inside the cleanroom, Dr. Gideon Koekoek welcomed guests in the newly renovated building at Duboisdomein 30.
Vice-president Dr. Nick Bos addressed guests on behalf of the UM Executive Board...
...after which ETpathfinder's project leader, Prof. Stefan Hild, took to the stage to share his enthusiasm about gravitational waves and the scientific opportunities offered by ETpathfinder.
A panel discussion featuring key players in the international physics community underlined the importance of collaboration across borders.
The three panel guests, from left to right alongside moderator Dr. Gideon Koekoek: Prof. Stan Bentvelsen, director of the Dutch National Institute for Subatomic Physics Nikhef, Prof. Antonio Zoccoli, president of Italy's National Institute for Nuclear Physics INFN, and Prof. Nick van Remortel of the University of Antwerp.
As the cleanroom was being transformed into a virtual tour of the finished ETpathfinder...
...Provincial Executive Stephan Satijn (Province of Limburg) underlined the impact of ETpathfinder and, potentially, the Einstein Telescope on the region.
Demissionary Minister of Education, Culture and Science Ingrid van Engelshoven then took the Dutch perspective on ETpathfinder and the Einstein Telescope to the stage. You can read her speech here.
To conclude the official opening, Van Engelshoven, Professor Hild and a small group of guests suited up for the opening act...
...while other guests attended a pop-up exhibition about ETpathfinder's technology, and visited ETpathfinder's viewing gallery that overlooks the cleanroom.
The cleanroom provided an impression of ETpathfinder in its finished state, thanks to a life-sized projection of a 3D rendering (courtesy of Marco Kraan, Nikhef). 
In short, we look back on a wonderful opening of ETpathfinder. We look forward to a bright future as well: to echo Prof. Hild's closing words, let's make ETpathfinder and the Einstein Telescope a success story!
Photography: Philip Driessen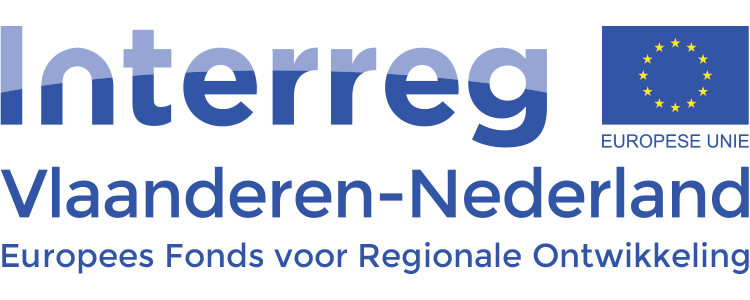 ETpathfinder is realised with support from Interreg Flanders-Netherlands, funded by the European Regional Development Fund of the European Union.
Also read
Prof. dr. ir. Gerard van Rooij will deliver his inaugural lecture titled "Out of Balance" on 02 June. With this lecture, he officially begins his tenure as professor of plasma chemistry at Maastricht University.

The programme, which will boost fundamental research in artificial intelligence through public-private collaborations, has a total budget of over 87 million euros. ROBUST will include 17 new labs across the Netherlands and recruit 170 new PhD candidates.

The aim of the Science Communication Incubator is to foster and support a group of researchers that bring science communication skills and knowledge into their teams.