The life of alumnus Mitch took a bizarre turn
While studying Health Sciences and Human Movement Sciences at Maastricht University (UM), he had his sights set on a career as a manager of top athletes. He would never have dared to dream that one year after he graduated he would get a bronze medal at a World Cup, win the national title and train as a top athlete for the Paralympic Games. How the life of alumnus Mitch Valize took a bizarre turn after the amputation of his left foot. "It turned out to be the best decision of my life."
How an operation actually became inevitable
Mitch Valize was born 23 years ago in Heerlen with an underdeveloped left leg. With the help of some operations and a prosthesis, he was able to walk and play football, which he did fanatically. But a few years ago, while studying Health Sciences in Maastricht, he began to have more and more problems with his prosthesis. "I still had a left foot that essentially had no function but did cause pain when wearing my prosthesis. If I wanted to switch to the new generation of prostheses, that foot had to be removed."
Summer of 2015: D-Day
He remembers how he sometimes sat in the university library and briefly loosened his prosthesis to get some relief. The operation was a bit of a gamble; there was a 50% chance of success and it would only become apparent if it was successful during rehabilitation. "But I was so done with the pain that I was looking forward to it with confidence." In the summer of 2015, he underwent the radical operation. He never could have imagined which direction his life would take from that moment on.
How his talent for handbiking was discovered
Handbiking was one of the sports that was used during rehabilitation for improving his conditioning. He cycled his first laps on the grounds at the Adelante rehabilitation centre in Hoensbroek. It quickly became apparent that he had talent for it. He stood out in 2017 during the annual international competition between teams from large rehabilitation centres. A 20-kilometre climb of 10% in Austria was precisely his 'cup of tea'. "The next morning, I had an app from the national coach of the Royal Dutch Cycling Union", he says beaming.
An exhilarating ride to bronze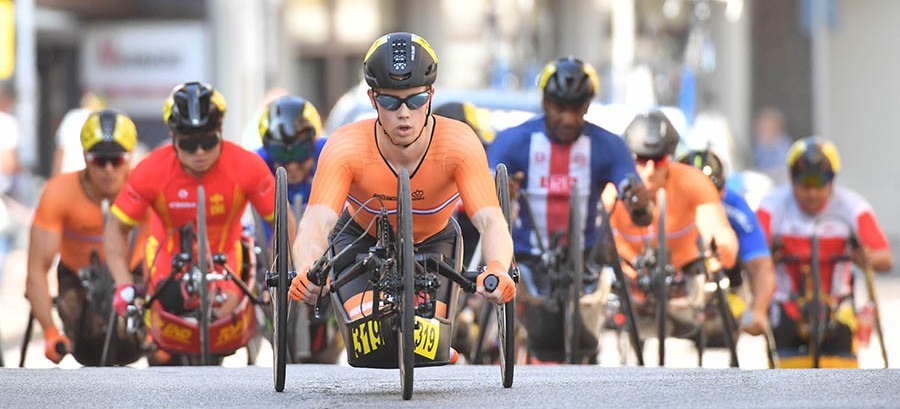 He then trained regularly with the selection of para-cyclists, which included handbikers. And on 4 August 2018, he and two teammates cycled for the Netherlands at the Para-Cycling World Cup in the Italian city of Maniago. "I was one of the two domestiques for our leader, Tim de Vries, who came in first. Halfway through the ride my work was finished and I was able to recover a bit in the back of the peloton. Twelve kilometres before the finish, our coach gave me the freedom to start sprinting. The final sprint was a false flat, so I waited until the last hundred metres and then went full on. I passed the Russian and the Frenchman in front of me and took bronze. Unbelievable! Our team hadn't expected that we would get that medal..."
The kick of handbiking for Mitch
Handbiking is becoming increasingly popular among people without disabilities and the fact that it is a Paralympic sport also makes it special for Mitch. "Your arms are not actually built for endurance, so you have to build up your muscle mass. And if you then pass normal cyclists using hand strength during an ascent, you get a huge kick out of it."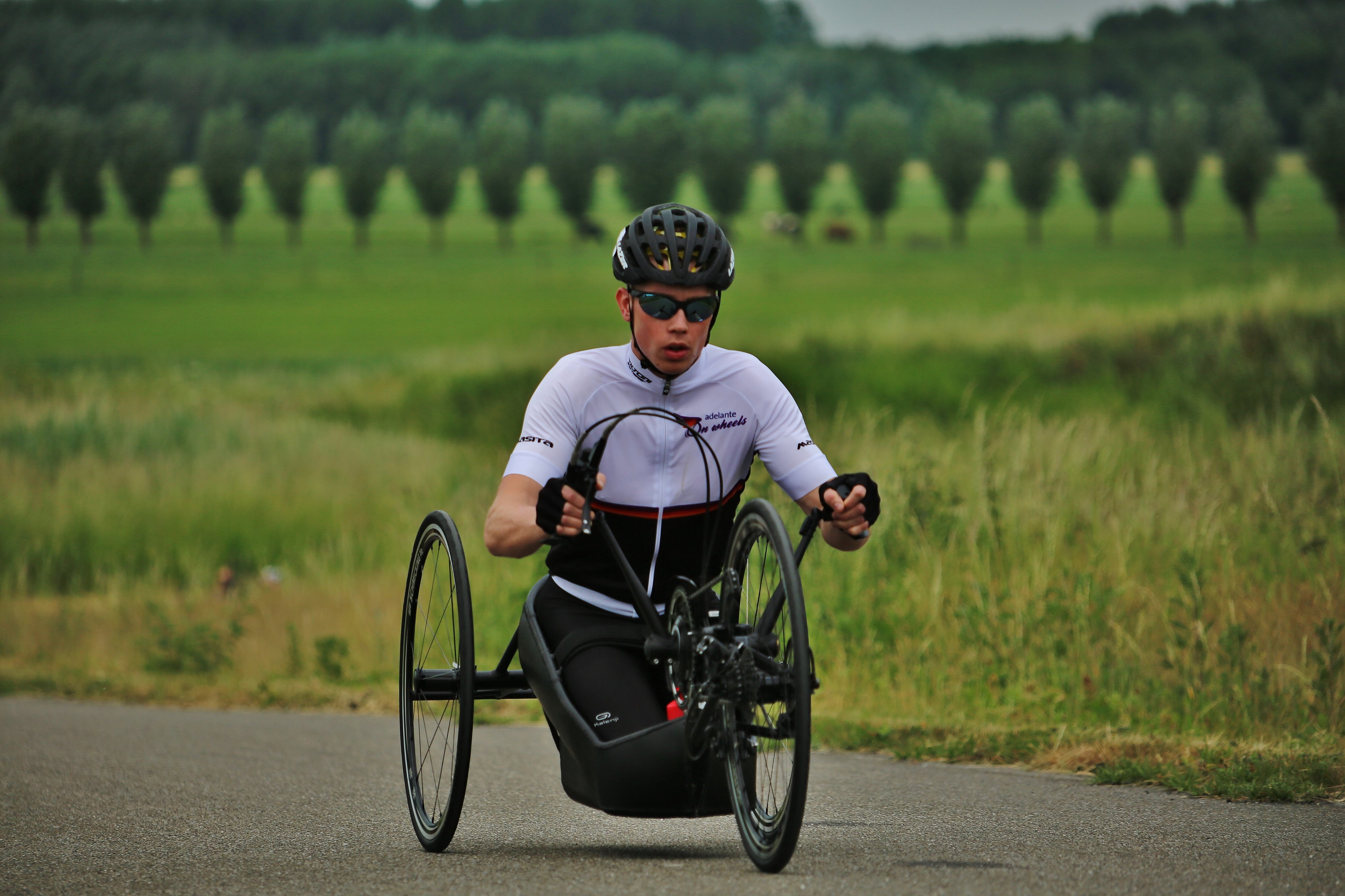 On to the Paralympic Games in Tokyo
From 1 September 2018, Mitch has been a full-time professional athlete and he is one of the first participants in the training programme for handbikers at Papendal, the top-sport training centre in Arnhem. Two weeks later, he captured the national handcycling title, beating world champion Tim de Vries in a nail-biting finish. At the World Cup next year, he hopes to win a silver or gold medal, so that his place in the Paralympic Games in Tokyo in 2020 is guaranteed. And after that he hopes to participate in the Games a number of times. "Handbiking can be done well until your 60s. The other domestique on our team won bronze at the World Cup last year and is now 60. But I think I would still like to do something with my education by the age of 40."
The amazement remains
Paralympic athletes who train their successors after their sports career—you do not yet see that very often. "I will have gained a lot of experience later on. That, in combination with the knowledge from my education, I would like to use for this purpose." But first he will get the most out of handbiking that he can. And he can still be amazed at how his life has changed since the operation. "I only hoped to be able to exercise again pain free", he says, still somewhat amazed.