Global business students bridge theory with practice in real company case study
SBE's Global Business course, led by Associate Professor Boris Lokshin, examines and explores the opportunities and challenges that multinational companies face in a globalised world. This year, the course's centrepiece was a case study in which students investigated internal and external success factors of an internationalisation process based on real companies.
Taking the learning experience a step further into practical experience, Boris Lokshin decided to collaborate with the internationalisation department of Boxine GmbH, a start-up that develops child-friendly audio systems. Through this partnership, Boris' goal was to give students the opportunity to obtain first-hand insights into the company and also offer their ideas and input via weekly video conferences.
A collaboration with an SBE alumna
This collaboration with Boxine came about when SBE alumna Juliane van Reedt Dortland, who has been working for Boxine for the past year, generously accepted Boris Lokshin's invitation to attend a 'Meet & Greet' event to share her career path with the cohort of SBE master students. In a discussion about the need for closer cooperation of universities and companies, the two came to the conclusion that the Global Business course content coordinated by Boris is aligned with Juliane team's tasks at Boxine.
Boxine GmbH is a Düsseldorf-based start-up that has developed a new, child-friendly audio system, Toniebox. The audio system makes learning appealing, enjoyable, and interactive by allowing children to listen to music and audio books with the help of magnetic, well-designed audio characters—toniesⓇ—which can be put on top of the box.
During the case study, students in the Global Business course worked in small dynamic groups, and they were asked to assess the suitability of different potential markets for the Toniebox, to evaluate opportunities and possible risks, and finally to pitch their 'go-to-market-strategy' in a 30-minute presentation.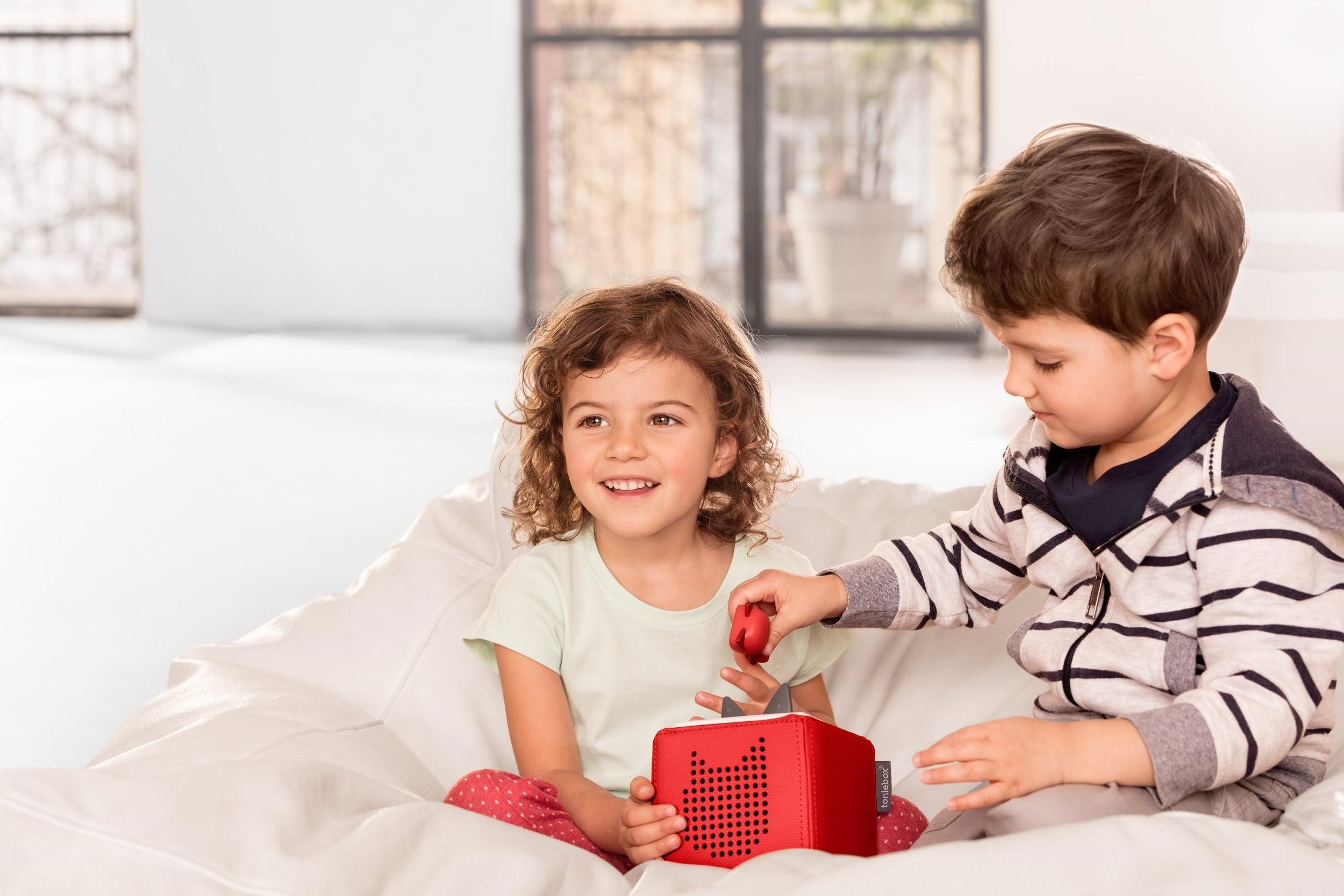 A rewarding experience
For Boxine as well as the students, this was a rewarding collaboration: 'The cooperation with Maastricht University was very insightful and inspiring.' explains Juliane van Reedt Dortland. 'Twice per week, students could video-call with us, ask all the questions they had, and discuss their ideas and input on our global strategy with us. We appreciated the open and honest exchange as well as the very professional analyses a lot and are very impressed by the farsighted mind with which students approached our joint project. As the [students'] presentations greatly interlinked with our daily work, the output was very valuable for us.' One of the students that took the class adds: 'It was the first time I had the opportunity to work so closely with a company in a course and I am very grateful for that.'
The success of this experience clearly demonstrates that in times of remote working and studying during the corona pandemic, the interlink between theory from a university perspective and practice in the vision of a company can still be achieved, even without face-to-face meetings. 
Maastricht University alumna Juliane van Reedt Dortland completed her Bachelor in Economics and thereafter embarked upon the Master in International Business: Strategy & Innovation. She wrote her master thesis with Associate Prof. Dr. Boris Lokshin, and successfully graduated in 2014. Subsequently, she gained professional experience in internationalisation and innovation, and as of last year she has been working for Boxine GmbH in International Business Development: evaluating, planning, and implementing international expansion. Recognising that Prof. Dr. Lokshin's Global Business course content closely aligned with her team's tasks at Boxine, she proposed to him the idea of interlinking the two, and they came to the conclusion that it would be a perfect match.
'The project was very enjoyable for the entire team—we all had the feeling students really acted as consultants advising us on our next steps. We were also happy to collaborate with so many people enthusiastic for our product along the way. Let's be honest—in our work-life, we deal with kids' toys on a daily basis, isn't this one of the best things you can do?'
Boris Lokshin is an associate professor at the department of Organisation and Strategy at Maastricht University's School of Business and Economics (SBE). He holds PhD in economics from the University of Maastricht and an MA in economics from Indiana University, USA. His research deals with topics at the intersection of fields of strategic management, innovation and entrepreneurship, and it has been published in many leading management, innovation, and economics journals.
'As a course coordinator of Global Business it was rewarding to see students learn theoretical embedding, apply concepts to solve a real business problem and get feedback from tutor and company management all within a few weeks. Collaboration with Boxine shows great value added can be achieved by combining a research-led curriculum with a practical application.'