FSD Smallholder-oriented Data Governance Report
FSD's New Report on Smallholder-oriented Data Governance
We are glad to unveil our Smallholder-oriented Data Governance report. We aim through this report to stir debate and drive consensus among the stakeholders in the data ecosystem of smallholder farmers to lay the foundation for a fair and efficient data governance system.  
Download the report here.
In the report, we define the smallholder data ecosystem as comprising multiple stakeholders with asymmetric power, knowledge, and resource access levels. These stakeholders should handle smallholder farmers' data responsibly and transparently to empower and avoid harm. Smallholder-oriented data governance requires the more powerful and well-resourced stakeholders to commit to fair treatment and compensation of smallholder farmers. 
The report defines smallholder farmers, informed consent, and a fair data ecosystem. Further, it presents a set of principles that a data governance system should have to ensure fair and sustainable benefit sharing from smallholders' data. The principles should not be interpreted as fixed policies or commandments because their formulations are deliberately broad. Instead, different stakeholders in the smallholder data ecosystem should be able to use these principles when designing smallholder-oriented data-value policies. In addition, the enabling conditions of the principles can be used as a practical tool to create a check-and-balance system in smallholder-oriented data governance. The principles can also be helpful for actors who are not directly involved in data-value exchanges with smallholders, such as consumers and journalists.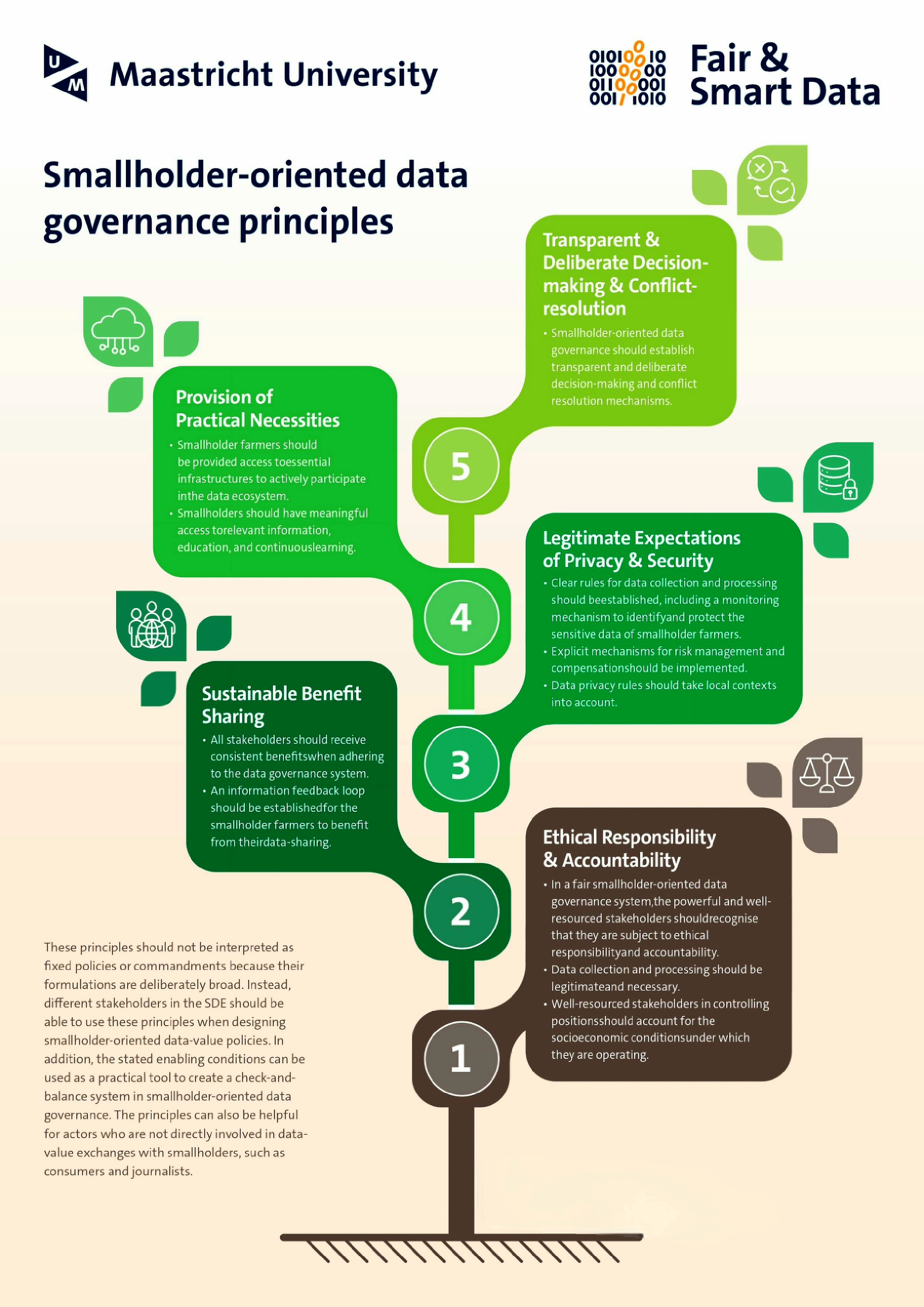 Also read
We are pleased to announce the AppChallenge@UM team as the winner of the Lean & Agile Award for 2023!"

What is it like, being the first generation to go to university? We are talking about this topic with various UM students. Joy Osadebawem Daniel from Luxembourg is one of them. Her parents, originally from Nigeria, didn't always have an easy time after arriving in Luxembourg. But they taught Joy an...

They may study an unconventional group, but they have fun doing so. Lynn van Vugt and Mark Levels focus on NEETs: young people who are Not in Education, Employment or Training, and are difficult to engage. Van Vugt's PhD research—supervised by Levels, professor of Health, Education and Work—produced...