The first ever Women in Data Science Conference in Maastricht
On Thursday 5 March 2020, the first Women in Data Science Conference in Maastricht, organised by the Institute of Data Science, took place at our new FSE building. The conference was a great success, and hereby we present to you a summary of this fruitful event. 
The 7 inspiring female speakers
We had the honour to welcome 7 inspiring female speakers and an enthusiastic audience. Visara Urovi started the conference with an opening speech and paid tribute to her co-organiser, our beloved Amrapali. We miss her dearly, but her memory and legacy will live on forever. 
Next, our audience enjoyed very inspiring lectures by Lisette Van Gemert, Sofie de Broe, Lyana Curier, Wanting Huang, Stavroula Mougiakakou, Helena Deus and Katleen Gabriels.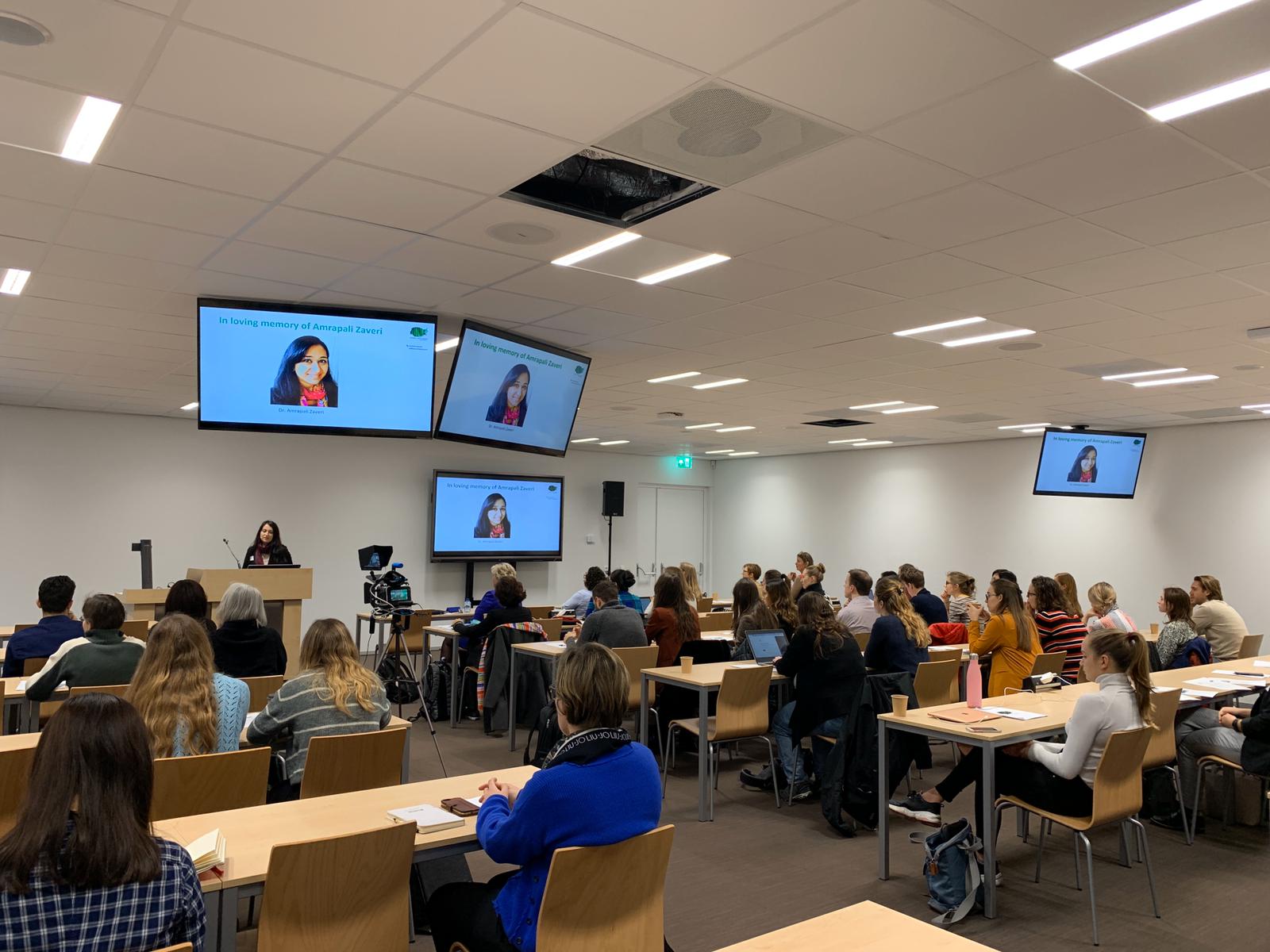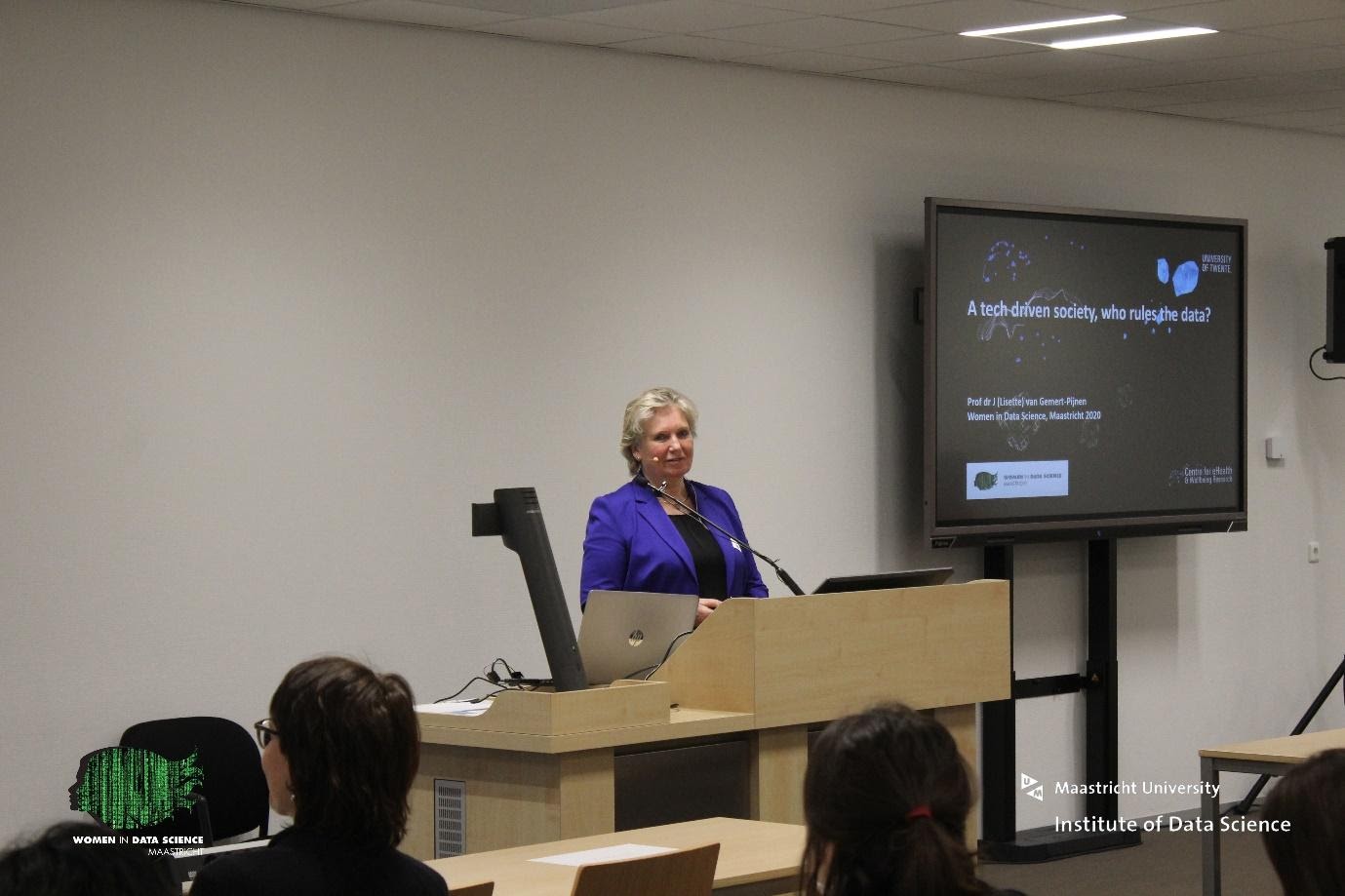 Lisette van Gemert (Department of Persuasive Health Technology at the University of Twente), gave a keynote lecture titled 'A Tech-Driven Society: Who Rules the Data?' She focused on concerns and questions about Big Data, which are mostly driven by the fear of losing control and/or autonomy. She addressed questions on how we can guarantee data quality, how to avoid data gaps, and how to deal with missing data, data bias and a myopic view on data collections.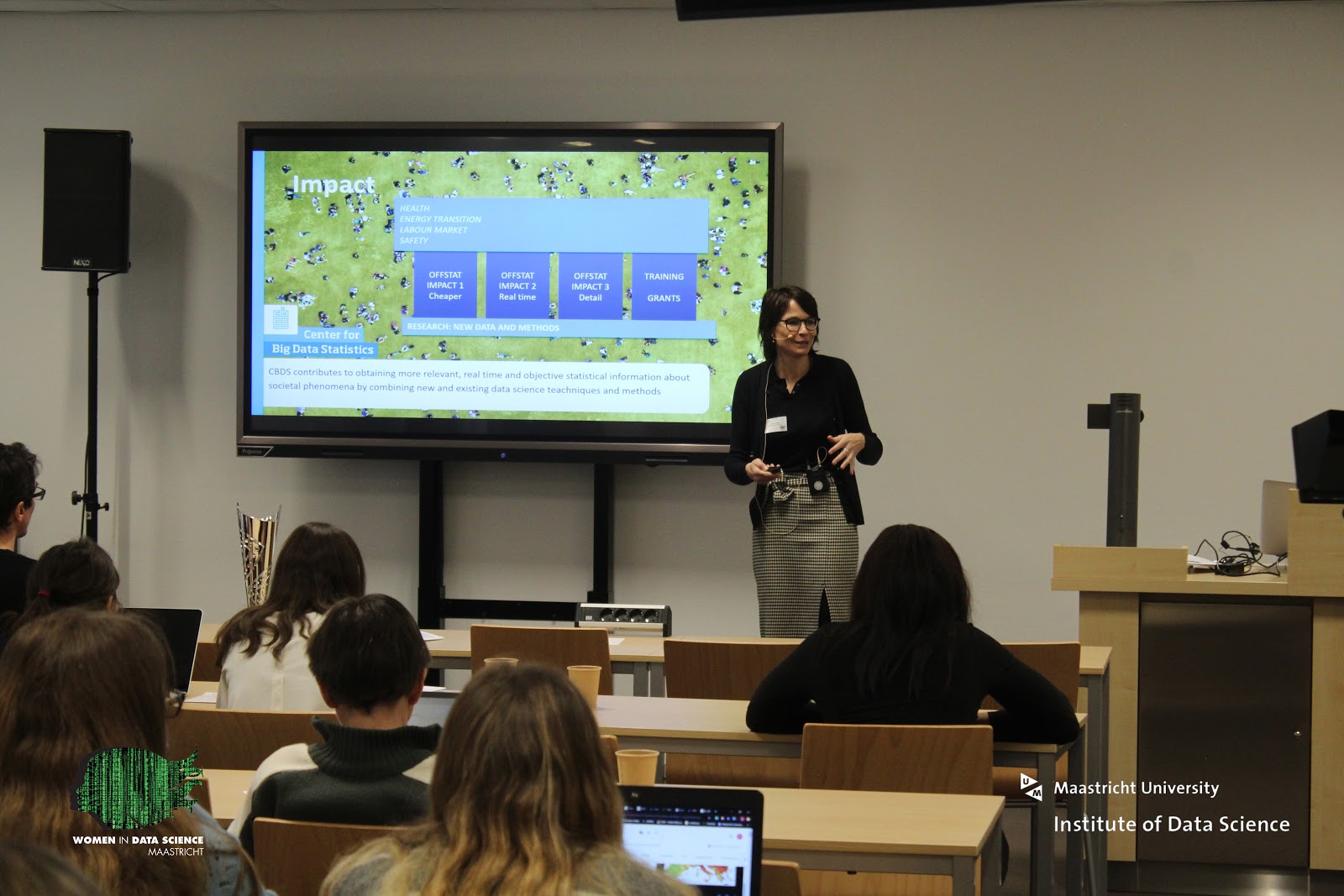 Sofie de Broe (Centre of Statistics Netherlands) spoke about 'A New Model for National Statistical Institutes'. As the head of the methodology and scientific director of the Centre for Big Data Statistics at CBS, she is leading a group of survey and observation methodologists and data scientists to maximize the use of big data sources and data science techniques in the production of official statistics. She talked about her career path, current challenges of National Statistics Institutes and their future.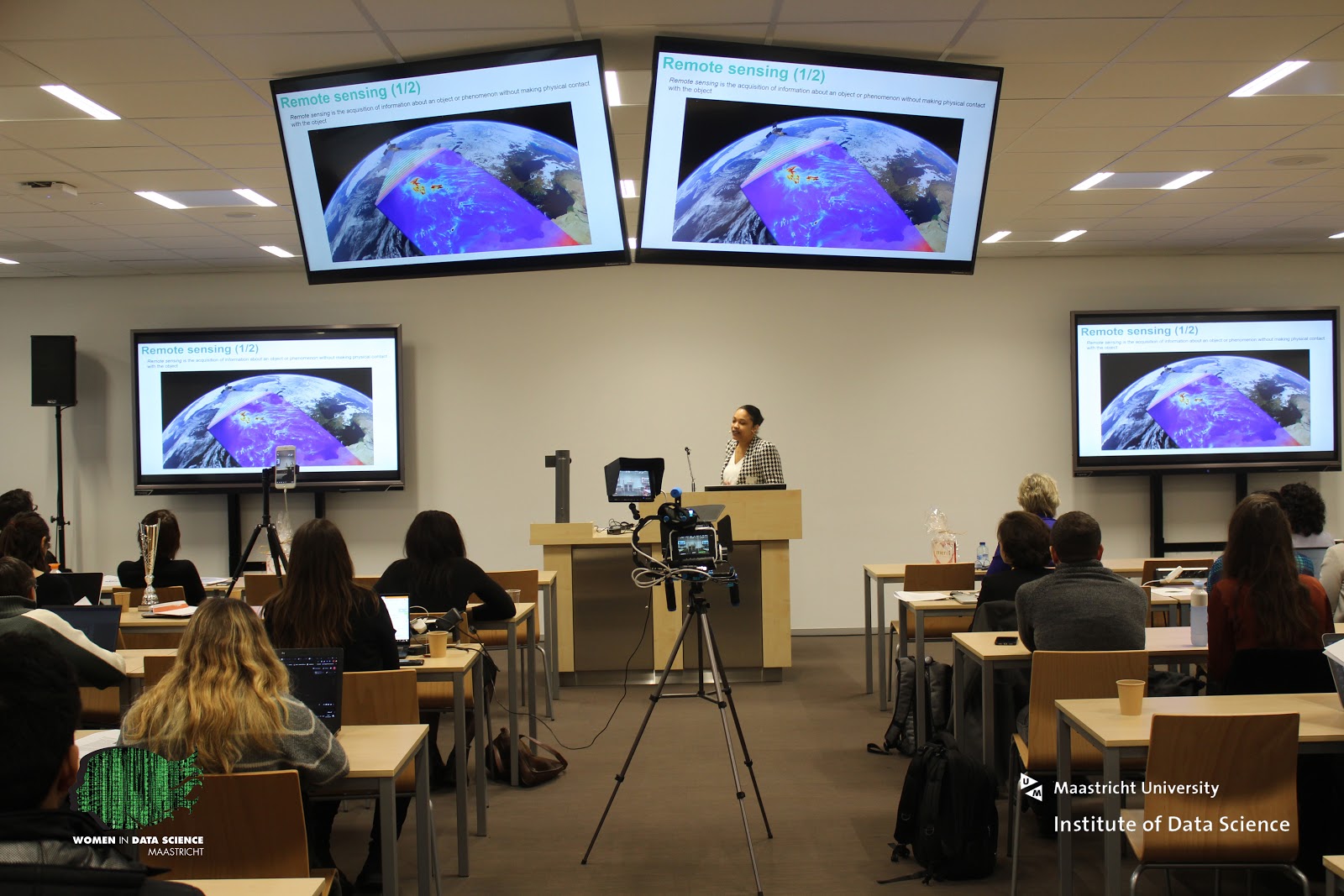 Lyana Curier (Centre of Big Data Statistics Netherlands) explained the benefits of 'Machine Learning and Remote Sensing' to evaluate the expansion of built-up areas. Delimiting the built-up area of urban agglomeration is a necessary first step to monitor progress in developing sustainable cities and communities. On a global scale, urban expansion is one of the primary factors for habitat loss and species extinction as it results in land cover changes. Locally, urban areas and urbanization have great, irreversible impacts on their surrounding environments.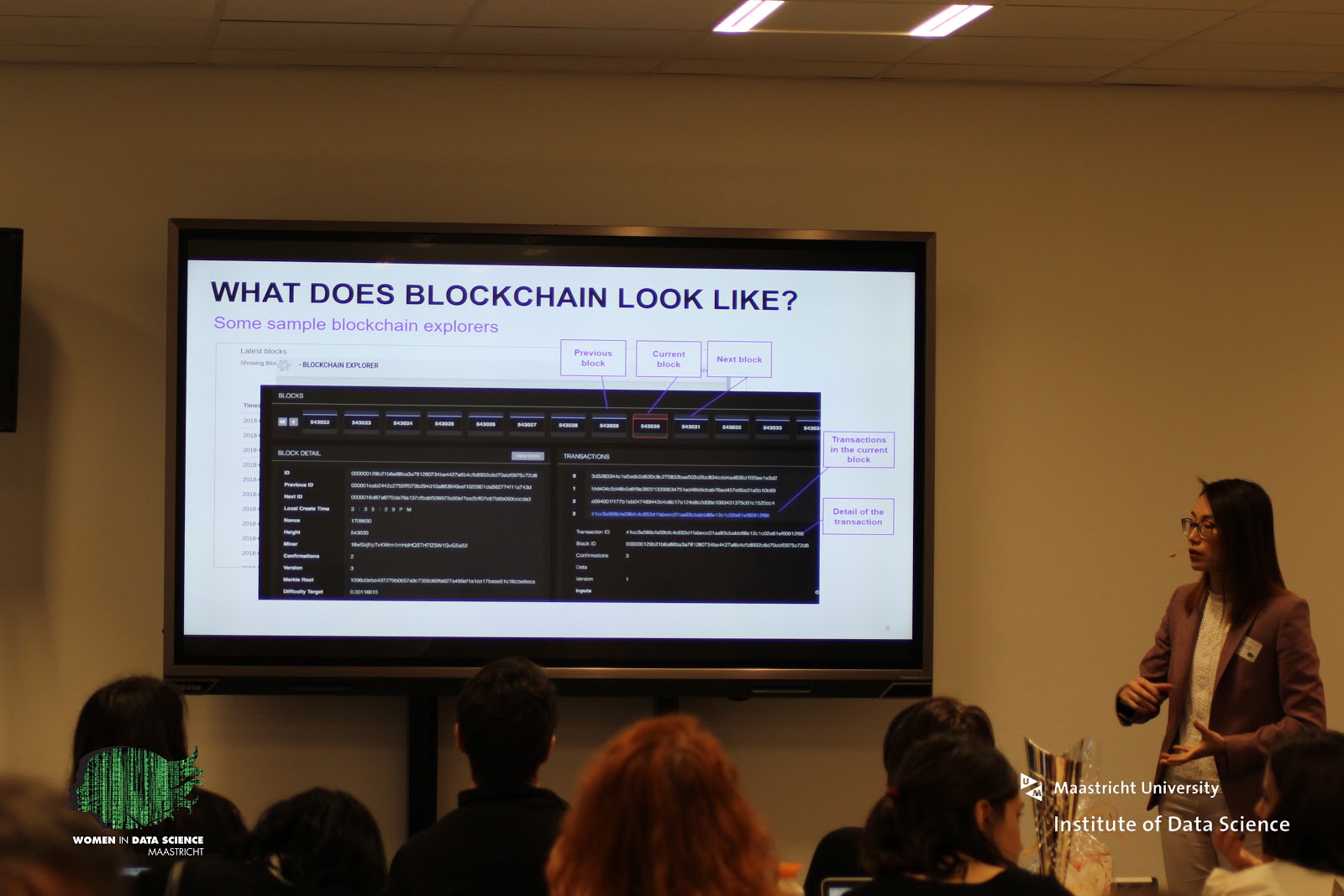 Wanting Huang (Accenture, The Netherlands) explained to us 'How Blockchain could improve the way we manage our health data'. Personal data are of great value for the delivery of high-quality health care. Today, most data exchange is done with printed documents or data on physical drives where there is very limited traceability of ownership and hardly any managed access. Huang and her team are tackling this problem by investigating how healthcare data can be exchanged in a secure way, facilitated by Distributed Ledger Technology / blockchain.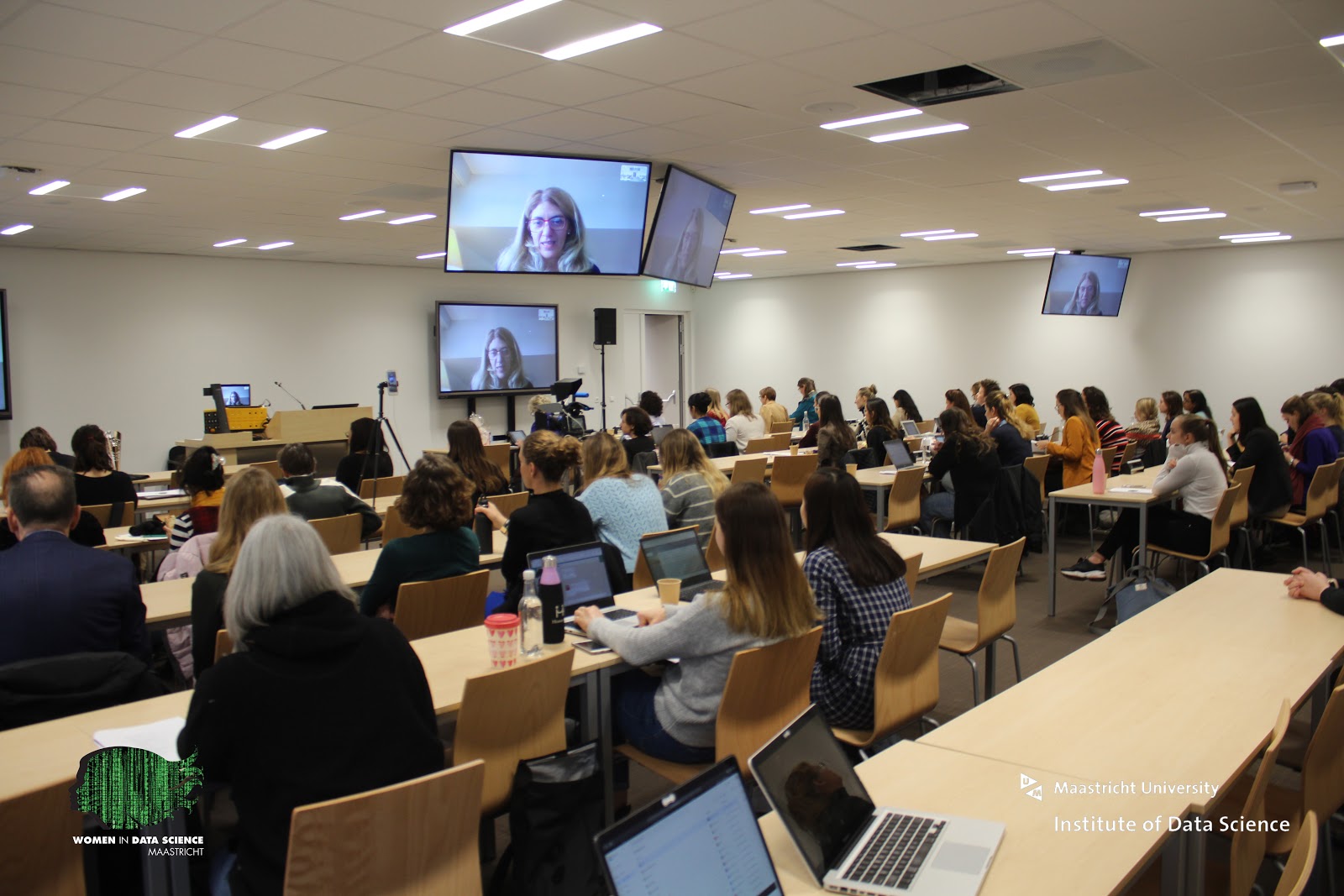 Stavroula Mougiakakou (Bern University, Switzerland), gave a lecture titled 'Translating food images into nutrient information: AI for dietary assessment'. The prevention of  onset and progression of diet-related diseases (e.g. diabetes, obesity, kidney disease) requires reliable and intuitive systems able to translate food intake into nutrient intake. The development of computer vision and smartphone technology makes it possible to translate food images directly into nutrient information. She discussed cases of AI-based dietary assessment systems, together with the challenges and opportunities that she and her team have identified over the last ten years of translational research in this field.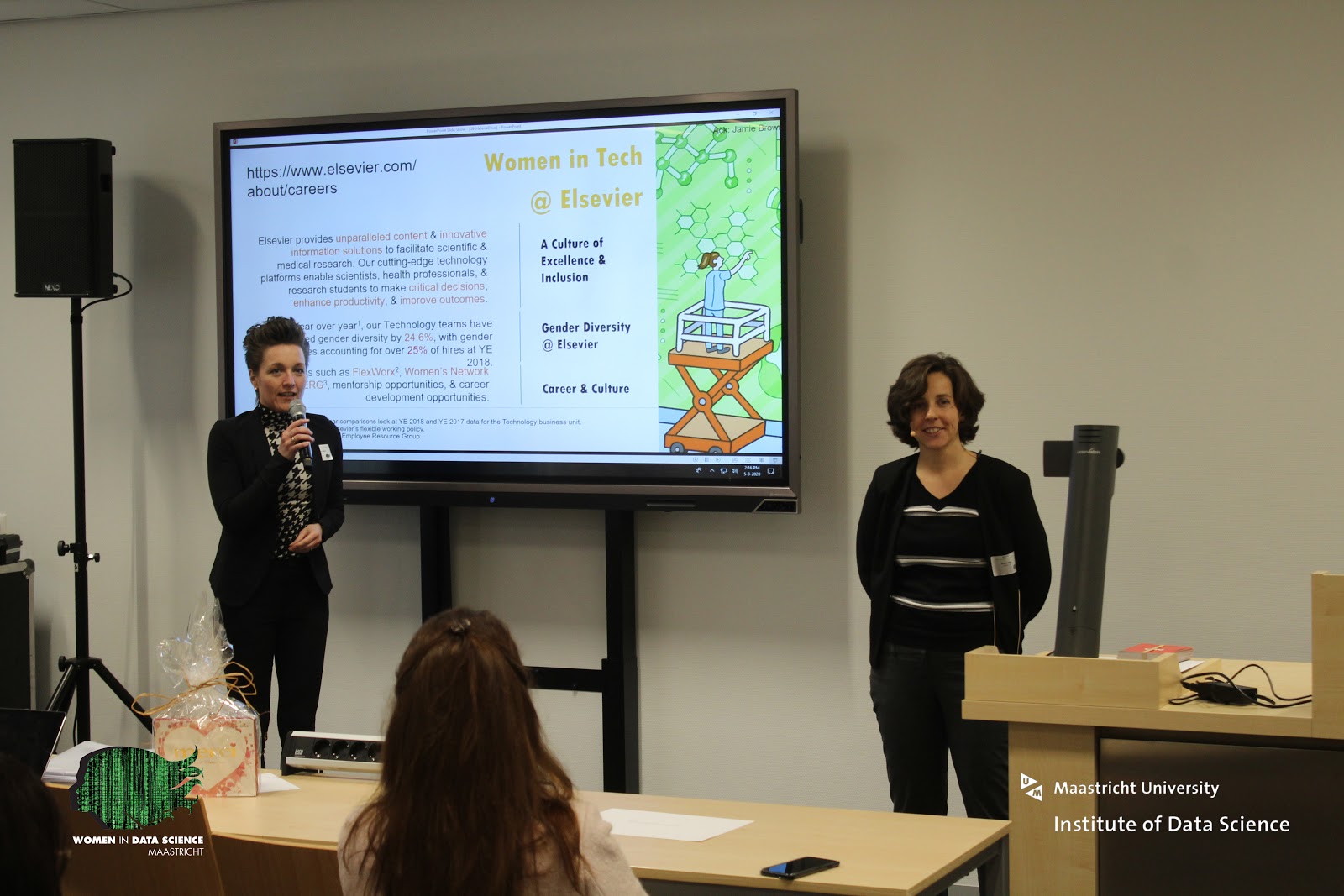 Helena Deus (Elsevier, United States) spoke about the importance of 'Deep Learning in Life Sciences and Healthcare - Stories from the Trenches'. As the technology research director at Elsevier, with a PhD in Bioinformatics and over 13 years of experience, she explained how nowadays, anyone can train a deep learning model to automate tasks or make predictions. However, this ease of use makes it imperative that we also have the skepticism to recognize when deep learning models have also learned the bias in the data. She offered a high-level introduction to concepts, tools and pitfalls in deep learning when applied in the biomedical domain.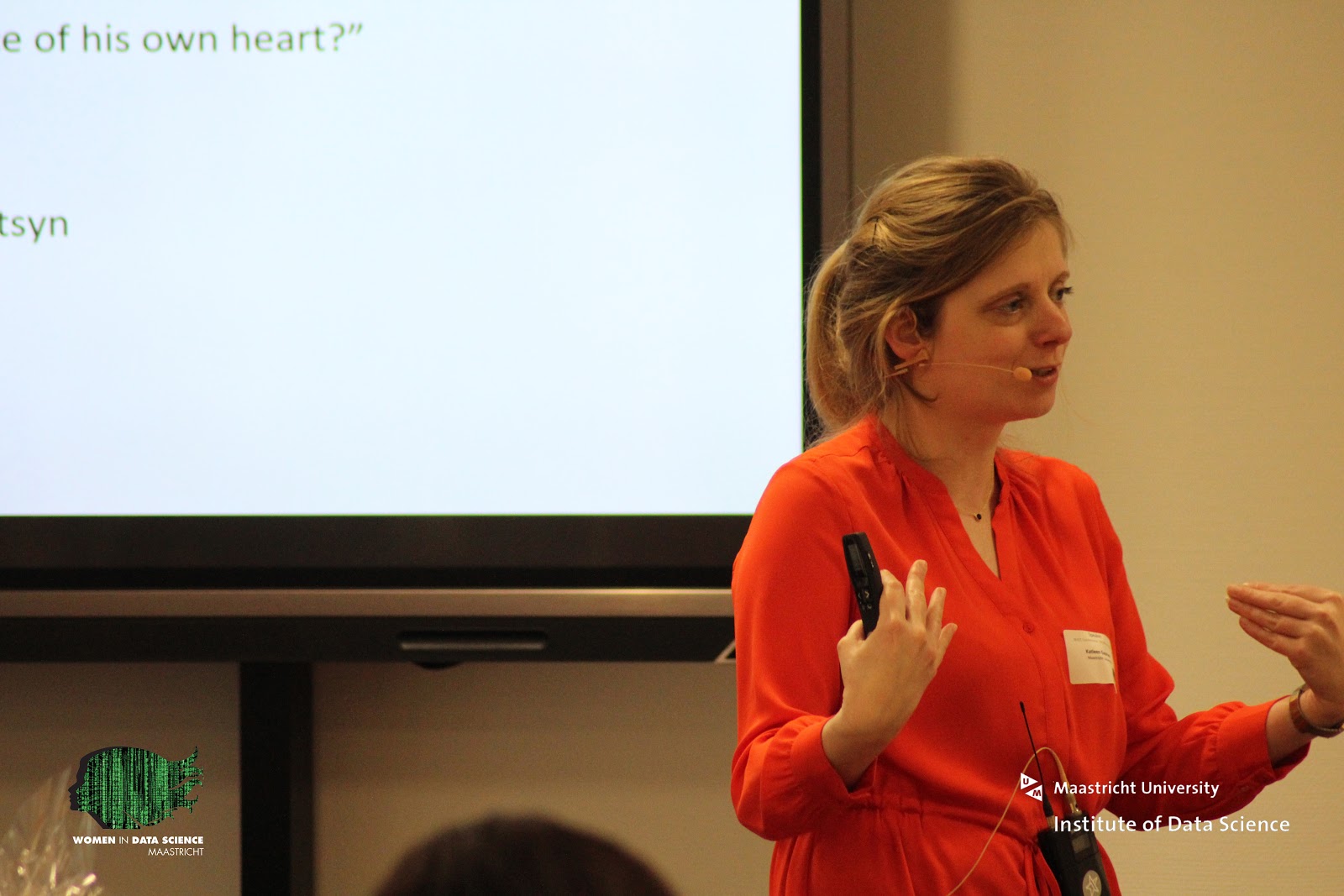 Katleen Gabriels (Maastricht University, Netherlands) spoke about 'Machine(s) learning morals'. Many of the technologies we use daily (from social media & search engines to smart devices) contain AI. This development leads to a myriad of possibilities, including questionable ones. She reflected on the ethical rules for AI-systems and the design principles, in order to assure that AI technology is ethical by design.
Panel Discussion on the Future of Data Science
The event concluded with a Panel Discussion on the Future of Data Science. The panelists Rachel Cavill and Visara Urovi had prepared several questions regarding the future and responsibility of data science. The conference speakers actively participated in the debate and the audience interacted by giving their opinions with answers to Yes/No Questions.
Funding
The Women in Data Science conference was partially funded by the Diversity and Inclusivity Grant of Maastricht University and the Aspasia grant from NWO. Visara Urovi and the whole Institute of Data Science would like to thank the Maastricht Community for the help given to make this event successful.
WiDS 2021
Next year another Women in Data Science conference will be organized by the Instititute of Data Science in Maastricht. Keep an eye on our calender for the exact details.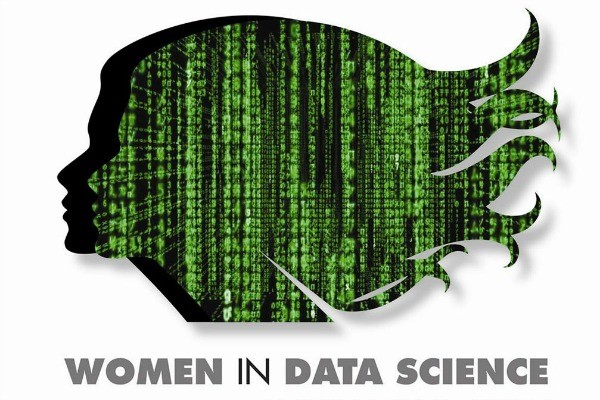 Women in Data Science (WiDS) aims to showcase outstanding work done by women in the field. WiDS started at Stanford in November 2015 and has now evolved into a global conference with more than 200 events worldwide. 
Institute of Data Science
Also read
Together with the Royal Netherlands Historical Society (KNHG), Open University (OU) and Fontys (F), Maastricht University will organize the fourth edition of the Historians' Days. The deadline for submissions in 31/01/24 (via www.historicidagen.nl)