Beyond beauty
How does art reflect our community? How does our community express itself through art? Barbara Strating is the new curator of the Arts and Heritage Commission at Maastricht University. She succeeds Mieke Derickx, who is retiring after more than two decades in the role. Here they discuss curiosity and wonder, Patient Zero and art as a meditation on our collective memory.
If you ask Mieke Derickx, the division between the arts and sciences is a mere historical quirk: an understandable yet haphazard response to an ever-growing body of knowledge and skill. In the acknowledgements of her son's recent PhD dissertation on astrophysics, he wrote: "We look at the world with the same curiosity and sense of wonder." As Derickx sees it, this natural, unified approach has become obscured over the years. Obvious examples include Da Vinci and Goethe. Grasping for a recent example, her successor Barbara Strating mentions the Dutch education minister Robbert Dijkgraaf, a professor of theoretical physics who also studied fine arts.
Patient Zero
Strating and Derickx share a predilection for artworks that imbue locations with meaning and contribute to community building. A case in point is Derickx's final commission, Patient Zero, a response to the cyberattack on UM in late 2019.
"It's part of our collective memory and experience, so I wanted to commission something from a conceptual artist working with data visualisation. UM's network faces around 3000 attacks per second. Patient Zero visualises both the time and geographic providence of the attacks." Data from live monitoring is translated into an aesthetic experience, an invitation to think about something pervasive yet typically imperceptible. "It raises awareness of the ongoing cybersecurity issue and promotes a sense of wonder at the same time."
Derickx is serene about handing over control to the commissioned artist. That being said, the creation of Patient Zero involved a number of practical considerations, from liability issues to the exact location and maintenance of the work. "The artist wanted [anonymised] live data from the ICTS department of the attacks on our system, which is obviously delicate, so I had to mediate between them."
- Text continues below the photo -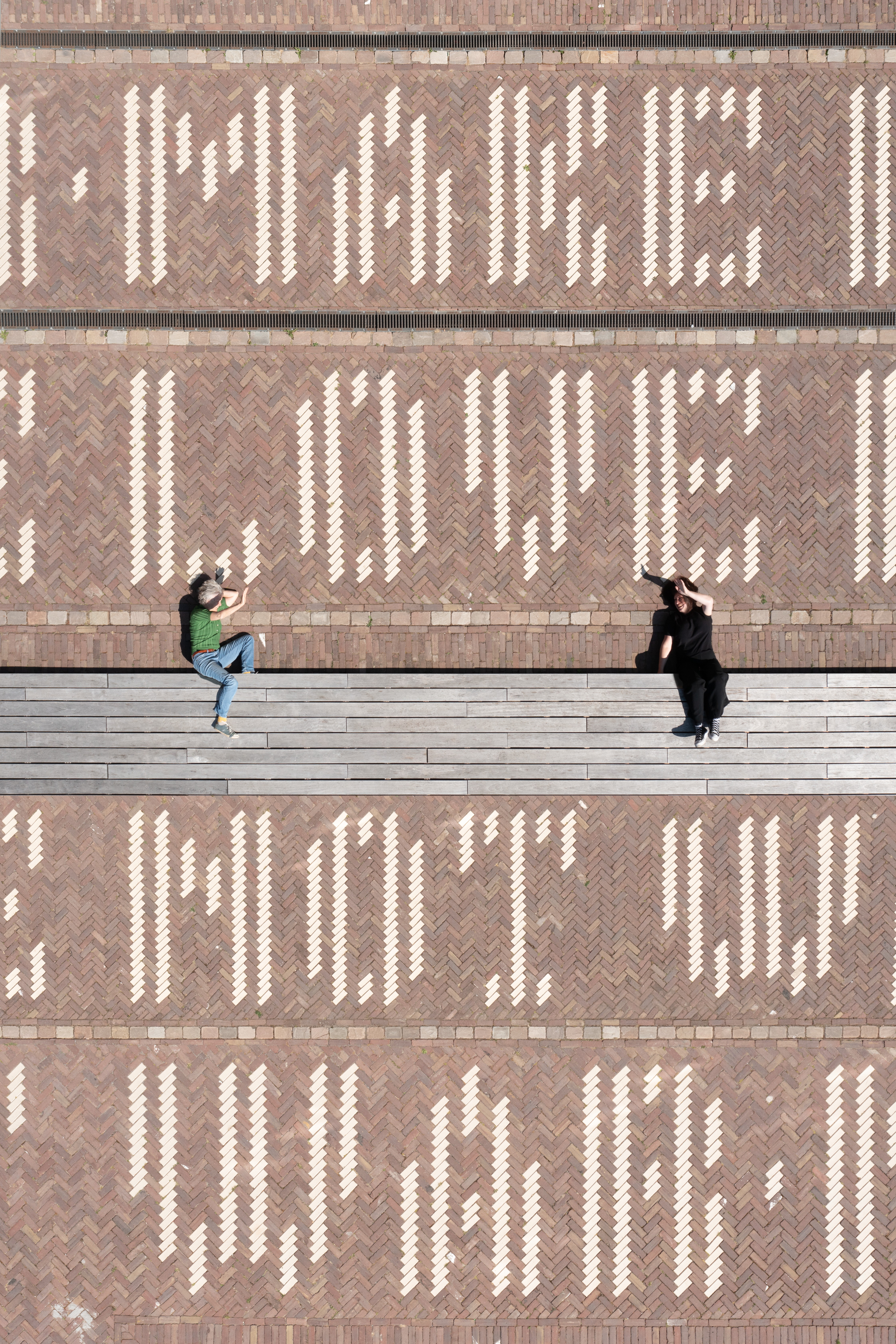 Mieke Derickx served as Maastricht University curator from 1996 to 2022. She is a visual artist and educator and also worked as a research assistant at the Faculty of Health, Medicine and Life Sciences.
Barbara Strating is the new curator at the Arts and Heritage Commission. She holds a Bachelor in Philosophy and a Master in Art, Policy and Patronage from Radboud University. She also works as a programme maker for Studium Generale Maastricht.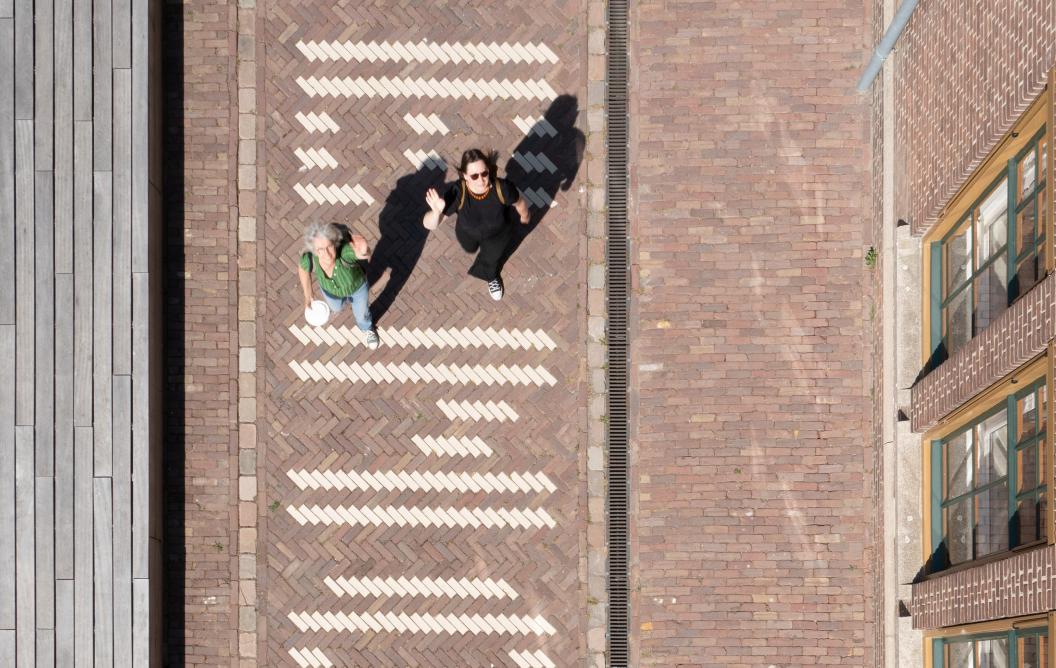 What makes these walls ours
Strating is particularly taken with this aspect of her new role. "It's not just about browsing galleries and buying art as an investment or decoration, but about commissioning something rooted in our community and identity." A university is more than bricks and mortar—but it is also that. Curators have to find ways to elevate UM's buildings beyond the strictly functional, which goes beyond merely breaking up the monotony with the odd painting.
"The buildings weren't ours until about 18 years ago; until then the State decided which artworks were bought." The underlying philosophy was of art-as-ornament: a painting was seen as a financial investment that could beautify any office and be moved around as needed. "I wanted something that responds to and becomes part of our identity, something specific to a certain building, like murals or light installations."
Derickx's legacy can be seen in the mark she leaves on UM's physical space, from the Aula's stained-glass windows to the iconic entrance of the Inner City Library. She is most proud of the artworks created at the intersection between art and research, usually exploring the artist's view of a research environment. One such artist is Derya Zenginoglu, whose multidisciplinary works examine interactions between synthetic material and living tissue in the lab of the new rector Pamela Habibović.
Tastes change—as do contexts
If the results will necessarily be transient in nature, Strating remains unfazed. "I find the idea of artworks as eternal very limiting, almost claustrophobic. Tastes change, contexts change. That's what makes this role interesting." She embraces the tension between her role as curator and as conservator: "It's a great responsibility to be in charge of UM's art collection. We have an amazing collection—but we're not a museum."
Strating wants the seemingly unfashionable items in UM's collection to do what Derickx's commissions have done by design: start a dialogue with and among community members. "All artists, even the canonical ones we now consider geniuses, always reflect their times. It can be very interesting to put older artworks into a dialogue with our times, our sensibilities."
How to achieve this? "It's too early to say," laughs Strating, who has spent most of her term thus far recovering from COVID. But she is determined to continue where Derickx left off: mobilising staff and students to wander UM's grounds with a sense of wonder and curiosity.
Text: Florian Raith
Photography: Philip Driessen