350 international students meet their buddies
The opening ceremony of the International Student Ambassador Programme (ISAP) was held on Thursday 3 September at Bonbonnière in Maastricht. The 350 international students who registered for the programme were addressed by vice-rector of Maastricht University Harm Hospers and Maastricht alderwoman Mieke Damsa. The students also had the opportunity to meet their buddies for the first time in real life. Two buddies who participated in last year's programme, Tendai Sibanda from Zimbabwe and Moritz Klein from Germany, shared their experiences. 'I made so many friends from different countries and learned so much. This experience made me who I am today. I am forever grateful to Maastricht University for giving me this opportunity.'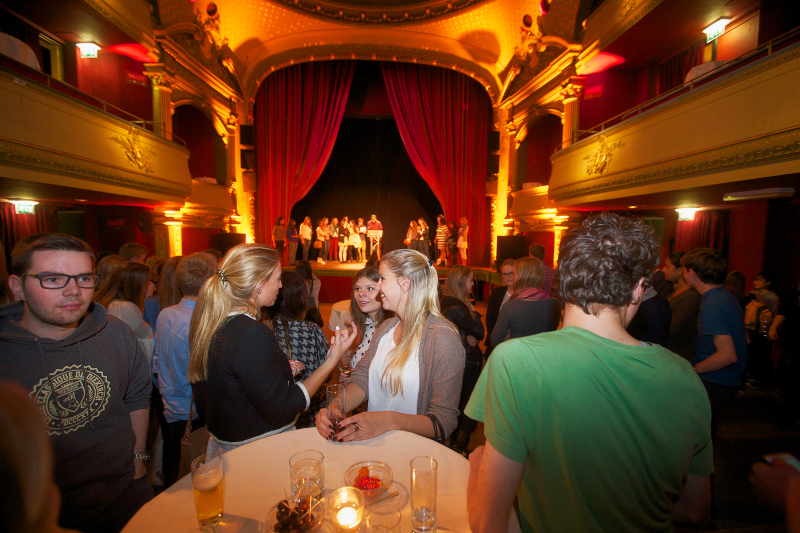 ISAP is a programme where student ambassadors, or buddies, familiarise international students with the university, the city and Dutch culture. Whereas last year the programme was only open to non-EU students, this year all international bachelor's students were invited to apply. The result was 350 applications by students from 45 nationalities from around the world.  The international students were paired with 70 carefully selected and trained buddies.
These buddies, many of whom foreigners themselves, followed an intercultural awareness course and were extensively briefed by the International Service Desk (ISD). They understand the needs of international students and know who to refer them to if they have questions. 'These questions are extremely diverse,' explains ISD coordinator Luc van de Akker. 'Some students come to us with a stack of opened or unopened letters from Dutch authorities, some with questions about health insurance and others are just unsure and need confirmation. We offer assistance with all of these situations.'
Also read
The EU-funded project FullCompensation aims to make the compensation of pain and suffering damages more equitable and efficient. To this end, the project led to the development of a model legislative proposal and guidelines, based on comparative and empirical evidence. These documents are intended...

We are delighted to share the highlights of UM Education Days 2023 through our dedicated recap page, including a beautiful video impression of the event. Mark the dates for the next edition: 12 and 13 June 2024!

Government Commissioner Mariette Hamer, responsible for addressing issues related to sexual misconduct and sexual violence, participated in a discussion with students and staff at Maastricht University on Friday, 15 September. Joining her were Executive Board President Rianne Letschert and Joyce...