In Memoriam Amrapali Zaveri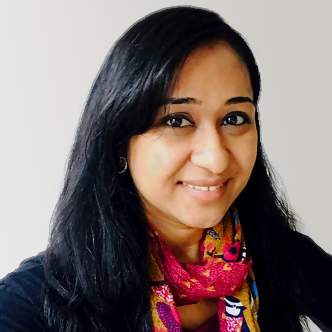 Amrapali Zaveri, a postdoctoral researcher at the Institute of Data Science at Maastricht University, passed away after a brief illness on 24 January, 2020. Her many colleagues and friends around Maastricht and the world are shocked and saddened by the sudden loss of her light. 
Born in Pune, India in 1984, Amrapali graduated with a Bachelors in Science in zoology from Fergusson College, Pune University in 2005. She received a Masters in Bioinformatics from Sikkim Manipal University in 2007. From 2009-2010, she worked in Singapore at the National Neuroscience Institute as a Research Assistant, where she was introduced to ontologies, Semantic Web and Linked Data that could be used to answer questions in the biological and health sciences. 
In 2010 she joined the Agile Knowledge Engineering and Semantic Web research group at Leipzig University as a PhD student. She focused on Linked Data for healthcare, educational and economic research. After receiving her PhD in 2015, she joined the Stanford Center for Biomedical Informatics Research at Stanford University as a post-doctoral researcher under Prof. Michel Dumontier. She came with him to Maastricht University when he started the Institute of Data Science in 2017 and was one of its first members. Two months before her death, she had fulfilled a life-long goal by accepting a position as assistant professor in the Intelligent Data Engineering Lab, led by Prof. Paul Groth, at the University of Amsterdam, starting March. 
Amrapali's pioneering research focused on exploring, as she often put it, "the optimal combination of humans and machines towards data quality assessment." She believed that we can expand the store of valuable knowledge by learning from artificial intelligence, but that humans are needed "in the loop" to make sure that machine models are fed accurate, reliable, and reproducible data. Assessments by untrained and expert people to improve machine models have been widely used, and Amrapali's innovation was to predict how to deploy human effort to reach a particular threshold of data quality under a range of conditions. One on-going project concerned experimental design for conducting optimal crowdsourcing by simulating the behavior of crowds. (More is available here.) Another concerned crowdsourcing of clinical image annotation for lung cancer tumor detection. (More is available here.) Her research (described in this Observant article in 2019) was destined to have wide impact on health care research, industry, and developments in machine learning. 
One personal highlight (which she commemorated with an Instagram post) was meeting Internet founder Tim Berners-Lee at a conference in 2018. Amrapali was active on social media, where she stayed in touch with a wide international network. She worked to promote women in data science and was helping to put together an upcoming Women in Data Science conference. She also mentored many early stage researchers, both men and women, including two PhD students. 
One of her recent notable achievements was receiving the Best In-Use Paper Award at the Extended Semantic Web Conference in 2017. In December, she also graduated from the Dutch University Teaching Qualification (Basiskwalificatie Onderwijs). She had promised a big party to celebrate her upcoming move to Amsterdam.  
She will be remembered for her bright personality and rigorous organizational skills, as well as for her love of coffee and food. She competed playfully with Michel Dumontier over who could eat spicier food and dreamed of a definitive competition that would give her bragging rights. 
She loved to be amongst nature and travel to new places. Her favorite out-of-office email message was to declare that she was "one with Nature." This meant she was not online -- and everyone knew she deserved it.
Please feel free to leave a message on her memorial page.
Recent publications:
Zaveri, A., Hu, W., Dumontier, M.: MetaCrowd: Crowdsourcing Biomedical Metadata Quality Assessment. Human Computation Journal. To appear (2019).
Hassan M., Zaveri A., Lehmann, J: A linked open data representation of patents registered in the US from 2005-2017. Scientific Data volume 5, Article number: 180279 (2018).
Zaveri, A., Kontokostas, D., Hellmann, S., Umbrich, J.: Quality management of semantic web assets (data, services and systems). Semantic Web 9(1), 1 –2 (), DOI:10.3233/SW-170287 (2018).
Acosta, M., Zaveri, A., Simperl, E., Kontokostas, D., Flöck, F., Lehmann, J. Detecting Linked Data quality issues via crowdsourcing: A DBpedia study. Semantic Web Journal 9(3), 303-335 IOS Press (2018).
Hu, W., Zaveri, A., Qiu, H., Dumontier, M.: Cleaning by clustering: methodology for addressing data quality issues in biomedical metadata. BMC Bioinformatics 18(1), 415. DOI:10.1186/s12859-017-1832-4 (2017).
Nelson, S.J., Oprea, T.I., Ursu, O., Bologa, C.G., Zaveri, A., Holmes, J., Yang, J.J., Mathias, S.L., Mani, S., Tuttle, M.S., Dumontier, M.: Formalizing drug indications on the road to therapeutic intent. Journal of the American Medical Informatics Association 24(6), 1169–1172. DOI:10.1093/jamia/ocx064 (2017).
Zaveri, A., Ertaylan, G.: Linked data for life sciences. Algorithms 10(4), 126. DOI:10.3390/a10040126 (2017).