Panel Discussions: Guiding Principles for a Fair Smallholder Farmer Data Ecosystem
Fair & Smart Data research spearhead is organising an online event, titled "Guiding Principles for a Fair Smallholder Farmer Data Ecosystem." This event is a collaborative effort between Maastricht University, Rabobank, and Solidaridad, and it marks the beginning of a series of events dedicated to exploring critical aspects of smallholder data governance, infrastructure, and integration.
Event Details:
Title: Guiding Principles for a Fair Smallholder Farmer Data Ecosystem

Date: 07.11.2023

Time: 13:00 - 15:00 Amsterdam (CET)

Platform: Zoom [For registration, click here]
Event Overview:
The primary objective of this event is to foster insightful discussions among experts, practitioners, and decision-makers about the challenges surrounding the governance of the smallholder data ecosystem. We aim to draw lessons from past and current practices and chart a path towards establishing guiding principles for a more equitable smallholder farmer data ecosystem.
The event will commence with an opening speech by Mandla Nkomo, Work Package Lead & Chief Growth Officer at CGIAR Excellence in Agronomy (EIA) Initiative, providing valuable insights to set the stage. Subsequently, we are organising three interactive panel discussion sessions where attendees can share their expertise and opinions in a structured and collaborative manner. These sessions promise to be enlightening and inspiring, and your participation would enrich the dialogue.
Event Schedule:
1. Opening speech
2. Two key presentations
A keynote speech by Mandla Nkomo

An introductory presentation by Sidi Amar

Q&A with the audience
3. Break for reflection
4. Three parallel panel discussion sessions
Session #1: 

What can we learn from the existing farmer-centric data governance initiatives?

Session #2: 

How feasible is it to implement farmer-centric data governance principles in practice?

Session #3: 

How to build consensus around guiding principles for farmer-centric data governance, and who needs to participate?
5. Closing session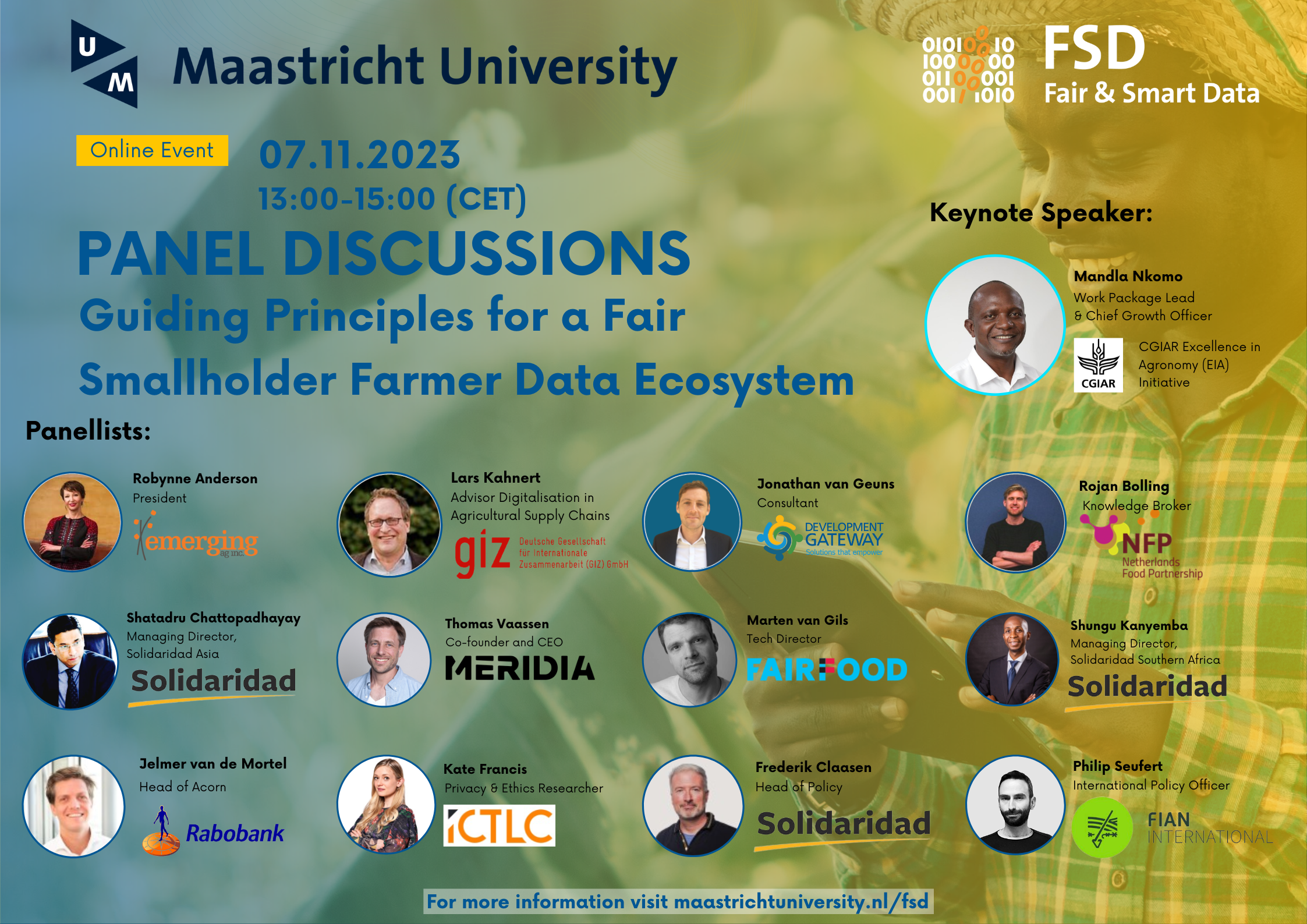 Also read
Wondering what it's like to study Global Supply Chain Management and Change? Join one of our student for a day events.

Are you considering studying International Business but do you still have a few questions? Be sure to join this online info session (via Zoom) to learn more about your opportunities at the Maastricht University School of Business and Economics.

Get a feel of what it's like to study International Business or Economics and Business Economics at Maastricht University.