Maastricht University Challenge – beyond the Grand Finale
Meet this year's winners of the Maastricht University Challenge, where UM students and recent graduates can display and develop their social and entrepreneurial ideas with the support of industry coaches.
Maastricht University prides itself on innovation, interdisciplinary collaboration and helping solve societal challenges. All those elements come together with entrepreneurial spirit in the Maastricht University Challenge, which offers students of UM and Zuyd University of Applied Sciences a way to develop ideas into a business plan and ultimately a product or service.
Individuals or teams can enter their idea and work on it in collaboration with experts from academia and industry, growing their network and developing a series of skills in the process. This year, more than 60 teams took part, of which the finalists could pitch their ideas at the Grand Finale.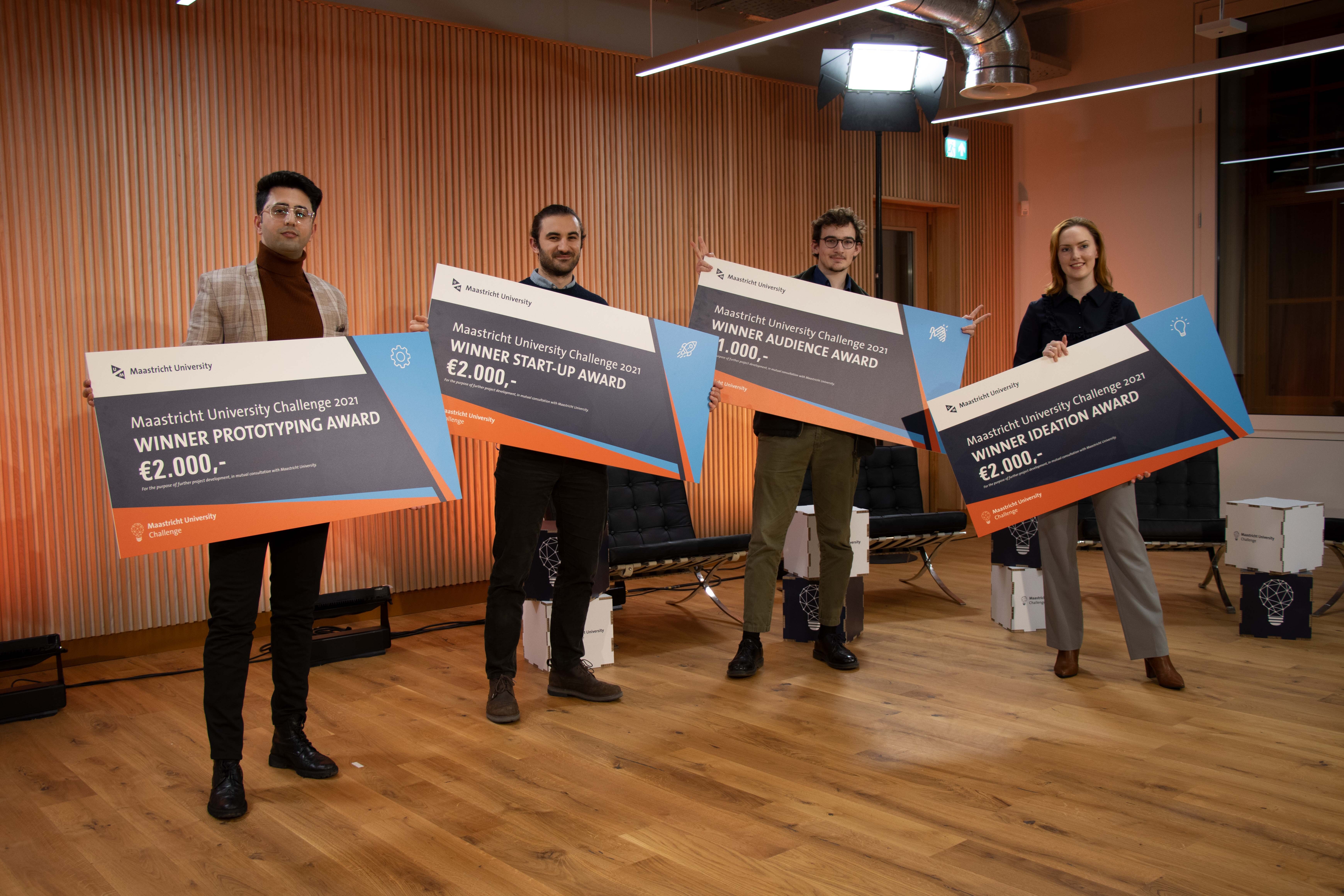 ComfyHand - Ideation Category Winner
ComfyHand seeks to develop a product, in order to reduce anxiety and stress in patients and elderly care home residents. Denise Nijhuis explains how a post on social media inspired her. "It started as a surgical glove filled with warm water, invented by a nurse in Brazil to comfort isolated COVID patients. We want to develop it, make it safer, more effective and more sustainable", says Nijhuis. 
 "It's a simple idea, with a big impact: it simulates the soothing psychological impact of touch," reflects Lorna James and adds: "It feels a lot nicer than it looks." Since there are some drawbacks that need improving, they are about to develop a first prototype, also based on feedback from medical professionals already using the idea with the glove.
Taking part in the challenge was also about learning new skills and getting in touch with interesting people. Nijhuis found the experience very energising "The contacts and skills were really useful but more than anything, it taught me to believe in the idea and go for it."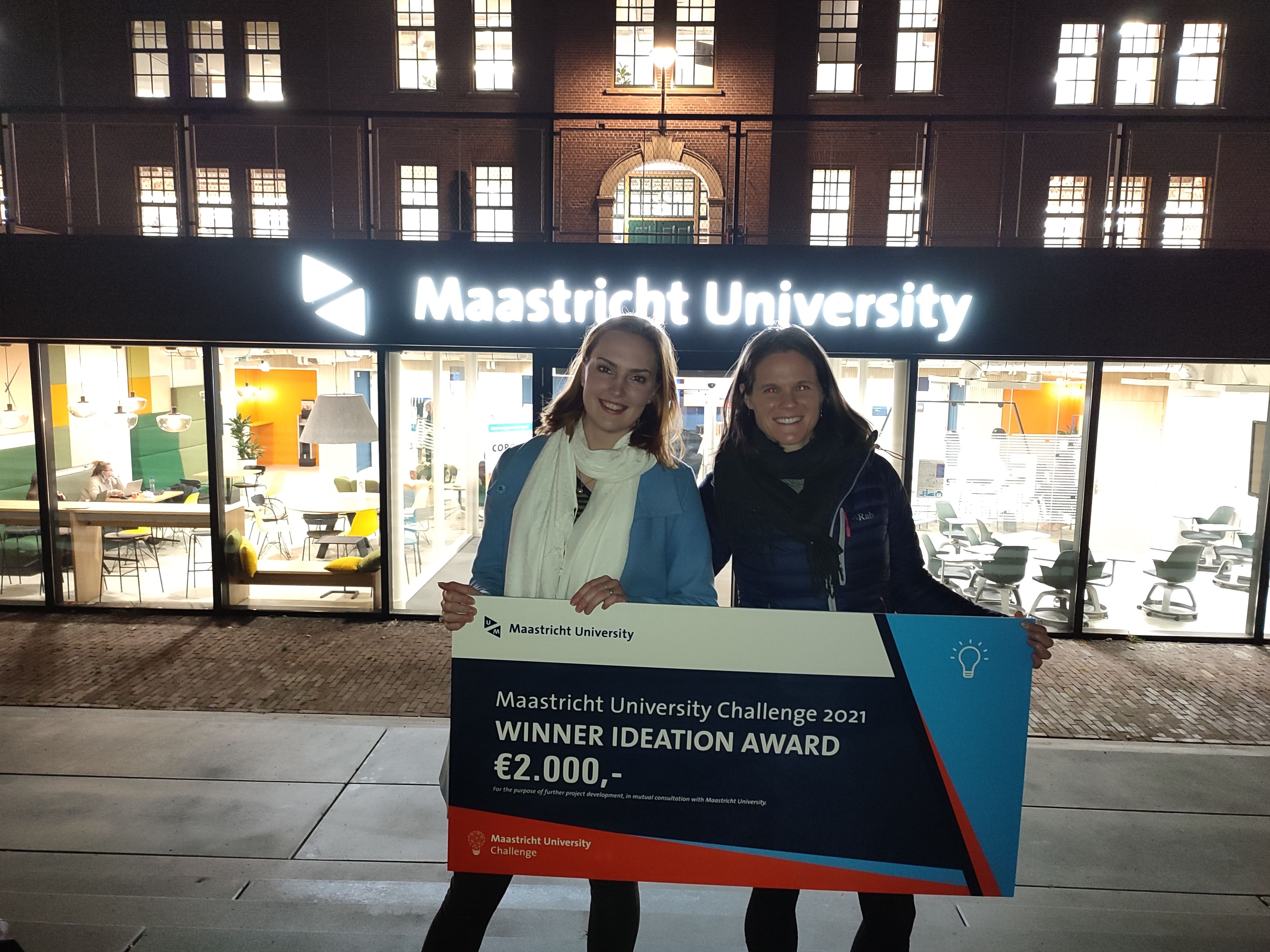 The team from ComfyHand, Denise Nijhuis, Lorna James - Esmee Vreeman is not in the picture.
WoundAeroFiber - Prototyping Category Winner
Matin Rostamitabar has used cellulose to create a nonwoven aerogel – a highly porous ultra-lightweight  material – for wound dressing application. This fibrous mesh can provide a thermally controlled moist environment and absorb wound exudate for optimal healing.  It is possible to deposit drugs in the porous structure of the fibers and the patch can be removed painlessly.
"Cellulose, is the most abundant biobased polymer on earth," he explains, "by merging cellulose intrinsic characteristics including biocompatibility and biodegradability with aerogel's low density, high porosity, and large surface area, the end product is favorable for wound dressing application."
The idea emerged alongside his Ph.D. research at the Aachen-Maastricht Institute for Biobased Materials; with the support of the Limburg University Fund (SWOL) he developed new fiber spinning equipment. He hopes WoundAeroFiber will be further developed and eventually enhance the patients' quality of life by accelerating the wound healing process.
"It is a very interdisciplinary project; it spans chemistry, material science, biomedical and health science… initially, I was mainly focused on the scientific aspects," reflects Rostamitabar on the benefits of taking part in the Maastricht University Challenge. "Thanks to the challenge and advice of my coaches, I learned to see it as a product, think about how it progress toward the market and communicate it in plain language. I also gained knowledge about value propositions and developing my business model."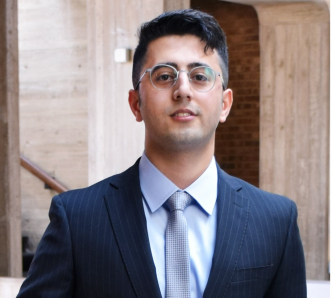 Matin Rostamitabar from WoundAeroFiber.
Flui.Go Science - Start-up Category Winner
Renato Rogosic from Flui.Go Science is a PhD researcher but he puts his becoming a scientist partially down to a good start in life. "My family has always been encouraging me and I've always had good professors in the STEM subjects, so I could follow my curiosity and discover. But often children can get a bit intimidated by chemistry, biology, maths, and physics… We wanted to enable them to develop a passion for science in a playful way."
Flui.Go Science relies on "Meaningful Play", an open-ended play system where pupils can explore science through an educational toy-kit consisting of modular blocks with channels and chambers. Pupils can perform experiments and the kit accommodates many experimental protocols to teach various basic and advanced phenomena from different scientific fields.
"First you play around with the blocks intuitively. For example, you connect the blocks with lemon juice and baking soda to the one with cabbage juice, which is red – and you see it turn green and then pink, so you want to understand why and how. Then you can learn about concepts like ph-levels and acidity." The team is about to start a pilot programme with 26 schools across Limburg. The toolkits should be in classrooms at the beginning of 2022.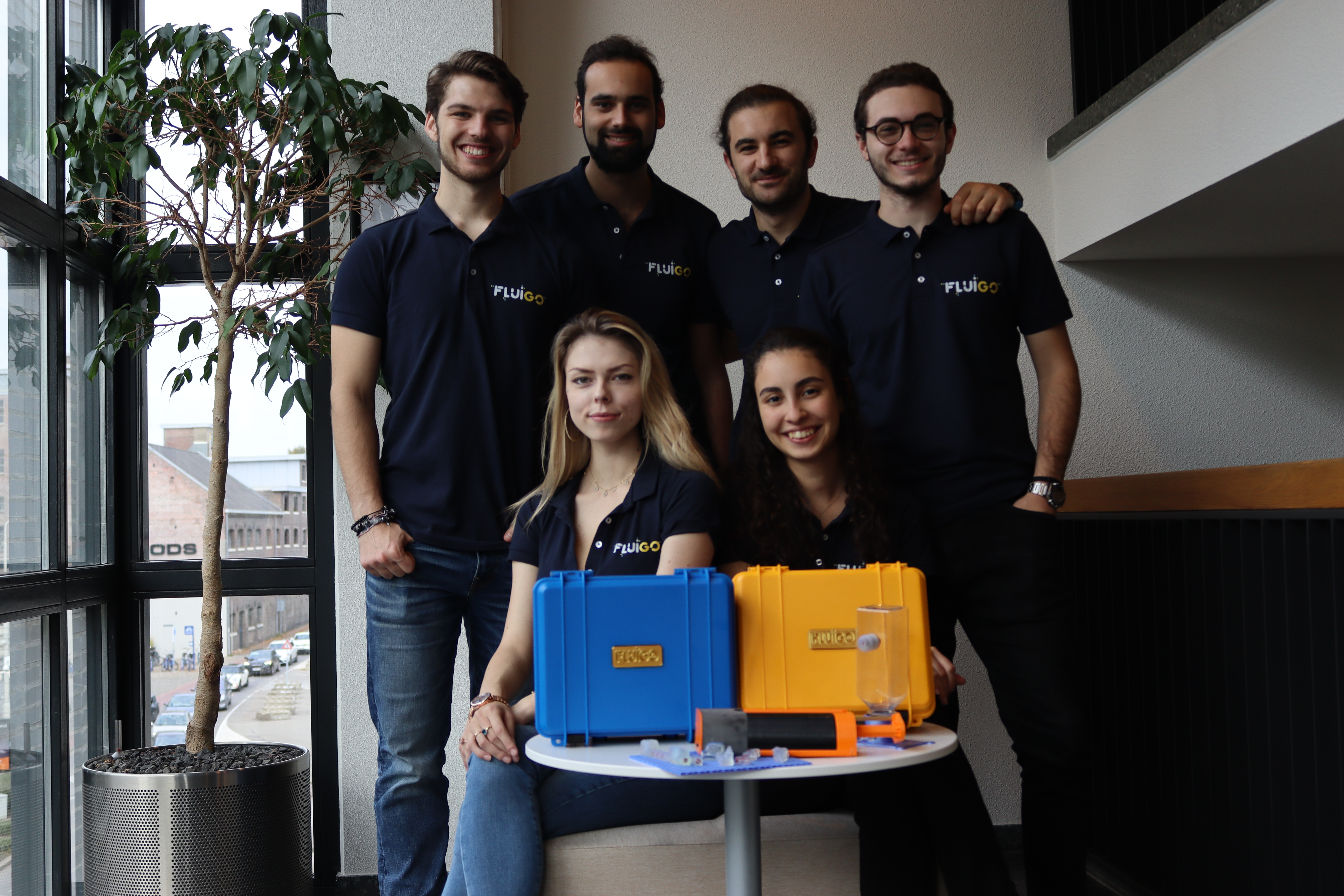 The team behind Flui.Go Science.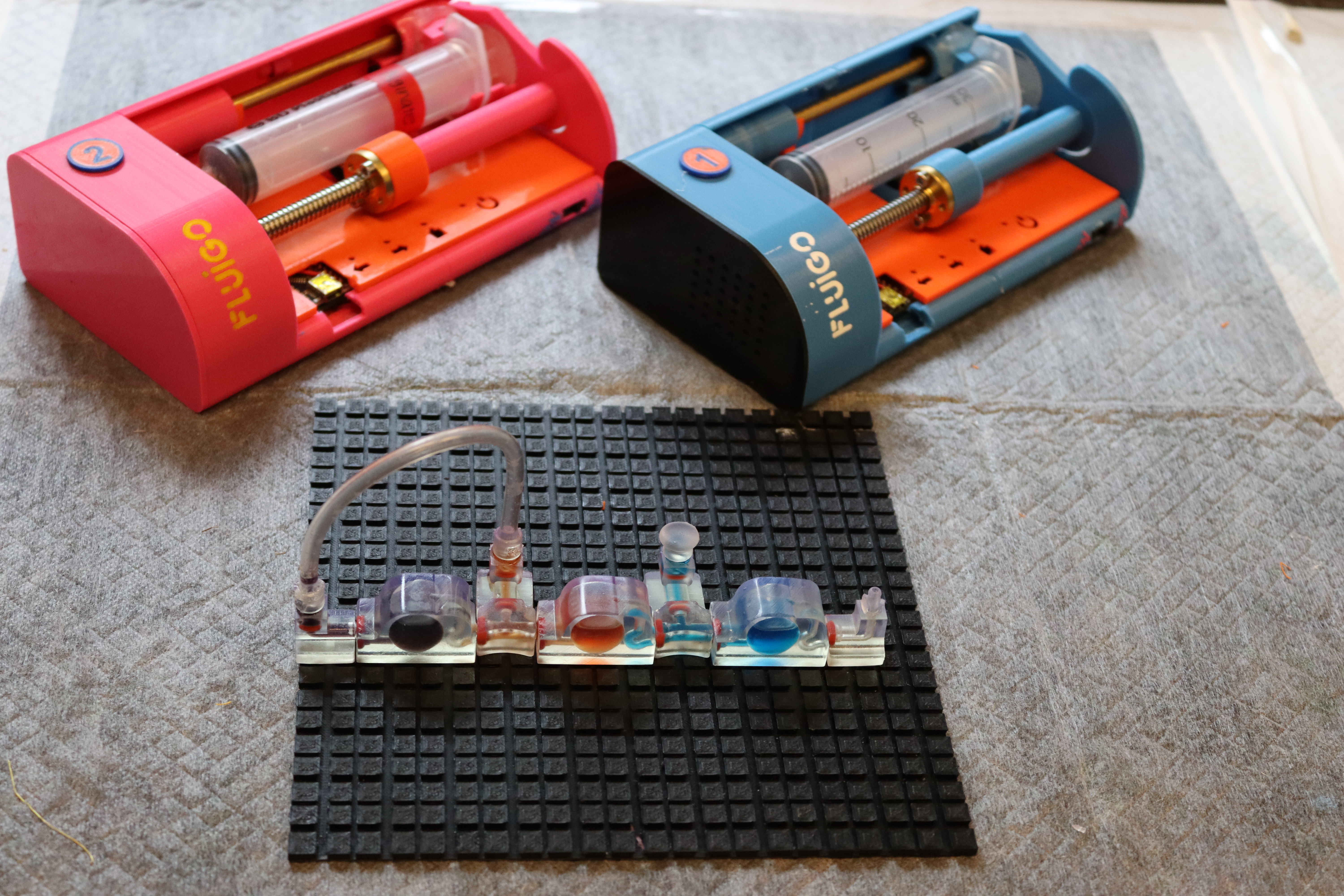 The Localist - Audience Award Winner
The Localist is an application that offers tourists the opportunity to get in touch with enthusiastic local guides who show them their favourite spots in a city. Travellers can then rate and share their experience. "We wanted travellers to see the hidden gems and experience the culture," explains Alex Jaatinen, "to have a 'local experience' instead of just seeing the top-rated attractions on Google."
Giulio Stipa had the idea when travelling through Southeast Asia, visiting smaller cities without an infrastructure to accommodate tourists. The entire team hails from the School of Business and Economics; they appreciated the opportunity to put the skills from their courses into practice and hope to have developed the app by next year.
While the winners from all four categories are delighted with their prizes, what they appreciated most are the skills, knowledge and contacts gained to help them develop their ideas into something that contributes to society.
Do you have a great idea too? Join the next edition of the Maastricht University Challenge in 2022 and turn your dreams into reality! For more information, visit www.maastrichtuniversitychallenge.nl. 
Also read
A group of Maastricht University's Business Engineering Bachelor's students won three awards at this year's edition of the renowned ENGCOMM, the Engineering and Commerce Case Competition, held by the University of Concordia in Montreal (Canada).

Computers are already capable of making independent decisions in familiar situations. But can they also apply knowledge to new facts? Mark Winands, the new professor of Machine Reasoning at the Department of Advanced Computing Sciences, develops computer programs that behave as rational agents.

When the war broke out in my home country of Ukraine, I realized that this place - this friendly city in the south of Netherlands is quite possibly my new home now for the extended future.