Maastricht University builds high-tech research greenhouse
Maastricht University has started building a special greenhouse for scientific research focused on the agriculture and horticulture of the future. The Venlo greenhouse is an important part of the Brightlands Future Farming Institute and provides space for research into cultivation techniques, plant development, optimization of healthy nutrients and the circularity and sustainability of production.
One of the biggest societal challenges today is finding solutions to feed the world population in 2050 in a healthy, safe and sustainable way. As a complete agrifood sector, and as one of the larger breeding regions of the Netherlands, North Limburg is ideally suited to contribute to this. The development of new infrastructure is crucial in this regard.
Brightlands Future Farming Institute
The new research greenhouse is part of the Brightlands Future Farming Institute, a knowledge institute of Maastricht University. The institute aims to contribute to the technological and societal challenges in the agrifood sector through research, innovation and knowledge development.
Thanks in part to the new greenhouse, the connection will be made between the primary and breeding sector on the one hand and the health expertise of Maastricht University and the region on the other. In addition, knowledge and expertise in sensors, robotics, artificial intelligence and data management within Maastricht University will be linked to greenhouse production and (high-tech) manufacturing in the region.
The research greenhouse will be at the Brightlands Campus Greenport Venlo and is being built with support from the North Limburg Region Deal, BASF's vegetable seeds business, the municipalities in North Limburg and the Province of Limburg.
Further development
In addition to the new research greenhouse, laboratories and adjacent facilities for scientific staff are under development. In this way, high-quality research can be achieved, both fundamental and applied, within the institute and in cooperation with educational and business partners.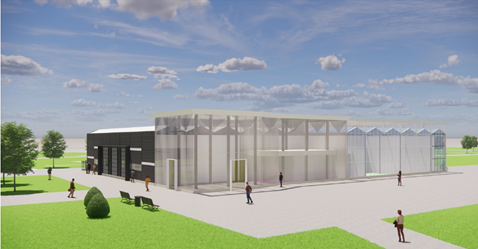 Minister Hanke Bruins Slot unveils building canvas of new research greenhouse in Venlo