Katarzyna Czabanowska (K.M.)
Publications
Link to PubMed listed publications:
http://www.ncbi.nlm.nih.gov/pubmed/?term=katarzyna+czabanowska
Scientific publications in international journals with Impact Factor
Alessandra Lafranconi; Bernardo L Gomes; Mindaugas Stankunas; Suzanne M; Babich; Kenneth A Rethmeier; Katarzyna Czabanowska. Medical leadership: from inspiration to education. The Lancet 2015 (in press)
Ingrid A. E. Spanjers, Karen D. Könings, Jimmie Leppink, Daniëlle M. L. Verstegen, Nynke de Jong, Katarzyna Czabanowska, & Jeroen J. G. Van Merriënboer. The promised land of blended learning: Quizzes as a moderator, Educational Research Review · May 2015.  DOI: 10.1016/j.edurev.2015.05.001
T. Smith,  M. Stankunas, K. Czabanowska, N. de Jong, S. O'Connor, S. Fowler Davis. Principles of all-inclusive public health: developing a public health leadership curriculum, Public Health (2015), http://dx.doi.org/10.1016/j.puhe.2014.12.001
Schröder-Bäck, Peter; Duncan, Peter; Sherlaw, William; Brall, Caroline; Czabanowska, Katarzyna (2014) Teaching Seven Principles for Public Health Ethics: Towards a Curriculum for a Short Course on Ethics in Public Health Programmes. BMC Medical Ethics 15:73.
Katarzyna Czabanowska, Kenneth A. Rethmeier, George Lueddeke, Tony Smith,  André Malho, Robert Otok, Mindaugas, Stankunas. Public Health in the 21st Century:  "Working Differently Means Leading and Learning Differently" (A qualitative study based on interviews with European public health leaders). European Journal of Public Health 2014; doi: 10.1093/eurpub/cku043.  
Katarzyna Czabanowska, André Malho, Peter Schröder-Bäck, Daniela Popa and Genc Burazeri. Do we develop public health leaders? Association between public health competencies and emotional intelligence: a cross-sectional study . BMC Medical Education.2014, 14:83 DOI: 10.1186/1472-6920-14-83.
Vesna Bjegovic-Mikanovic, Aleksandra Jovic-Vranes,Katarzyna Czabanowska and Robert Otok. Education for public health in Europe and its global outreach. Glob Health Action 2014, 7: 23570 - http://dx.doi.org/10.3402/gha.v7.23570.
Zalika Klemenc-Ketis Janko Kersnik, Primoz Kuhar ,Genc Burazeri , Katarzyna Czabanowska. Self-assessment questionnaire for family doctors' assessment of Quality Improvement Competencies: a cross-cultural adaptation in Slovenia. Zdravstveno Varstvo 01/2014; 53. DOI:10.2478/sjph-2014-0005.
Suzanne Hobbs, Mindaugas Stankunas , Ken Rethmeier, Mark Avery, Katarzyna Czabanowska. Clinical leadership improves health outcomes, but do we have it?  The Lancet; 11/2013; 382(9903):1483-4. DOI:10.1016/S0140-6736(13)62285-0].
Katarzyna Czabanowska, Tony Smith, Mindaugas Stankunas, Mark Avery, Robert Otok. Transforming public health specialists to public health leaders.  The role of LEPHIE project.  The Lancet. 2013 Feb 9;381(9865):449-50. doi: 10.1016/S0140-6736(13)60245-7.  
Katarzyna Czabanowska, Tony Smith, Karen D. Könings, Linas Sumskas, Robert Otok, Vesna Bjegovic-Mikanovic, and Helmut Brand. In search for Public Health Leadership Competency Framework to support leadership curriculum – a consensus study. The European Journal of Public Health 2013; doi: 10.1093/eurpub/ckt158.
Dejana Vukovic, Vesna Bjegovic-Mikanovic, Robert Otok, Katarzyna Czabanowska, Zeljka Nikolic, Ulrich Laaser. Which level of competence and performance is expected? A survey among European employers of public health professionals. [International Journal of Public Health, 09/2013 published ahead of print: DOI: 10.1007/s00038-013-0514-x. IF: 2.54
Stankunas M, Sauliune S, Smith T, Avery M, Sumskas L, Czabanowska K. Evaluation of leadership competencies of executives in Lithuanian public health institutions. Medicina (Kaunas). 2012 48:581-7.
Bjegovic-Mikanovic V, Vukovic D, Otok R, Czabanowska K, Laaser U. Education and training of public health professionals in the European Region: variation and convergence. Int J Public Health 2012; DOI: 10.1007/s00038-012-0425-2. IF: 2.54
Czabanowska K, Klemenc-Ketis Z, Potter A, Rochfort A, Tomasik T, Csiszar J, Vanden Bussche P. Development of the competency framework in quality improvement for Family Medicine in Europe: a qualitative study. JOURNAL OF CONTINUING EDUCATION IN THE HEALTH PROFESSIONS, 32(3):174–180, 2012 .
Schang L., Czabanowska K., Lin V. Securing funds for health promotion: lessons from health promotion foundations based on experiences from Austria, Australia, Germany, Hungary and Switzerland. Health Promot. Int. (2011) doi: 10.1093/heapro/dar023.  First published on line: April 5, 2011.
Šumskas L, Czabanowska K, Brunevičiūtė R, Kregždytė R, Krikštaponytė Z, Ziomkiewicz A. Specialist English as a foreign language for European public health: evaluation of competencies and needs among Polish and Lithuanian students. Medicina (Kaunas). 2010 46(1): 51-60. Available at: http://medicina.kmu.lt/1001/1001-e.htm
Niedźwiedzka B, Czabanowska K, Smietana R. Controlled vocabulary in public health. An overview of achievements to date. Journal of Public Health 2009 17(1): 55-59.
Biesma RG, Pavlova M, Vaatstra R, Van Merode GG, Czabanowska K, Smith T, Groot W. Generic versus Specific Competencies of Entry-Level Public Health Graduates: Employers Perceptions in Poland, the UK, and the Netherlands. Advances in Health Sciences Education 2008 13(3): 25–343.
Scientific publications in international peer reviewed journals
Pampuri O, Czabanowska K, Hysa B, Roshi E, Burazeri G. Public health leadership competency level among health professionals in a South Eastern European country (Original research). SEEJPH 2015, posted: 10 February 2015. DOI 10.12908/SEEJPH-2014-40
Orjola PAMPURI, Katarzyna CZABANOWSKA, Enver ROSHI, Genc BURAZERI, A Cross-cultural adaptation of public health leadership competency framework in Albania. Management în sănătate. XVIII/2/2014; pp. 21-24
de Jong, Nynke; Könings, Karen D.; and Czabanowska, Katarzyna, The Development of Innovative Online Problem-Based Learning: A Leadership Course for Leaders in European Public Health, Journal of University Teaching & Learning Practice, 11(3), 2014. Available at:http://ro.uow.edu.au/jutlp/vol11/iss3/3
Katarzyna Czabanowska: LEADERSHIP IN PUBLIC HEALTH: REDUCING INEQUALITIES AND IMPROVING HEALTH. Eurohealth incorporating Euro Observer — Vol.20 | No.3 | 2014
Gazmend Bojaj, Katarzyna Czabanowska, Fitim Skeraj, Genc Burazeri South Eastern European Journal of Public Health 02/2014; DOI:http://www.seejph.com/level-of-competencies-of-family-physicians-from-patients-viewpoint-in-post-war-kosovo/
Katarzyna Czabanowska, Ulrich Laaser, Louise Stjernberg. Shaping and authorising a public health profession. SEEJPH 2014, posted: 31 May 2014. DOI: 10.12908/SEEJPH-2014-23
Fitim Skeraj, Katarzyna Czabanowska, Gazmend Bojaj, Genc Burazeri. Self-perceived level of competencies of family physicians in transitional Kosovo. SEEJPH 2014, posted: 31 May 2014. DOI: 10.12908/SEEJPH-2014-22
3. Vesna Bjegovic-Mikanovic, Katarzyna Czabanowska, Antoine Flahault, Robert Otok, Stephen M. Shortell, Wendy Wisbaum, Ulrich Laaser. What we need to improve the Public Health Workforce in Europe? SEEJPH 2014, posted: 1 May 2014. DOI: 10.12908/SEEJPH-2014-20.
Vesna Bjegovic-Mikanovic, Katarzyna Czabanowska,Antoine Flahault, Robert Otok,Stephen Shortell, Wendy Wisbaum,Ulrich Laaser: Addressing needs in the public health workforce in Europe. POLICY SUMMARY 10. WHO Regional Office for Europe and European Observatory on Health Systems and Policies, Copenhagen. 2014 (available at: http://www.euro.who.int/__data/assets/pdf_file/0003/248304/Addressing-needs-in-the-public-health-workforce-in-Europe.pdf?ua=1
Czabanowska K , Klemenc-Ketis Z , Kijowska V. Does competency-based medical education in QI at primary health care level have a comprehensive theoretical model? Problems of family Medicine Journal / Problemy Medycyny Rodzinnej. May 2013; Vol: XIV, number 4.
Fitim Skeraj, Katarzyna Czabanowska, Iris Mone, Gazmend Bojaj, Zejdush Tahiri, Genc Burazeri.  Necessary level of skills and abilities of family physicians from decision-makers' perspective in transitional Kosovo. Scientific Issues of Health Protection, Public Health and Governance. Vol. 11 (2013): number 2.
Czabnowska K, Popa D.  Smith T. Fit-for-purpose: developing curriculum for meeting the needs of public health leaders in the 21st century . Scientific Issues of Health Protection, Public Health and Governance. Vol. 11 (2013): number 2.
Kenneth A. Rethmeier, Katarzyna Czabanowska, Daniela Popa, Integrarea politicilor de sanatate cu viziunea si leadership-ul- o perspectiva de explorat- Revista/ Integrating Health Policy, Vision and Leadership-an exploratory perspective. Politici de Sanatate, 2013 (4), 54-56.
Gazmend Bojaj, Katarzyna Czabanowska, Fitim Skeraj, Zejdush Tahiri, Genc Burazeri. Primary health care users' perceptions on competencies of their family physicians in Kosovo: Preliminary results from a cross-sectional study. ALBANIAN MEDICAL JOURNAL 2013, (3 ), pp: 64-69. [Available on line at:http://www.ishp.gov.al/multimedia/revista_mjekesore/AMJ3%20-2013.pdf]
Katarzyna Czabanowska, Ken Rethmeier, Tony Smith. How to develop public health leaders for the 21st Century?  Albanian Medical Journal 2013(3), pp: 70-73. [Available on line at:http://www.ishp.gov.al/multimedia/revista_mjekesore/AMJ3%20-2013.pdf]
Fitim Skeraj, Katarzyna Czabanowska, Gazmend Bojaj, Bajram Hysa, Elizana Petrela, Jolanda Hyska, Genc Burazeri.Cross-cultural adaptation of a questionnaire about competencies of family physicians in Kosovo from practitioners and policymakers perspective. Albanian Medical Journal.2013 Vol 1:19-25
Gazmend Bojaj, Katarzyna Czabanowska, Zalika Klemenc-Ketic,Fitim Skeraj, Bajram Hysa, Zejdush Tahiri, Genc Burazeri. Validation of an instrument measuring primary health care users opinion about abilities, skills and competencies of their family physicians in Kosovo. Albanian Medical Journal.2013 Vol 1:79-84
Arben ALLA, Katarzyna Czabanowska, Zalika Klemenc-Ketis,Enver Roshi, Genc Burazeri. Abilities and competences of family Physicians in albania: Adaptation of a Conceptual Framework for Quality Improvement. ALBANIAN MEDICAL JOURNAL 4 - 2012 Institute of Public Health (http://www.ishp.gov.al/multimedia/revista_mjekesore/revista-4-2012.pdf)
Katarzyna Czabanowska, Genc Burazeri, Zalika Klemenc-Ketiš, Violetta Kijowska, Tomasz Tomasik, Helmut Brand. Quality Improvement Competency Gaps in Primary Care in Albanian, Polish and Slovenian Contexts: a Study Protocol. Acta Informatica Medica. 2012 Dec; 20(4): 136-140
Arben Alla, Katarzyna Czabanowska, Zalika Klemenc-Ketiš, Enver Roshi, Genc Burazeri. Cross-cultural Adaptation of an Instrument Measuring Primary Health Care Users' Perceptions on Competencies of their Family Physicians in Albania Medical Archives 2012; 66(6): 361- 432
Arben Alla, Katarzyna Czabanowska, Violetta Kijowska, Enver Roshi, Genc Burazeri. Cross-cultural Adaptation of a Questionnaire on Self-perceived Level of Skills, Abilities and Competencies of Family Physicians in Albania: Mat Soc Med. 2012 Dec 24(4): 142-147.
Czabanowska, Katarzyna; Moust, Jos H.C.; Meijer, André W. M.; Schröder-Bäck, Peter; and Roebertsen, Herma, Problem-based Learning Revisited, introduction of Active and Self-directed Learning to reduce fatigue among students, Journal of University Teaching & Learning Practice, 9(1), 2012.
Kautsch M, Czabanowska K. When grass is greener at home: Poland's changing incentives for health professional mobility, in Wismar M, Glinos IA, Maier CB, Dussault G, Palm W, Bremner J, Figueras J, eds. Health professional mobility and health systems: evidence from 17 European countries.  Euro Observer. The Health Policy Bulletin of the European Observatory on Health Systems and Policies. 2011 13(2): 11-12. Available in English and Russian at: http://www.euro.who.int/en/home/projects/observatory/publications/euro-observer/mobility-of-health-professionals-in-europe
Czabanowska K, Mikeska I, Brand H. Supply and demand of Public Health courses in the framework of lifelong learning in Europe. Medicine & Health. 2010: 190-192.
Wilczek-Rużyczka E, Czabanowska K, Walewska E, Górkiewicz M, Wojtas K. Motivation to work fortifies attitude to motivating patients: evidence from Leonardo da Vinci Program on Motivational Skills Training in Health and Social Care. International Centre of Bio-cybernetics Polish Academy of Sciences. 2008: 113-119.
Czabanowska K, Nowak E, Ryś E. Improving the English Language Performance of Medical Library Professionals. Based on the Specialist English as a Foreign Language for European Public Health. Project Approach. Journal of the European Association for Health Information and Libraries. 2007 3(1): 19-22
Kijowska V, Tomasik T, Domagała A, Czabanowska K : Use of modern technology for the quality improvement of family medicine curricula / Technologia na rzecz poprawy atrakcyjności i jakości programów nauczania w medycynie rodzinnej,Family Physician/Lekarz Rodzinny, October 2012, year XVII, no. 10, p.804-808 [PL]
Kijowska V, Tomasik T, Czabanowska K. Innovative approaches supporting education of family physicians in quality improvement in Poland-European project inGPinQI Innowacyjne formy wspierające proces nauczania lekarzy rodzinnych w zakresie poprawy jakości świadczeń – europejski projekt inGPinQI, Problemy Medycyny Rodzinnej/Problems of Family Medicine. Vol. XIV, May, 2012, wyd.ACTIS Łódź 2012, p. 41 [PL]
Czabanowska K, Niedziałkowska M. Ethics in qualitative research/Etyka w badaniach jakościowych, in Zdrowie i Zarządzanie. Heath and Management (Zdrowie i Zarządzanie) 2004 4(5): 35-42.[PL]
Czabanowska K, Ethics in health care research. Heath and Management (Zdrowie i Zarządzanie) 2004 4(5): 110-111.[PL]
Czabanowska K, Włodarczyk C, Topór-Mądry R, Public Heath employers and their response to the survey on their preferences regarding most required competences in the workplace. Scientific Journal of Health Care, Health and Management (Zeszyty Naukowe Ochrony Zdrowia, Zdrowie i Zarządzanie) 2004: 88-96.[PL]
Biesma RG, Czabanowska K, Groot W, Vaatstra HF, van Merode G. Overview on professional competence in Public Health. Polish Journal of Public Health (Zdrowie Publiczne) 2002 112(2).[PL]
Czabanowska K, Leonardo da Vinci Project Improving Employability among Public Health Graduates in the context of international studies. Polish Journal of Public Health (Zdrowie Publiczne) 2002 112(2).[PL]
Books
Czabanowska K, Smith T, de Jong N, Fieldsend G, Lohrmann C, O'Connor S, Johnson D, Michelsen K, Mundy T, Rethmeier K A, Stankunas M, Sauliune S, Sumskas L., Fahy N, Whitfield M. Leadership for Public Health in Europe. Nominal Plan. Maastricht: Maastricht University; 2013. ISBN: 978-90-5681-408-3
Czabanowska K, Smith T, de Jong N, Fieldsend G, Lohrmann C, O'Connor S, Johnson D, Michelsen K, Mundy T, Rethmeier K A, Stankunas M, Sauliune S, Sumskas L., Fahy N, Whitfield M. Leadership for Public Health in Europe. Student Module Book. Maastricht: Maastricht University; 2013. ISBN: 978-90-5681-408-3
Czabanowska K, Smith T, de Jong N, Fieldsend G, Lohrmann C, O'Connor S, Johnson D, Michelsen K, Mundy T, Rethmeier K A, Stankunas M, Sauliune S, Sumskas L., Fahy N, Whitfield M. Leadership for Public Health in Europe. Teacher's Handbook. Maastricht: Maastricht University; 2013. ISBN: 978-90-5681-408-3
and translations (German, Dutch and Lithuanian):
Wilczek-Ruzyczka E, Czabanowska K. (eds.) How to motivate to change behaviour? Motivational training for students and professionals/Jak motywować do zmiany zachowania? Trening motywowaniado zmiany dla studentówi profesjonalistów. Jagiellonian University Press 2010 ISBN: 978-83-233-2817-9.
Czabanowska K, Learners' Dictionary for Students and Professionals. English for European Public Health.  Jagiellonian University Press 2008. ISBN: 978-83-233-2469-0.
Czabanowska K, Menzies L. English for European Public Health. Maastricht University Press 2007.
Włodarczyk C, Shickle D, Czabanowska K, Moran NE (ed.). Selected ethical problems in public health in Europe/Wybrane zagadnienia etyczne w zdrowiu publicznym w Europie. Jagiellonian University Press 2007. ISBN: 978-83-233-2353-2.
Czabanowska K,Włodarczyk C (ed.). Employment in Public Heath in Europe/Zatrudnienie w Zdrowiu Publicznym w Europie. Jagiellonian University Press Kraków 2004. ISBN: 83-233-1817-4
 Book Chapters
William Sherlaw, Kasia Czabanowska, Mark Thompson: English for public health teaching within the context of internationalisation in France in Wilkinson, Robert / Walsh, Mary Louise (eds.) Integrating Content and Language in Higher Education From Theory to Practice. Selected papers from the 2013 ICLHE Conference. Peter Lang GmbH Frankfurt am Main, Berlin, Bern, Bruxelles, New York, Oxford, Warszawa, Wien, 2015. 341 pp., 1 ISBN 978-3-631-65726-3.  Doi: 10.3726/978-3-653-05109-4 
Christoph Aluttis, Claudia Bettina Maier, Stephan Van den Broucke, Katarzyna Czabanowska. Developing the public health workforce in eds: Bernd Rechel and Martin Mckee. Facets of Public Health Today. Open University Press. McGraw- Hill Education. Berkshire, England 2014. 
Katarzyna Czabanowska, Karen Konings, Tony Smith. Teachers' perceptions of working with the online environment and some learning points based on the LEPHIE project. In ed. Vesna Bjegovic Milankovic.  Modern Teaching- distance learning. A guide to online and blended learning with case studies from public health. Brussels 2013
Katarzyna Czabanowska. General Practitioner's Competencies in Quality Improvement; in Andrée Rochfort, Violetta Kijowska, Katarzyna Dubas eds. Guidebook on implementation of Quality Improvement in General Practice. Drukarnia TECHNET Press 2013. ISBN: 978-83-932788-2-4
Kautsch M., Czabanowska K. When the grass gets greener at home: Poland's changing incentives for health professional mobility; in  M. Wismar, C. Maier, I. A. Glinos, G. Dussault eds. Health professional mobility and health systems: evidence from 17 European countries European Observatory Series 2011 available at: http://www.euro.who.int/en/home  and http://www.euro.who.int/en/home/projects/observatory/news/news/2012/10/new-book-on-professional-mobility
Pajak A, Kawalec E, Czabanowska K, Kopeć G, Podolec P. Most important terms and definitions in prevention/Najważniejsze definicje, pojęcia i skróty w prewencji, Podręcznik Polskiego Forum Profilaktyki TOM 1, Medycyna Praktyczna, Kraków 2007 (The Manual of Polish Forum of Prophylactics Volume 1)
Moran NE, Shickle D, Munthe C, Dierickx K, Petrini C, Piribauer F, Czabanowska K, Cowley H, Blancafort S, Petsetakis E. Are compulsory immunization and incentives to immunize effective ways to achieve herd immunity in Europe?in Michael J. Selgelid, Margaret P. Battin and Charles B. Smith (eds) Ethics and Infectious Disease. Blackwell Publishing 2006. ISBN: 13:978-1-4051-4596-1.
Pokorski J, Pokorska J, Czabanowska K. Occupational Safety in Poland/Bezpieczeństwo w miejscu pracy w Polsce. In: Selected ethical aspects in public health in Europe /Wybrane zagadnienia etyczne w zdrowiu publicznym w Europie. Wydawnictwo UJ/ Jagiellonian University Press. 2007: 301 – 311.
Czabanowska K, Szczerbinska K. Methodology of researching access to health and social care of the elderly based on selected health problems/Metody zastosowane w badaniu dostępności opieki zdrowotnej i pomocy społecznej dla osób starszych na przykładach wybranych problemów zdrowotnych. In: Szczerbinska K. (ed.) Access to health an social care services of the elderly in Poland/Dostępność opieki zdrowotnej i pomocy społecznej dla osób starszych w Polsce. Research report. Wyd.UJ/Jagiellonian University Press, Krakow 2006. ISBN: 83-233-2138-8,
Czabanowska K. Ethical aspects of research/Etyczne aspekty badania. In: Szczerbinska K.(red.ed.) Access to health and social care services of the elderly in Poland. Research report./Dostępność opieki zdrowotnej i pomocy społecznej dla osób starszych w Polsce. Raport z badan. Wyd.UJ Krakow 2006. ISBN: 83-233-2138-8.
Czabanowska K, Szczerbinska K. Phase I –Functioning of health care system and social care in Poland from the perspective of health care personnel – methids, results and recommendations/ Funkcjonowanie systemu opieki zdrowotnej i pomocy społecznej z punktu widzenia pracowników ochrony zdrowia -  metody, wyniki, wnioski i rekomendacje. In: Szczerbinska K. (red.) Access to health an social care services of the elderly in Poland/Dostępność opieki zdrowotnej i pomocy społecznej dla osób starszych w Polsce. Research report Wyd.UJ/ Jagiellonian University Press, Krakow 2006. ISBN: 83-233-2138-8,
Szczerbinska K, Czabanowska K. Etap II - Dostępność i funkcjonowanie opieki zdrowotnej i pomocy społecznej w opinii opiekunów osób starszych - metody, wyniki, wnioski i rekomendacje. - Metody zastosowane w badaniu opinii opiekunów osób starszych.In: Szczerbinska K. (red.) Dostępność opieki zdrowotnej i pomocy społecznej dla osób starszych w Polsce. Raport z badan. Wyd.UJ Krakow 2006. ISBN: 83-233-2138-8.
Bański R., Czabanowska K., Niedziałkowska M., et al. Ochrona uczestników badań klinicznych w Polsce. Wybrane zagadnienia etyczne w zdrowiu publicznym w Europie. Wydawnictwo UJ. 2007, s.139 – 157
Włodarczyk C., Czabanowska K. Instytucje zdrowia publicznego w Polsce. Wybrane zagadnienia etyczne w zdrowiu publicznym w Europie. Wydawnictwo UJ. 2007 s. 63 – 80
Czabanowska K, Szczerbinska K. Methodology of researching access to health and social care of the elderly based on selected health problems/Metody zastosowane w badaniu dostępności opieki zdrowotnej i pomocy społecznej dla osób starszych na przykładach wybranych problemów zdrowotnych. In: Szczerbinska K. (ed.) Access to health an social care services of the elderly in Poland/Dostępność opieki zdrowotnej i pomocy społecznej dla osób starszych w Polsce. Research report. Wyd.UJ/Jagiellonian University Press, Krakow 2006. ISBN: 83-233-2138-8,
Czabanowska K. Ethical aspects of research/Etyczne aspekty badania. In: Szczerbinska K.(red.ed.) Access to health and social care services of the elderly in Poland. Research report./Dostępność opieki zdrowotnej i pomocy społecznej dla osób starszych w Polsce. Raport z badan. Wyd.UJ Krakow 2006. ISBN: 83-233-2138-8.
Czabanowska K, Szczerbinska K. Phase I –Functioning of health care system and social care in Poland from the perspective of health care personnel – methids, results and recommendations/ Funkcjonowanie systemu opieki zdrowotnej i pomocy społecznej z punktu widzenia pracowników ochrony zdrowia -  metody, wyniki, wnioski i rekomendacje. In: Szczerbinska K. (red.) Access to health an social care services of the elderly in Poland/Dostępność opieki zdrowotnej i pomocy społecznej dla osób starszych w Polsce. Research report Wyd.UJ/ Jagiellonian University Press, Krakow 2006. ISBN: 83-233-2138-8,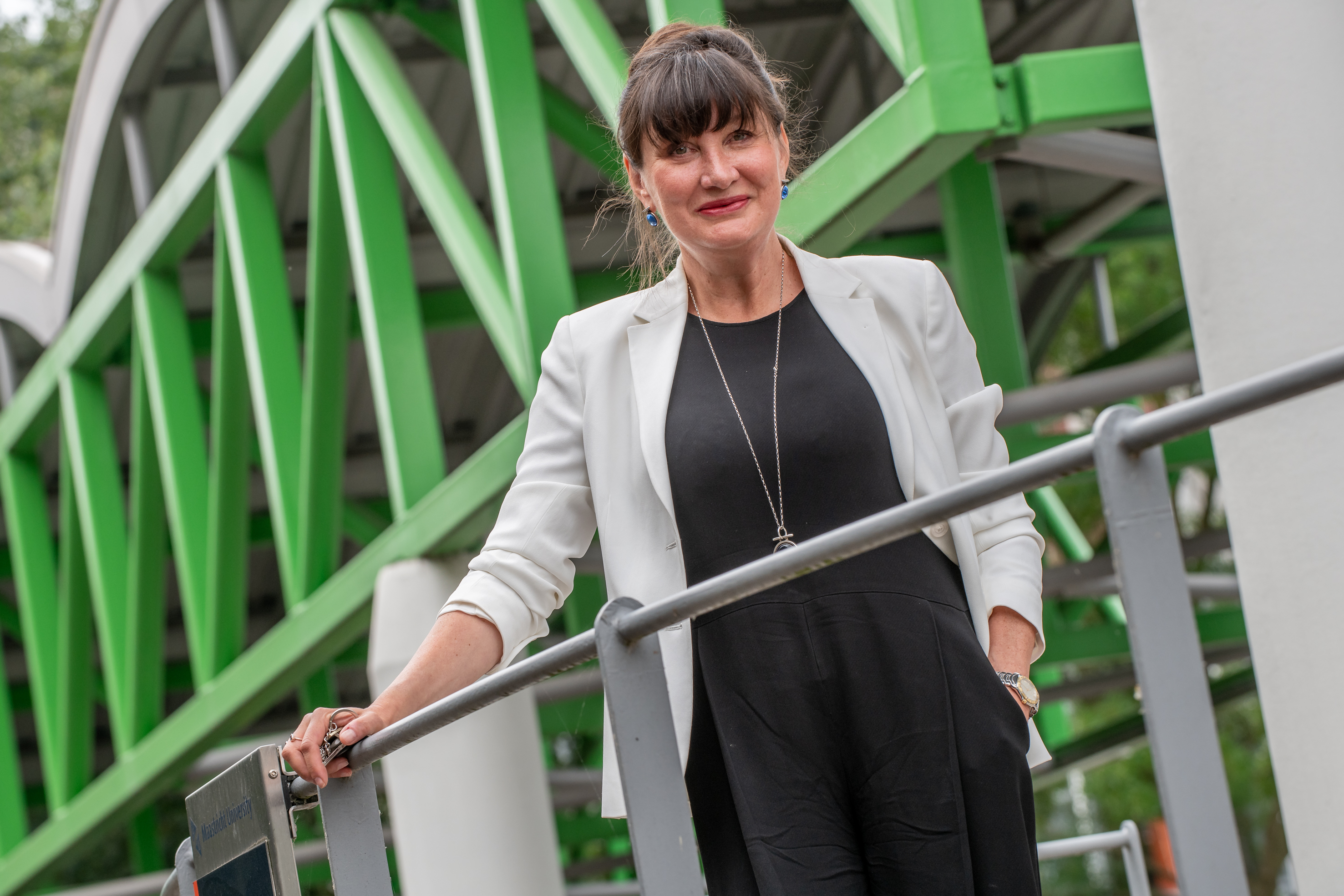 Katarzyna Czabanowska (K.M.)
Professor in Public Health Leadership and Workforce Development
International Health
School CAPHRI, Care & Publ Health Res In
Fac. Health, Medicine and Life Sciences